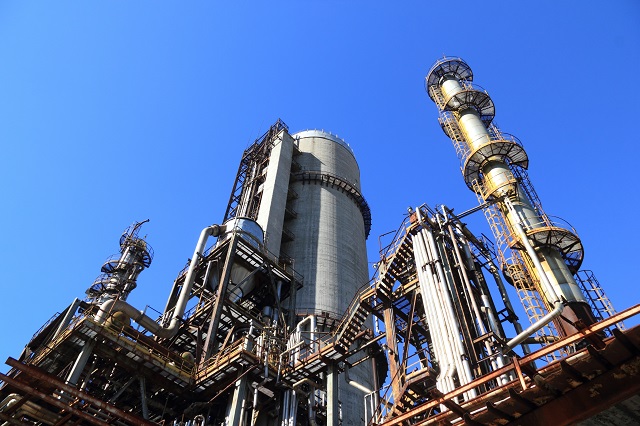 On Feb. 24, Russia commenced its unprovoked and atrocious invasion of its neighbor Ukraine. It didn't take long for fossil fuel interests in the United States to exploit this geopolitical and humanitarian crisis for their own benefit, using the war to call for increased fracking, fast-tracked permitting, new subsidies, and relaxed environmental regulations here in America.
Unfortunately, the industry didn't stop there. Nearly every day, there are news articles, social media content and opinion pieces from industry boosters who spread false narratives, myths and other fallacies, all in an effort to further pad the pockets of corporate polluters.
This is a running list of some of the most egregious bad-faith arguments being put forth by the fossil fuel industry and their legislative champions in media outlets, accompanied by fact-checking of those arguments. Please continue to check back frequently, as we will add to this list as we come across new content.
---
Myth: In a recent Op Ed piece, state Sen. Camera Bartolotta made many false and disingenuous statements about Pennsylvania's role in combating Russian aggression. Notably, Bartolotta said Gov. Tom Wolf "banned natural gas development in the eastern third of the state" and "banned development of the state's own natural gas rights underlying publicly owned property." Finally, the state senator bluntly said "the U.S. needs Putin's oil."
Fact: There is a lot to unpack here. First, the Delaware River Basin Commission - which is composed of Pennsylvania, New York, New Jersey, Delaware, and a representative from the federal government - voted to ban fracking in Pennsylvania's portion of the basin last year. Gov. Wolf is but one of many voting members of the DRBC, and did not act unilaterally when the agency banned fracking in the basin.
Secondly, Gov. Wolf did not ban fracked gas development on public lands in Pennsylvania. He placed a moratorium on new drilling, which is a huge difference. Prior to that moratorium, Pennsylvania's Department of Conservation and Natural Resources leased more than 250,000 acres of state forest lands in the Marcellus play, 65% of which hasn't been drilled (163,089 acres). The problem isn't availability of locations, it's the economics. The companies drill only when it makes economic sense, which it currently does not. Saying that Gov. Wolf "banned" drilling on our public lands is an outright lie.
Thirdly, the United States does not need Russian oil, as evidenced by President Biden's ban on Russian imports. Even before that ban, roughly 8% of U.S. imports of oil and petroleum products came from Russia - a modest amount by any measure.
---
Myth: In a March 23 news story concerning PennFuture and other groups shutting down a liquefied natural gas plant in Bradford County, the president of the Marcellus Shale Coalition said "the worldwide need for U.S. natural gas exports has never been more critical."
Fact: Europe, which is directly threatened by Putin's turn to war, has already come to the conclusion that an economy tethered to fossil fuels is highly unpredictable, costly, and dangerous—particularly when we factor in the impacts of climate change.
It's not like Europe is clamoring for our energy exports. Germany recently announced it is accelerating its timeline to achieve 100 percent renewable energy. The European Union is readying an initiative to fast-track renewable energy projects and cut the continent's use of fossil fuels in half in eight years. And most EU countries are ahead of schedule in their renewable energy goals and are not slowing down. Clearly, fracked gas is not the answer.
---
Myth: In a March 8th editorial in the Pittsburgh Tribune-Review, Pennsylvania state Sen. Gene Yaw said that "renewable energy accounts for less than one third of global energy supply and remains notoriously unreliable."
Fact: This is wrong on two counts. First, renewable energy – which encompasses a huge range of sources, including wind, solar, and hydroelectric – is in fact equally reliable to other energy sources. No kind of power plant runs 24/7, 365 days a year, and operating America's electric grid always involves managing variability of supply and demand at all times.
Second, it's contradictory for Yaw to claim renewables are unreliable when he's talking about a fossil fuel supply that has proven to be - you guessed it - highly unreliable when it's controlled by a despot like Vladimir Putin. Fossil fuels have always been controlled by whichever country or political entity sits atop them, which leads to a great deal of volatility and weaponization of these products. Nobody owns the sun and wind. They cannot be manipulated or controlled for political or other gain.
---
Myth: In a letter sent to President Biden on March 2, the Senate Natural Resources Committee claimed that President Biden is responsible for soaring gas prices because of his hostile attitude toward the oil and gas industry, including a moratorium on drilling on public lands.
Fact: President Biden is currently outpacing his predecessor when it comes to issuing drilling permits on public lands. According to the Center for Biological Diversity: "the Biden administration approved 3,557 permits for oil and gas drilling on public lands in its first year, far outpacing the Trump administration's first-year total of 2,658." That's not to mention that oil and gas companies have thousands of leases on public lands that are unused and inactive, which has nothing to do with President Biden, and everything to do with energy companies' own business choices.
---
Myth: In a recent Op Ed piece, U.S. Rep. Gus Bilirakis alleged that scaling up domestic oil and gas is as easy as "flipping the switch."
Fact: Domestic crude oil production in the U.S. is at historically high levels with 2019, 2020, and 2021 exceeding production in all other years. Production of natural gas in 2021 also reached an all-time high both nationally and in Pennsylvania. Even if companies had the ability and desire to increase production it could take years before we see significant changes. That's not likely given the fact investors are hesitant to pour more money into companies that have underperformed in recent years.
---
Myth: Industry boosters are claiming that Pennsylvania is in a position to increase LNG production and exports to Europe, and say that "fracking may be America's most powerful weapon against Russian aggression."
Fact: Liquified Natural Gas exports reached peak levels in 2021 at just over 3.5 trillion cubic feet. Many European nations, including the United Kingdom, France, Netherlands, Turkey, Spain, Portugal, Lithuania, and Poland imported record high levels of American LNG. Because our infrastructure is already operating near capacity, meeting the demand in Europe required diverting production that would normally be sold into Asian markets. At this point, increasing exports to Europe will require major investments in infrastructure on both sides of the Atlantic. Accomplishing this will take years and cost, potentially, billions of dollars. Furthermore, this assumes that Europe is looking to buy, but in fact, they are responding to this crisis by accelerating their plans to move to renewable energy.
---
Myth: In his "End Russian Aggression Act," state Rep. Seth Grove has suggested that Pennsylvania's participation in the Regional Greenhouse Gas Initiative (RGGI) is somehow connected to or impacted by Russia's war and oil and gas exports.
Fact: Under the RGGI program, Pennsylvania's electric generators burning fossil fuels will pay market-based emission fees for each ton of carbon pollution they emit. The proceeds from this program will be invested in cost-effective programs to reduce energy consumption and air pollution. The net result will be to help diversify our generation mix and lower both our dependence on fossil fuels and our exposure to a fossil fuel market Putin and others can manipulate. Simply put, RGGI has absolutely nothing to do with Russia or its oil and gas exports.
---
Myth: In a March 10 article in the New York Times, a fossil fuel executive acknowledges "the need to tackle climate change," but said "that effort should take a back seat to the more urgent need to increase fossil fuel production."
Fact: Action on climate change has been taking a back seat for decades, and this current moment is definitely not the time to backslide any further. The science backs up that claim: many of the impacts of global warming are now simply "irreversible," according to the UN's latest assessment, and humans and nature are being pushed beyond their abilities to adapt. It's already well past time for humanity to break its addiction to fossil fuels, and the industry will always be looking for ways to stay relevant in a world that is increasingly climate-conscious.
---
Myth: Weakening environmental protections will allow us to increase production and become independent of foreign oil.
Fact: The US is already operating very near its all-time peak level of crude oil production, with over 4 billion barrels produced last year. In spite of this near-record production, the US still imported more than 3 billion barrels of oil in 2021 with more than 245 million barrels coming from Russia.
Pennsylvania is also operating near its peak levels of oil production, but that represents a fraction of a percent of the national total with less than 7 million barrels produced in 2021. The true path to energy independence lies in strengthening and securing our grid and reducing reliance on oil in the first place, not in rolling back the environmental protections that let us breathe, drink clean water, and enjoy the natural resources of our incredible state and country.