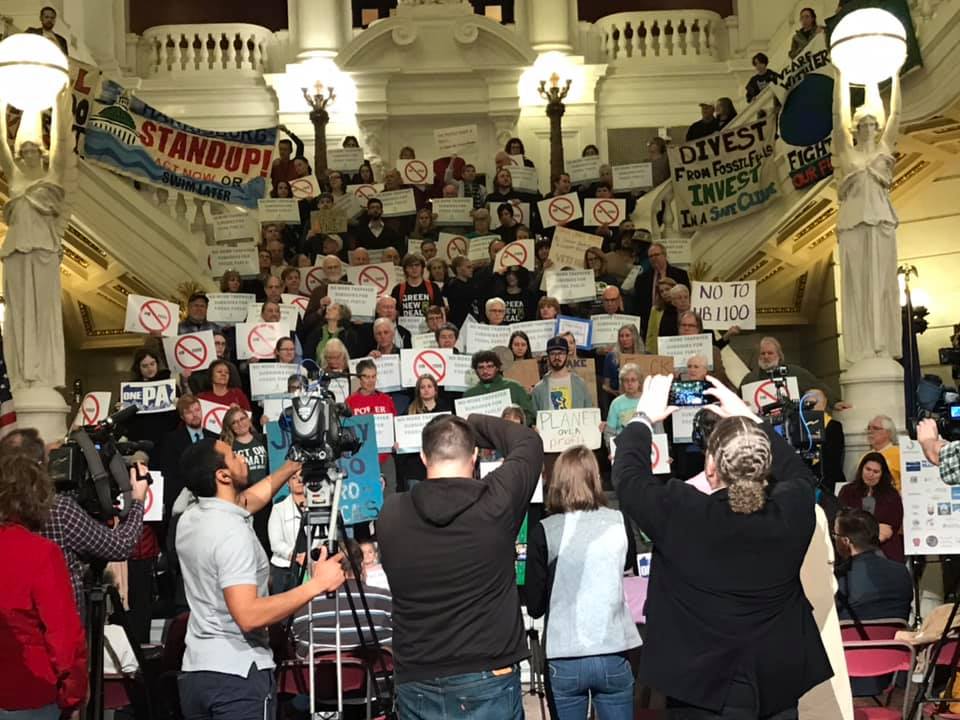 There is power in unity and there is power in numbers. When we all come together and speak in a unified voice, decision makers have no choice but to listen.
That was the primary takeaway from a rally on March 9 when 35 environmental, faith and civic groups from across Pennsylvania banded together on the steps of the Capitol rotunda in Harrisburg. We came from all corners of the Commonwealth for one common cause: to speak out against House Bill 1100, a dangerous piece of legislation that could radically alter Pennsylvania for decades to come.
The bill, passed by the General Assembly on Feb. 4, offers billions of dollars in taxpayer subsidies to the fracked gas and petrochemical industries. If this legislation becomes law, it means Pennsylvanians everywhere will be paying for and subsidizing massive amounts of pollution, environmental degradation and sickness that come along with fracked gas and petrochemical expansion.
For PennFuture and dozens of other organizations, this is an unacceptable vision for our future.
Our world is at a crossroads when we need to be moving away from fossil fuels, not using taxpayer money to fund their expansion. This bill completely disregards the need for immediate action on the climate crisis, and it asks Pennsylvanians to trade their health for the promise of jobs.
As soon as the final vote on House Bill 1100 came through on Feb. 4, we at PennFuture knew there had to be a strong and strategic response. Over the next four weeks, PennFuture staff worked diligently—some of them working solely on this event—to make sure this rally unfolded in a professional and powerful way.
It was obvious from the start that PennFuture couldn't pursue this endeavor alone. If there was truly to be a powerful and impactful response to House Bill 1100, it would have to be a coordinated effort amongst partners to not only spread the word, but to pack the steps of the rotunda in a show of force. We needed to show that it wasn't just industry and labor that has a voice in this process.
The response from other organizations—and even regular citizens—was immediate and forceful. It didn't take long before we compiled a list of 34 other co-sponsors that lent their skills, time and passion to the cause of rallying against House Bill 1100. We enlisted the help of a number of legislators in Harrisburg, and two—state Rep. Sara Innamorato and Sen. Katie Muth—were able to speak at the rally.
The final list of sponsors was as diverse as it was long: statewide groups like PennEnvironment, Sierra Club, Natural Resources Defense Council, One Pennsylvania and others joined with us, as did regional groups like the Center for Coalfield Justice, The Climate Reality Project – Pittsburgh and Philadelphia chapters, Capital Region Stands Up, and the Delaware Riverkeeper Network. There were faith groups, civic groups, and political groups of all shapes and sizes.
A tremendous amount of work occurred behind the scenes, too.
PennFuture staff worked on renting charter buses from Pittsburgh and Philadelphia and coordinated the effort to fill those buses with supporters. PennFuture staff created and printed signs to be used at the rally, while other staff worked on securing enough food to feed more than 100 people at the rally. Finally, our development team worked hard to secure donations to make this event—and everything that went along with it—possible from a financial perspective.
To say that this event was a team effort isn't strong enough, and not just from PennFuture staff. This was a coordinated, strategic effort from hundreds of people representing dozens of organizations across Pennsylvania.
Even on the morning of the rally—when it became clear that half the people who registered for seats on our buses weren't going to show up because of coronavirus fears—we knew there was no way this rally could fail.
Even though so many people stayed away, we still packed the steps of the rotunda with friends, supporters and colleagues who all banded together to speak in a unified voice. Conservative estimates put the number of attendees at more than 120 people.
It's safe to say that people listened. Those on the other side of the issue—labor unions and industry—put together their own, much smaller rally as a response to ours, a rally that took place directly after ours in the Capitol. Media coverage was swift and included a mix of newspapers, radio stations, television stations and blogs. The entire intent of the rally was to make a statement, and that's exactly what happened.
Our rally was a resounding success, but the purpose of this blog isn't to pat PennFuture on the back.
To the contrary, this was the very definition of teamwork, of many different groups with many different priorities coming together for the common good to defeat a very bad, very dangerous bill.
None of this is to say that the fight is won. It's not, because the fight isn't over. The Legislature on Wednesday sent House Bill 1100 to Gov. Tom Wolf, who has vowed to veto it. Even if the governor does the right thing and vetoes House Bill 1100, a certain faction within the General Assembly has promised to try to override that veto.
So, the fight remains. Will you do your part to help beat back this horrible legislation? Will you contact your legislator, write a Letter to the Editor, or get in touch with PennFuture to see how else you might help?
Even with these uncertain times amidst a global pandemic, threats to our environment and to the health of our people will not stop. PennFuture, and indeed dozens of our partner organizations, will remain vigilant on this and other issues of great importance to Pennsylvanians everywhere.
Will you join us?