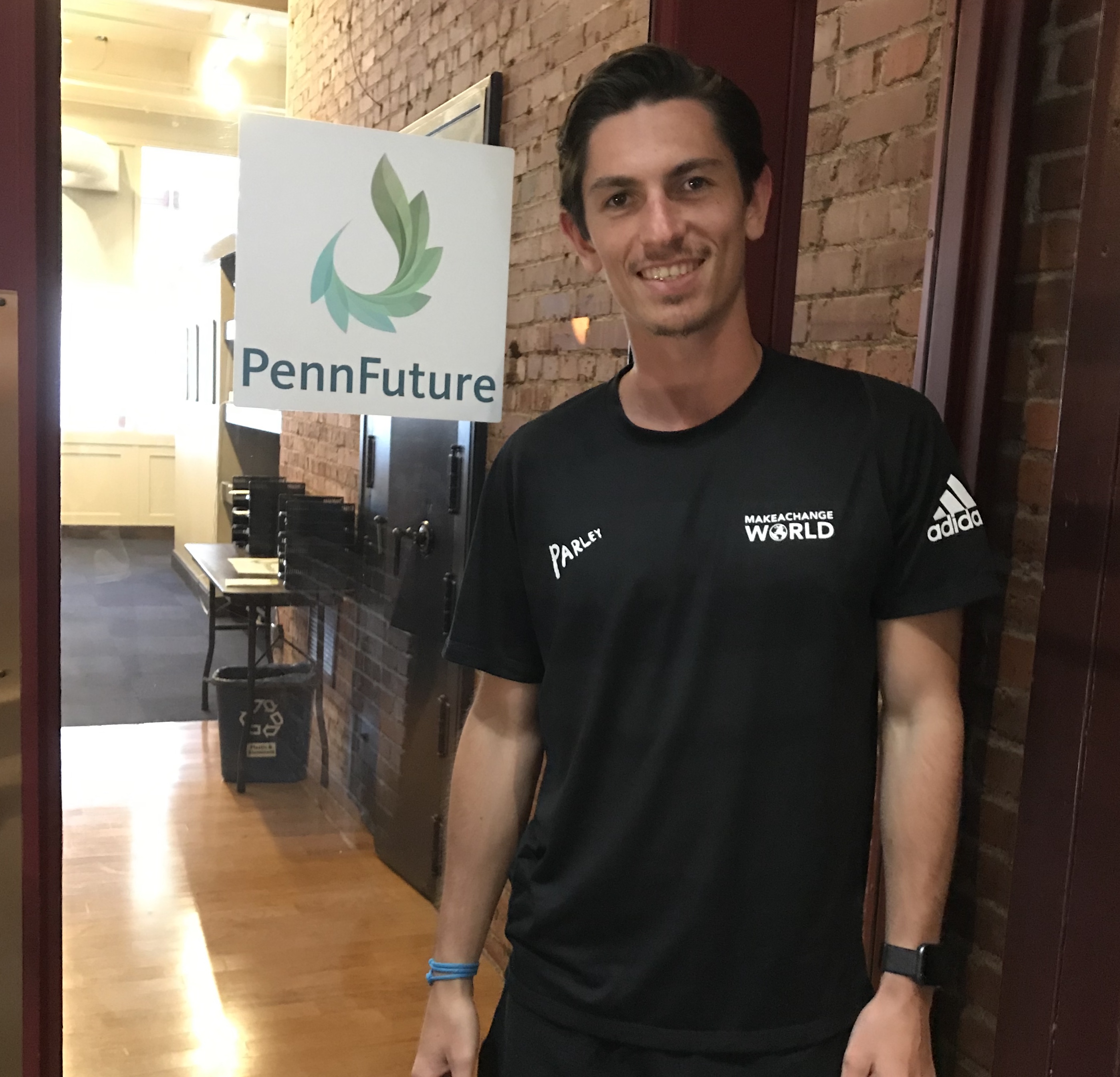 How far are you willing to go to prove a point?
For Sam Bencheghib, it's about 3,100 miles, or roughly the distance between New York and Los Angeles. All on foot, in the span of 160 days, running on shoes made from recycled plastics.
That last part is important, because it underscores the purpose of every step of his journey. Sam Bencheghib is running across America to raise awareness about the massive amounts of plastic currently polluting our oceans and waterways.
Sam, who recently met with PennFuture employees in Pittsburgh and Harrisburg, doesn't mince words when explaining the importance of his run. By 2050, there will be more plastic in our oceans than fish. There are already more microplastics in our oceans and on our beaches than stars in our galaxy, he said.
The problems posed by plastic pollution are massive, yet the issue isn't being addressed on a global scale by governments and corporations. That doesn't deter Sam from his journey, though. In fact, it only makes him more motivated to raise awareness.
"Sometimes you have to do something crazy to get people's attention," he said.
His journey started on July 26 in New York City, and it didn't take long to pass over into New Jersey and Pennsylvania. From there, his path will take him through West Virginia, Ohio, Indiana, Illinois, Missouri, Kansas, Colorado, New Mexico, Arizona, Nevada and California. He hopes to arrive near Los Angeles on Dec. 20.
To put it into perspective, Sam will be running the equivalent of about 115 marathons in a span of about 160 days, with a goal of running between 20 to 30 miles per day. He will stop to rest only on the weekends and usually only in bigger cities, where he intends on meeting with and speaking to college students, environmental organizations and local politicians about the need to address the plastics pollution epidemic.
That's exactly what he did in Pennsylvania, meeting with local politicians and community activists. Sam said his goal is to get people on board with his message, but it's been a challenge in Pennsylvania because of a recently passed moratorium on plastic bag bans.
That so-called "ban on bans" was enacted as part of budget discussions in Harrisburg in June, and bars local municipalities and cities from banning plastic bags for at least a year.
"In Pennsylvania, it's been a lot harder than I thought it would be," Sam said about creating awareness and momentum for his movement.
The difficulties found within Pennsylvania won't derail his message, Sam said. After all, fighting against plastic pollution has been a passion of his since he was a young boy on the Indonesian island of Bali.
During his childhood, Sam and his older brother would clean up beaches in Bali, completely removing any traces of plastic. It wouldn't even take 24 hours before the beaches would be full of plastic again, a product of local streams and rivers carrying the pollution into the ocean and onto the beaches.
"I felt we were making a difference but, realistically, were we really making a difference?" he said. "That's when we decided to focus on rivers and streams and educating local government and businesses."
From that experience came a new organization founded by Sam and his brother called "Make a Change World."
Sam, who is 22 years old, brought his message and ambition to America when he enrolled at Lehigh University in eastern Pennsylvania. Recently graduated, Sam knew there would be no better time to spread a message that desperately needs to be heard.
During the cross-country run, he will be accompanied by friend Josh Madre, who follows behind Sam in an RV and documents the journey with a video camera. The entire journey can be tracked on the organization's website at https://makeachange.world.
For his part, Sam understands the daunting task ahead of him, both in running across the vast expanse of America, and in trying to combat a problem in plastics pollution that is already at a crisis level. But he isn't deterred, either in body or spirit, because he knows he will bring about change.
"I wouldn't be doing this if I didn't think it would make a difference," he said. "Every step I take across this country is one step closer to a world without plastic pollution."