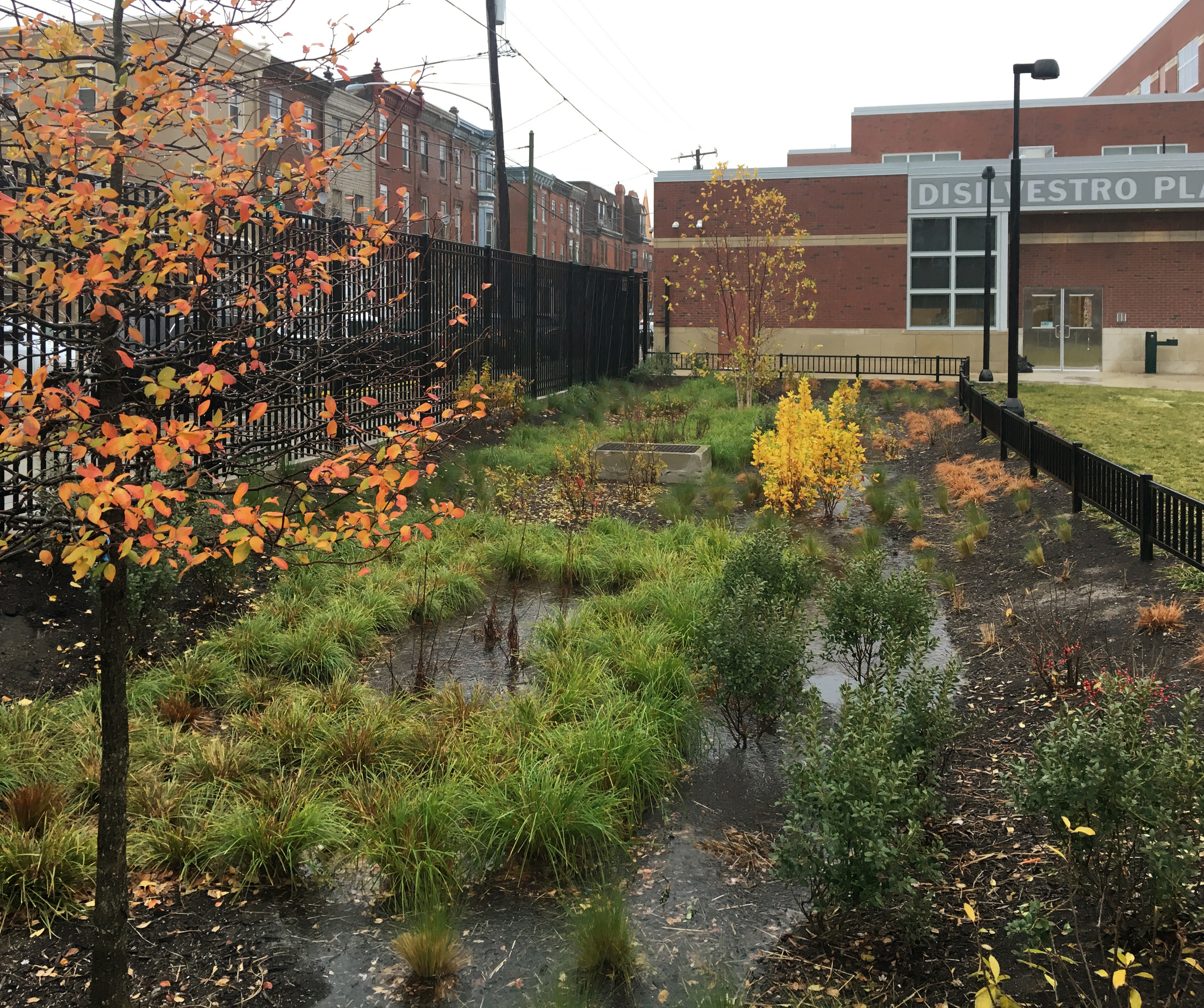 Green stormwater infrastructure (GSI) is approaching a major milestone in Philadelphia. This year marks 10 years since the City of Philadelphia and the Philadelphia Water Department embarked on its groundbreaking effort to improve water quality through the implementation of GSI with its Green City, Clean Waters program.
A recent report from our partners at Sustainable Business Network of Greater Philadelphia (SBN) confirms that the city's original vision for cleaner water in Philadelphia has been hugely successful and the continued development of the GSI industry across Pennsylvania can serve as a driver of positive economic, social, and environmental change. At a time when Pennsylvania's coffers are flush with revenue, the SBN report makes a compelling case for increased support for greener watershed stormwater management from Harrisburg.
Let's face it: there is a great deal of uncertainty at the moment. For the second time in 15 years, we experienced a "once-in-a-lifetime" economic catastrophe. The global pandemic responsible for this catastrophe has now claimed four million lives worldwide. Simultaneously, Americans are grappling with centuries of racial injustice and the increasingly worrisome impact of climate change. As the report says: "While the combination of these crises can feel overwhelming, they also present a unique opportunity to recognize their interdependence and embrace a holistic approach to problem-solving."
Increased investment in green space through GSI will allow Pennsylvania to create jobs, address historical inequities in our Black and Brown communities, and help all Pennsylvanians better deal with the ramifications from a climate that is growing hotter and wetter. GSI utilizes nature-based solutions like rain gardens, green roofs, and tree trenches, to manage polluted stormwater runoff. It is a cleaner and cheaper method to ensure that we have cleaner water while also providing significant benefits to the surrounding communities.
According to the SBN report, there are currently 34,000 GSI workers in Pennsylvania. From 2011 to 2019, Pennsylvania's GSI industry grew at a staggering rate of 9.2 percent. Pennsylvania saw 6.3 percent growth across all occupations statewide during that time. Philadelphia, alone, has seen its local GSI industry grow by 13.3 percent, adding 1,200 jobs from 2011-2019. The report also makes clear that these are life-sustaining jobs for all Pennsylvanians regardless of educational background or access to professional training:
One in two GSI industry workers earn more than $15/hour.
The median annual wage for a high school graduate is $47,120.
More than half of GSI jobs require a high school diploma or less.
More than 40 percent of jobs pay more than $55,000 per year.
Jobs in the GSI industry provide a legitimate pathway to life-sustaining careers for Pennsylvanians who are most in need of viable solutions to support themselves and their families. Most importantly, these jobs are readily available to the local communities where projects are implemented. In Philadelphia, the Green City, Clean Waters plan is estimated to support 1,160 jobs per year in a city that consistently struggles with high unemployment in Black and Brown neighborhoods due to historic exclusion from equitable opportunities in education and professional training. Emphasizing workforce development, diversity, and inclusion within the GSI industry will help provide equitable economic opportunity to these communities.
These same communities have also suffered the effects of historically racist practices like redlining. Beginning in the 1930s, redlining was a practice developed by the federal government and financial industry to promote investment and development in areas that were largely white while simultaneously disinvesting in communities of color. The impact from this practice is still being felt today. Research has confirmed that the lack of green space in communities of color directly correlates to redlining and has contributed to the urban heat island effect in cities like Philadelphia.
The urban heat island effect leads to hotter temperatures in urban areas with less access to green space. Fortunately, we have a natural resource to help reduce temperatures: trees. Trees substantially reduce air temperatures in city neighborhoods and improve air quality. As the SBN report details, 70 percent of low-income communities live in nature-deprived areas and are more vulnerable to extreme heat. People of color are three times more likely to live in a nature-deprived area. Investing in GSI will add green space in these areas and help reverse the heat island effect and the racist practices that allowed it to develop over time.
The best part about investing heavily in GSI is that we know that investing in infrastructure is a proven method to help the economy recover from a severe recession. According to the report, every dollar invested in infrastructure during the recovery from the Great Recession resulted in a 1.5x return in GDP growth. The report states: "Because infrastructure projects often last three years, they are an effective strategy to mitigate economic fallout in the short term. In addition, because planning and design, construction, and ongoing operations and maintenance are key elements of successful GSI projects, investments in GSI also position the Commonwealth for long-term economic benefits."
Despite the economic, social, and environmental benefits provided by GSI and the desperate need to upgrade and repair Pennsylvania's aging stormwater management infrastructure, there is a significant funding gap to make the necessary upgrades and repairs to meet regulatory requirements. SBN notes that available funding over the next 10 years amounts to $900 million. Pennsylvania needs an additional $8.4 billion to fund the work that must be done to update its stormwater management infrastructure.
Here is what we know:
Pennsylvania's stormwater management infrastructure is in dire need of upgrade and repair.
Pennsylvania's economy requires significant investment to ensure a robust and equitable recovery from the COVID-19 pandemic and related recession.
The world is growing hotter and wetter due to climate change, which increases our need to protect our waterways from polluted runoff.
To paraphrase a Pennsylvania native, we need trees to come back stronger than a '90s trend to help us reduce temperatures.
Pennsylvania is one of the leaders in GSI industry and can do more to ensure we keep leading in this critical field.
Here are recommendations from the SBN report for the Pennsylvania General Assembly to promote investment in GSI:
Restore funding for PA Act 167 and otherwise fund municipal stormwater management planning and implementation.
Increase funding through Clean Water State Revolving Fund grants and other low- to no-cost financing for public GSI projects, with guidelines that prioritize nature-based solutions and investments in vulnerable and underserved communities.
Expand grants, low- to no-cost financing, and other incentives to promote GSI investments on private property.
The model for success with GSI has been proven in Philadelphia and across the Commonwealth. The time is now to fully fund this critical component of Pennsylvania's cleaner and greener future.
View the full SBN report here.