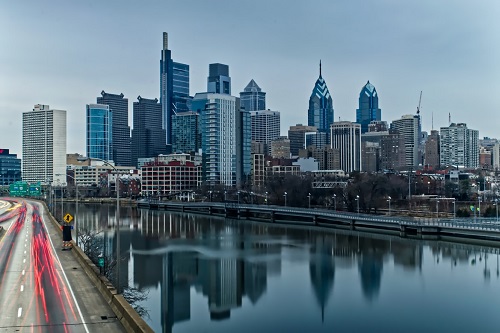 The future of energy in Philadelphia took center stage in mid-February during Philadelphia City Council's joint committee hearing on the Philadelphia Gas Works (PGW) Business Diversification Study. Members of the Committees on Finance and Transportation and Public Utilities heard from city administration officials, PGW President and Chief Executive Officer Seth Shapiro, and advocates and stakeholders on the recommendations contained in the study and how best to transition PGW away from its reliance on fracked gas.
Released in December 2021, the Diversification Study makes clear PGW's position as a gas utility and its desire to remain a gas utility. PGW has maintained that it believes gas will continue to play a central role in reducing greenhouse gas emissions in Philadelphia, as it did throughout the past two years while the study was ongoing. In fact, a straight line can be drawn from PGW's 2019 testimony during an earlier City Council hearing on this topic to much of the findings and recommendations in the Diversification Study.
The study's third recommendation calls for a local decarbonized gas program where PGW partners with other City departments to convert waste into biomethane or renewable natural gas (RNG). Despite big oil's big efforts to ensure that RNG becomes the latest great hope to reduce carbon emissions while simultaneously continuing to promote an economy of extraction, the future of RNG is more complicated. As the study makes clear, RNG cannot play a significant role in reducing emissions in Philadelphia because it is more expensive to produce, does not contribute to air quality improvements, and it is limited in terms of commercialization or total availability. This recommendation should be shelved as RNG will not provide substantial aid in Philadelphia's climate pledges.
The study's second recommendation surrounding the use of geothermal energy carries the most promise. PennFuture strongly supports the pursuit of networked geothermal district systems to fully transition PGW from fracked gas. The conversation surrounding a potential geothermal energy future provided some of the most illuminating testimony during the joint hearing and could represent Philadelphia's best chance to significantly reduce PGW's emissions, provide protection for ratepayers from increasing costs as more households move away from fracked gas, and provide opportunities to PGW's workforce to maintain similar positions and even expand into new areas. But, we must move forward with all possible speed to complete any feasibility study and identify opportunities to quickly implement a pilot program.
Philadelphia will not achieve its climate pledges without a reimagined and reconstituted PGW. The joint hearing further revealed PGW's ongoing reluctance to do more than pay lip service to this important conversation while continuing to rely on oil and gas industry talking points. While PGW CEO Seth Shapiro does deserve some credit for stating his support for the idea of geothermal heat, this encouraging moment does not outweigh the balance of his testimony regarding the Diversification Study and PGW's role in supporting gas preemption legislation in Harrisburg.
Here are two points worth focusing on from Shapiro's testimony:
Shapiro stated that it is irrefutable "that natural gas is perhaps the most significant tool in greenhouse gas reductions." Wrong. In fact, this statement is directly contradicted by the Diversification Study, which says: "Reaching the City's climate goals requires Philadelphia homes and commercial buildings to transition from natural gas to alternative sources of heating."
Shapiro pointed out that Pennsylvania currently produces a large portion of its electricity (40 percent) from fracked gas. While this may be accurate, it ignores the various ways that fracked gas is subsidized in Pennsylvania and how far public officials are willing to go to further deepen our reliance on fossil fuels like fracked gas.
The Pennsylvania General Assembly has consistently sought to change the rules of the free-market economy to advance the interests of the oil and gas industry. The joint committee hearing raised the latest method that lawmakers are seeking to advance in Harrisburg: gas preemption through Senate Bill 275 and House Bill 1947. These bills would ban municipalities across Pennsylvania from restricting or prohibiting utility services based on the types of energy they provide. It is being pushed nationally by oil and gas industry groups like the American Gas Association, which includes PGW as a member.
Why would state legislation be raised in a local government hearing on a seemingly unrelated topic? Because PGW has worked to support and strengthen this dangerous legislation. Shapiro raised several points under questioning from Councilmember Helen Gym that require attention:
Shapiro stated that PGW is very concerned with the "catastrophic impact of limiting energy choice." To be clear, this legislation only seeks to limit real energy choice by changing the rules of the game to counter market forces that are seen as a threat to the fossil fuel industry.
He maintained that PGW is neutral on the bill. It is not. Former PGW executive Gregory Stunder provided substantive feedback on the bill and provided additional language to strengthen definitions contained in the bill.
He denied that PGW provided line edits to the legislation. It did.
He repeated several times that PGW staff are subject matter experts and are obligated to provide feedback on legislation. This is nothing more than an attempt to ignore the real issue at hand: PGW contradicted the city's own stance on this legislation and worked to undermine the city's ability to achieve its climate pledges.
As Councilmember Gym pointed out to Shapiro, definitions matter. The feedback matters. Shapiro mentioned several times throughout this testimony that we must look at facts and repercussions even though he used half-truths, obfuscations, and fossil fuel industry falsehoods in his defense of PGW's involvement with gas preemption legislation and its defense of the continued reliance on fracked gas.
There is good news, though! Gas preemption legislation recently hit a roadblock in the General Assembly despite the best efforts of organizations like the American Gas Association.
The state House of Representatives passed HB 1947 but was not able to garner enough support to override a veto from Governor Tom Wolf. This was a critical vote because it demonstrated that oil and gas champions within the General Assembly will likely be unable to pass this unnecessary legislation through regular order.
This would not have been possible without the hard work and advocacy from those who took time to reach out to their state legislators and voice their opposition to gas preemption and the disastrous consequences it will have on Pennsylvanians across the Commonwealth.
There is more work to do, though, as the General Assembly will likely continue to seek out potential avenues to enact this legislation. As we saw most recently with preemption efforts to prevent municipalities from banning single-use plastic bags, gas preemption legislation could make its way into a fiscal code bill during state budget negotiations. Our work continues to ensure that this legislation is not enacted because those who support the legislation remain determined.
The oil and gas industry will continue to use all the power at its disposal to delay or deny Pennsylvanians the opportunity to have energy that is both clean and affordable. Fossil fuel insiders will continue to argue that they can drill and refine our way out of the worst impacts from man-made climate change, but natural disasters generated approximately $145 billion in economic damage throughout the United States in 2021. Pennsylvania suffered effects from the costliest natural disaster: Hurricane Ida.
We are consistently confronted with the language of denial, deflection, and delay. There is time to act, but we must do so with speed and clarity. It will require the kind of innovation that so many called for during the joint hearing on the Diversification Study. Continued reliance on fracked gas – or its derivatives – will not help us.
We cannot afford to continue operating as usual as the toll from climate change grows ever higher. These are the facts and the repercussions, and we must face them.