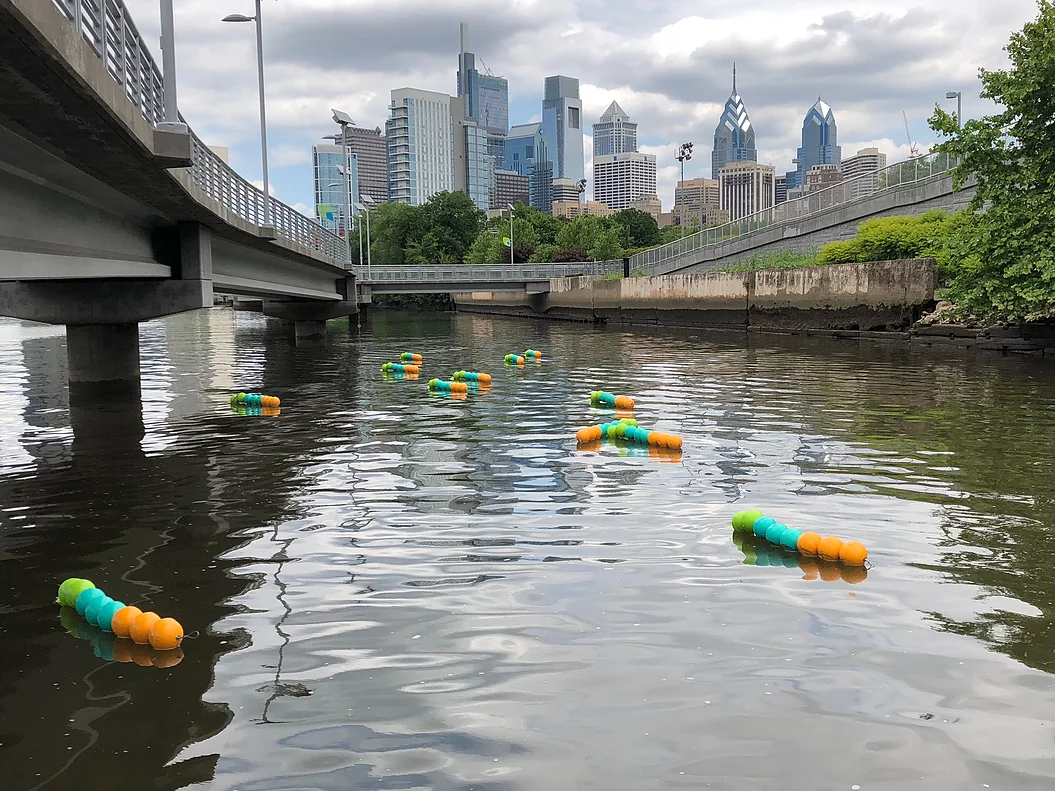 Last week, the Delaware River was named the 2020 national "River of the Year" by American Rivers. This honor recognizes the dramatic improvement of the Delaware River's water quality, which the organization credited to intergovernmental collaboration and effective environmental enforcement, coupled with innovative local water management.
Fish have returned to the urbanized portions of the river and the community is once again thinking of the lower Delaware River as a place of recreation!
PennFuture is happy to be part of that push for better water quality over the past several decades, especially in the Philadelphia region of the Delaware River Watershed, where we've been advocating for a variety of ways to improve the water.
For example, our Keep Philly Green & Water Clean campaign has been focusing on increasing green stormwater infrastructure (GSI) in the city. Philadelphia is increasing the use of GSI – such as rain gardens, tree trenches, and green roofs – through its Green City, Clean Waters program, which reduces the amount of polluted stormwater that enters the Delaware River and its tributaries through Philadelphia's combined sewer overflow (CSO) system. GSI has the added benefit of providing local communities with local jobs, cleaner air, more attractive parks, and streets, and an overall healthier community.
In 2018, PennFuture submitted comments in support of Philadelphia's Green City, Clean Waters program in which we detailed the importance of funding and grant incentive programs to achieve Philadelphia's GSI plan. In 2019, we advocated for Philadelphia to combine its GSI plan with the Rebuild Community Infrastructure (Rebuild) Initiative and petitioned the Philadelphia City Council to prioritize green stormwater infrastructure.
For the past two years in the fall, PennFuture organized bus tours with members of City Council aimed at highlighting the social, economic, and environmental benefits of GSI in Philadelphia. Earlier this month, PennFuture advocated for a Green New Deal for Philadelphia through an emphasis on GSI projects which create jobs, improve our local communities, and increase community resiliency against the impacts of climate change.
PennFuture is a proud supporter of Green City, Clean Waters and the work that the Philadelphia Water Department does to increase GSI and address pollution into the Delaware River while improving Philadelphia's communities. A cleaner Delaware River means we can all enjoy its benefits – drinking, fishing, and recreating!
That's why in March 2020, PennFuture and others petitioned the Delaware River Basin Commission to upgrade the designated use of a portion of the lower Delaware River to reflect the community's use of the River for primary contact recreation sports.
And in late April, PennFuture joined with our partner organizations to educate conservation groups and community members about our "Petition for a Safe and Healthy Delaware River." This petition asks for the Delaware River Basin Commission to recognize what American Rivers and others have: that the lower Delaware River has improved and that people are using it for swimming, kayaking, paddle boarding, jet skiing, and other water sports that put community members in the river.
But now we need your support of our petition. Share your story of how you recreate on the lower Delaware River. Sign on to our petition – whether you're a conservation organization or a concerned community member. Your stories matter to the health of the Delaware!
We know that there are many different ways to protect water quality, and in the Philadelphia region, PennFuture has been utilizing many of our legal and advocacy tools to achieve a holistic vision for improvement of the water quality of the lower Delaware River watershed!
We have fought hard to stop polluters and to find innovative ways to improve water quality of the Delaware River, and now we're advocating to protect the advances we've made over the years.
Want to support our great work in Philadelphia and the Delaware River Watershed? Become a PennFuture member!