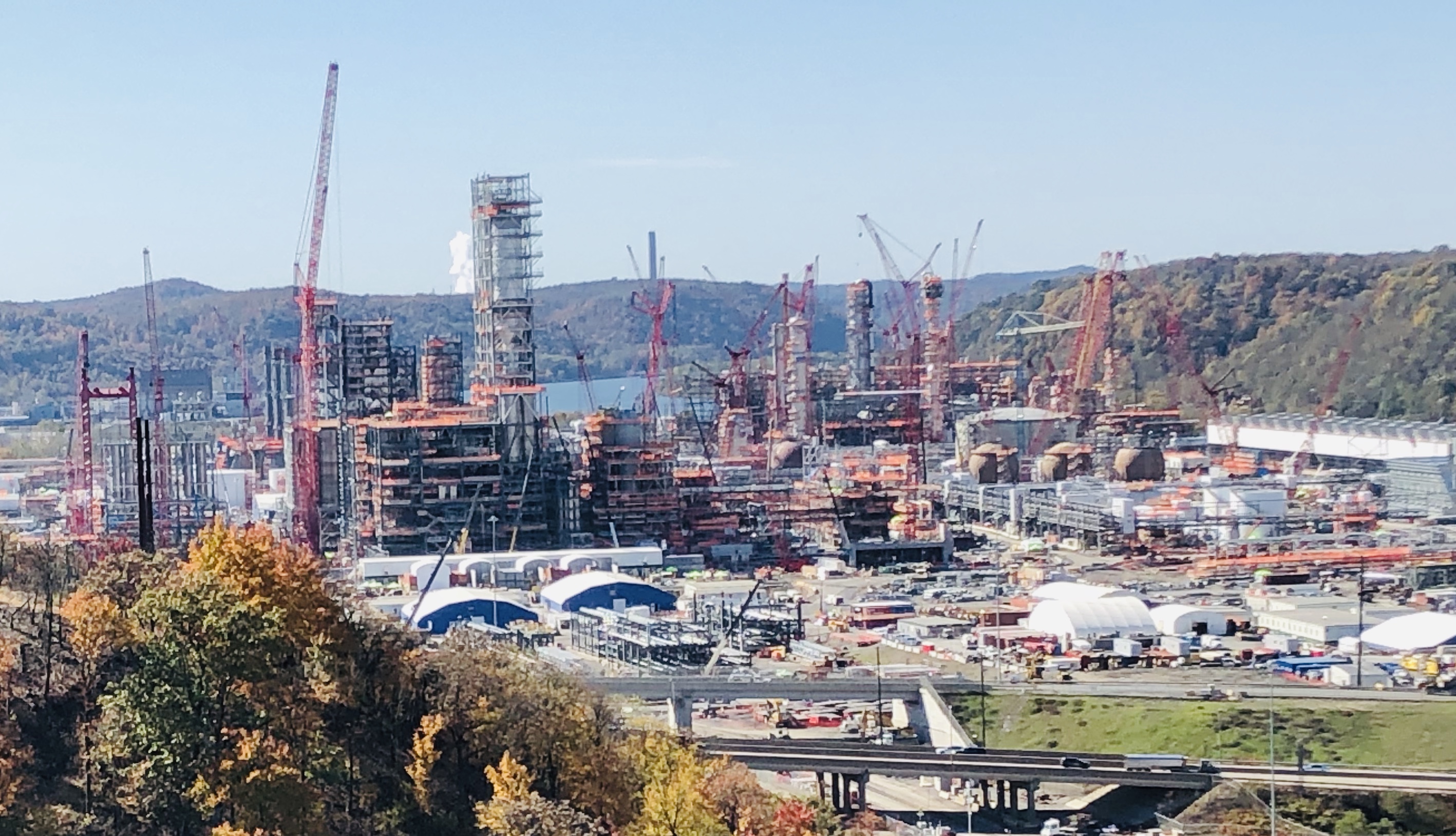 A report released by researchers at Robert Morris University last week grabbed headlines across western Pennsylvania: once up and running next year, Royal Dutch Shell's massive plastics factory on the banks of the Ohio River in Beaver County will generate nearly $3.7 billion in economic activity annually in Pennsylvania.
Unfortunately, these types of industry-funded sales pitches presented as "studies'' are an effective tactic used by the fossil fuel industry to gain taxpayer subsidies and a license to pollute in exchange for promised economic development that may never materialize.
To that end, a high-ranking Shell official didn't miss the chance to spin this report to fit the company narrative: the fossil fuel giant is "proud of the positive impact we are having on the local, regional and state economies," Senior Vice President Hillary Mercer said, "and we look forward to remaining a valued neighbor and employer of choice in the region for decades to come."
Mercer mentioned the importance of being a "valued neighbor" in the community, but what does that mean? The RMU report contained nearly 10,000 words typed across 32 pages: the word "jobs" appeared 40 times, while "billion" appeared a total of 43 times. "Pollution," "climate change," "cancer," and "health impacts" appeared zero times.
Keep in mind that this industrial behemoth, which hopes to turn ethane into resins used to manufacture single-use plastics, could emit upward of 2.2 million tons of carbon pollution annually along with air toxics and other chemicals. Once operational, it will skyrocket near the top of the list of worst polluters in all of western Pennsylvania, but RMU report didn't assess, cite, or factor in the public health impacts of facilities like this, which history has shown have severe effects—one only needs to look at petrochemical hubs in Louisiana and Texas for present day proof. Not considering the very real costs that Pennsylvanians will suffer from the environmental and public health damages is a huge omission, but it's not the only problem with the report.
Perhaps the most glaring problem is the underlying assumption that this plant will actually be successful. The financial press is already covering the glut in the industry as production outstrips demand and long-time industry leaders like Dow and Chevron are scaling back investments. As was reported last year, Shell "will enter the market amidst a plastics price war among formidable corporations with existing client bases that are reducing prices to maintain their position in a constricted market." In this environment, success is far from a sure thing.
The RMU report, for its part, cites "Suttles, 2020" and "Esposito, 2018" for the assumption that the plant will employ 600 full-time positions. Readers could be forgiven for assuming those are references to academic papers or some sort of independent analysis of the industry, but that is not the case: both are journalists quoting Shell's own estimations of employment. It's unclear if any of the claims regarding the future performance of this facility come from sources other than Shell or Shell-funded reports.
In fact, when the authors list their final assumption—that there will be a market for the products of the proposed plant—there is no footnote at all giving a source.
To be fair, Shell does have one thing going for it that competitors like Dow, Chevron, and ExxonMobile don't—Pennsylvania is providing them the largest tax subsidy in the state's history, worth as much as $1.65 billion. This expenditure, along with the very real costs of the additional pollution including direct medical expenses, lost work, and environmental damage, don't appear on the other side of the ledger when Shell makes its lofty claims.
The problem for Shell—and the rest of us—is that these negative externalities are very real, and very costly. Negative externalities are industry-created costs that are incurred by society rather than the industry at fault, things such as air and water pollution, increased sickness and public health burdens, and contributing to a climate crisis that is already at a tipping point worldwide.
Beaver County residents don't have to look far for a blatant example of a negative externality: in September 2018, the Revolution Pipeline exploded in Center Township, leveling one home, killing several animals, and destroying six high-voltage electricity transmission towers, among other damages. Another negative externality is the taxpayer money being spent by state and federal officials on an investigation into Shell's Falcon pipeline, which will carry up to 107,000 barrels of ethane to the cracker plant daily.
In a report issued earlier this year regarding fossil fuel subsidies, PennFuture predicted at least $400 million in negative externalities in air pollution associated with Shell's plant alone, a number that did not factor in plastics pollution in nearby rivers and waterbodies. Considering the Shell plant will produce up to 1.6 million tons of plastic per year, the real cost of these negative externalities is likely much higher.
It's one thing for a company to commission a study about itself, and then use the results of that study in its massive public relations efforts. It's another thing entirely for any entity —be it academic, media, industry or otherwise—to study or publicize economic impacts without factoring in every negative externality that comes with a warming planet and changing climate. Any results of such a study should be rendered null and void.
Instead, media outlets ran with the story, with some of them failing to mention that Shell paid for the study, let alone that the study did not factor in these negative externalities.
These kinds of studies serve one purpose, and one purpose only: to shift the narrative away from pollution, sickness and taxpayer subsidies, to one of economic impact, jobs and revitalization. It's an integral part of the industry's public relations machine that seeks to convince the public that America needs fossil fuels and extractive industry for prosperity.
It's time we call this what it is: propaganda.