Click here to send a letter to Allegheny County Executive Rich Fitzgerald and together, we can clear the air for our families.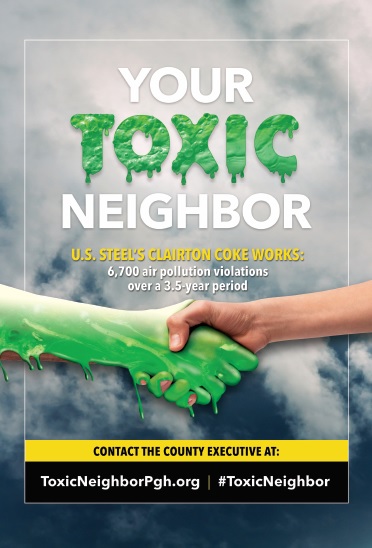 Our pollution problem impacts the health and welfare of our citizens, especially children and seniors, who are at risk for higher rates of heart and lung disease, asthma, adverse birth outcomes, cancer and premature death. According to the Pennsylvania Department of Environmental Protection, in 2016 alone, the U.S. Steel Clairton Coke Works plant emitted:
712,000 tons of carbon dioxide, a heat-trapping greenhouse gas
312 tons of PM 2.5, more than half of the entire county's PM 2.5 emissions from all major emitters
152 tons of Volatile Organic Compounds (VOCs) which cause serious health conditions including damage to liver, kidney and the central nervous system
12 tons of benzene, which increases the risk of fatal cancers
Fitzgerald must act to stop these harms to county residents.
Watch the video to learn more from Clairton residents who have suffered as a result of air pollution.
Join the conversation on social media: #ToxicNeighbor
Read more about the fight for your clean air:
Join the PennFuture email list to receive action alerts on this issue and more.