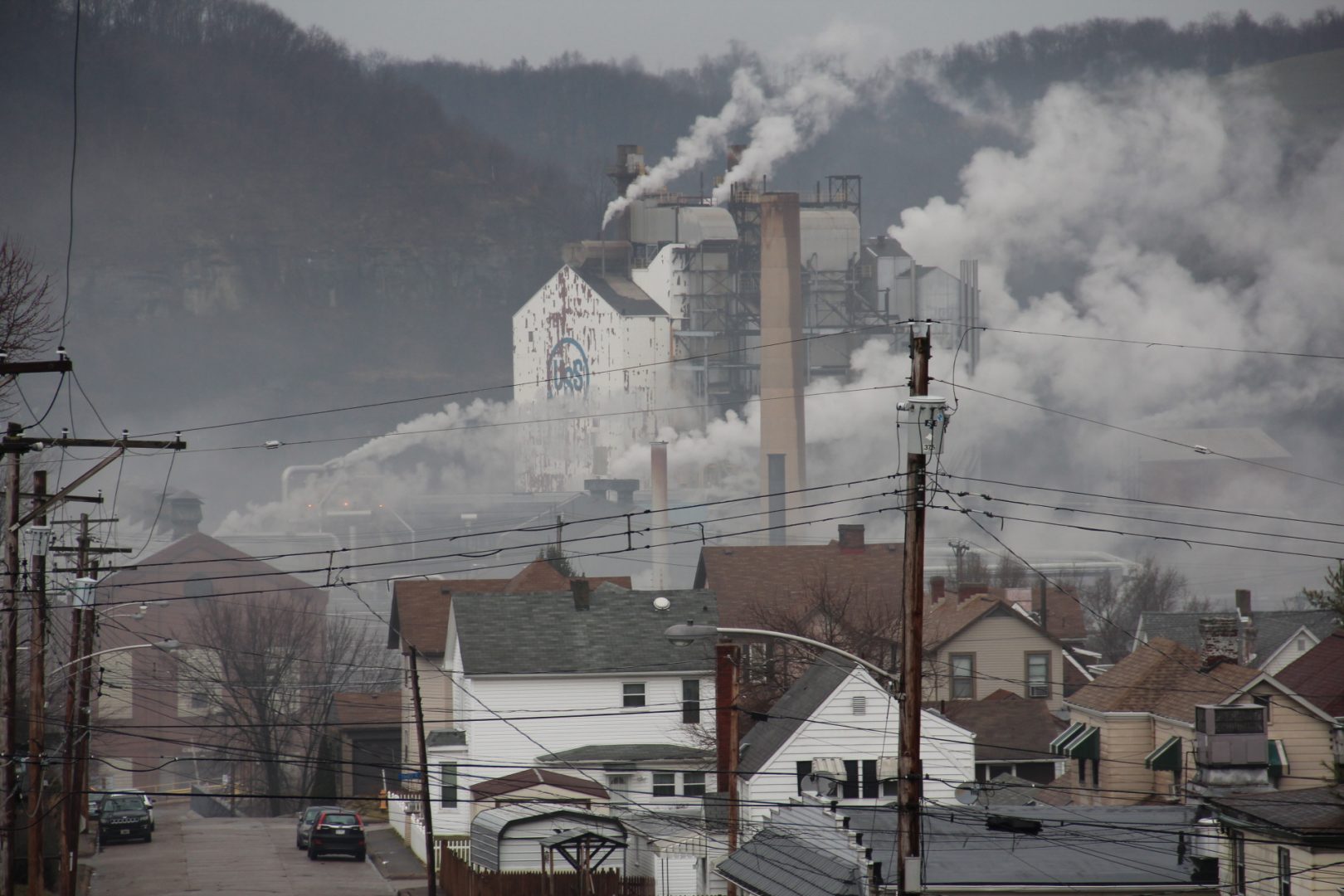 (Image: U.S. Steel's Clairton Coke Works, Clairton, PA. Photo credit: Reid R. Frazier / StateImpact Pennsylvania)
The renewed air permit for U.S. Steel's Clairton Coke Works, issued last year by the Allegheny County Health Department (ACHD), fails to include the monitoring and testing requirements needed to ensure the facility actually complies with its permit limits.
That's why PennFuture, along with our partner groups— Environmental Integrity Project and Clean Air Council— formally petitioned the Administrator of the U.S. Environmental Protection Agency (EPA) to object to the Title V Operating Permit issued by ACHD on November 21, 2022, to the U.S. Steel Mon Valley Works Clairton Plant.
The Problems with this Title V Permit
PennFuture and partners are urging EPA to object to the Title V Renewal Permit because it does not include testing, monitoring, reporting, and recordkeeping requirements sufficient to ensure compliance with multiple air quality emissions limitations for multiple emissions sources. For the Clairton Coke Works facility, this includes requirements for coke oven battery combustion stacks, flares, boilers, and quench towers.

Pollutants of concern emitted by the facility include particulate matter (PM), carbon monoxide (CO), volatile organic compounds (VOCs), nitrogen oxides (NOx), sulfur dioxide (SO2), and several hazardous air pollutants, including benzene.
This Title V Renewal Permit does not include monitoring and testing requirements sufficient to ensure compliance with necessary air quality protections or adequate measures to reduce the community's exposure to harmful emissions. Sufficiently monitoring the emissions of PM, CO, VOCs, NOx, SO2, and hazardous air pollutants from Clairton Coke Works is critical to protecting the community from harmful exceedances.
Clairton Coke Works' History of Air Pollution
The U.S. Steel's Clairton Coke Works is the largest coke plant in North America and a significant source of air pollution in Allegheny County. It also has a history of noncompliance with environmental requirements.
In 2022 alone, ACHD issued over $9 million in fines to U.S. Steel for emissions-related violations. The latest fines came down on Thursday, March 16 for $307,800 for air permit violations during the second quarter of 2022.
Air quality issues have been an ongoing public health concern in Allegheny County. The county received a failing grade in the American Lung Association's 2022 State of the Air Report for both daily fine particle and ozone pollution, and continued to rank in the worst 25 metro areas in the country for both annual and daily fine particle pollution. A recent University of Pittsburgh Medical Center study examining the Air Quality Index in Allegheny County from 2010 to 2018 found that even moderate levels of air pollution increased ER visits for kids with asthma.
How Did We Get Here
The Clean Air Act requires all significant sources of air pollution operate under what is known as a "Title V" permit. These permits are the primary method of enforcing and ensuring compliance with air pollution control.
Under the Clean Air Act, Title V permits must include all applicable limits and requirements for a facility, as well as monitoring, testing, reporting, and recordkeeping requirements sufficient to ensure compliance with all terms and conditions in the permit.
Clairton Coke Works' last Title V operating permit was issued in 2012 and expired in 2017. U.S. Steel applied for a renewal in 2016, however, according to the County, the renewal process has been delayed by regulatory and operational changes, including the 2018 Christmas Eve fire at the Clairton facility.
PennFuture and partners submitted detailed comments on the draft Title V renewal permit issued by ACHD during the public comment period in early 2022, and ACHD sent the final Title V renewal permit to EPA for review in November 2022. A Title V petition allows anyone to raise concerns to EPA and to ask them to object to the issuance of the permit for a specific facility if those concerns were raised to the permitting authority during the appropriate notice and comment period.
Because ACHD's final Title V renewal permit fails to include sufficient monitoring and testing requirements for PM, CO, VOCs, NOx, SO2, and hazardous air pollutants, the final renewal permit fails to comply with the Clean Air Act. Accordingly, PennFuture and partners petitioned EPA to object to the permit.
If EPA grants the petition and objects to the permit, ACHD must revise and resubmit the renewal permit in compliance with the Clean Air Act requirements and standards.
PennFuture's Air Quality Advocacy in Allegheny County
As part of its goal to protect and improve air quality in Allegheny County, PennFuture has worked over the years to curb harmful emissions from Clairton Coke Works by advocating for stronger regulations and permit terms and making it the target of PennFuture's Toxic Neighbor Campaign which advocated for the retirement of Clairton's oldest and dirtiest coke oven batteries, modernization of the facility, and greater transparency. Our Toxic Neighbor campaign resulted in the collective voices of more than 5,300 people demanding clean air, healthy communities, and a commitment to public safety by U.S. Steel.
This request for EPA to object to this inadequate Title V Renewal Permit is another critical step in PennFuture's fight against harmful emissions from major polluters in Allegheny County.
PennFuture dedicates its work to protecting and improving air quality for all of Pennsylvania; holding significant sources of air pollution accountable and ensuring they are appropriately permitted is critical to our fight for clean air.
If you want to support our work, please become a member today!