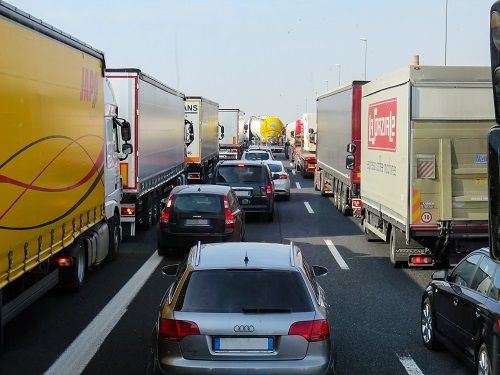 Gov. Tom Wolf's administration has released an initial proposal for how Pennsylvania might cap carbon emissions from the state's electricity sector, the first step in potentially joining a regional emission trading system.
At PennFuture, we have long called for Pennsylvania to join the Regional Greenhouse Gas Initiative. But we know the electricity sector only accounts for a third of U.S. carbon emissions. That's why Pennsylvania and other Northeast and Mid Atlantic states exploring another "cap-and-invest" approach—to address transportation-related carbon pollution—is equally important.
Transportation accounts for 37 percent of energy consumed in the United States and about an equal share of the greenhouse gas emissions from the Northeast and Mid-Atlantic regions.
State leaders recognize that more aggressive action is needed to halt the rise in transportation-related pollution and to empower a cleaner future. Pennsylvania is among 12 states and Washington, D.C. now considering a proposed approach to raise up to $68 billion over 10 years to modernize our public transportation systems, expand electric vehicle charging networks and transition fleets of heavy-duty vehicles to run on cleaner fuels.
The program is called the Transportation and Climate Initiative (TCI), a coalition of state regulators who recently proposed a cap-and-invest framework for the transportation sector. The proposal sets a goal to reduce carbon emissions 20–25 percent below 2005 levels by 2032. As a cap-and-invest policy, regulated entities would be provided annual carbon pollution "allowances."
Unlike the power, industrial, or building sectors, the transportation sector is far more distributed and complex. Across the region, more than 52 million tailpipes—from cars, light duty trucks, and other vehicles—spew gasoline and diesel-based exhaust and contribute to climate change. That said, like the other sectors of the economy, technology solutions are emerging and getting cheaper every year, including electric vehicle technologies, new charging infrastructure, and new vehicle efficiency technologies and materials, among others.
To catalyze these investments, state regulators have considered a range of policy approaches. Options include tightening vehicle fuel efficiency standards, placing a carbon tax on fuel consumption, or enacting carbon regulations on the country's 1,400 crude oil producers.
The TCI coalition is looking seriously at the latter of these options. The draft framework would limit pollution from entities who supply fuel directly to the TCI members. Fuel distributors would need to stay within an overall pollution limit beginning at 254 million metric tons per year in 2022. Distributors would purchase allowances proportional to their contributions to regional transport emissions. Allowances would decrease over time, drawing down total emissions.
There are 14 large oil refineries located in the TCI states. These and other regional suppliers would potentially be regulated by the framework. Owners of terminals and pipelines may also be included under future rules.
Pollution allowances would be auctioned by the states and the proceeds would be invested into cleaner, more resilient, more equitable low-carbon transportation systems that not only reduce pollution but also mitigate the costs to consumers. Initial estimates forecast that allowance prices of about $22 per ton would be necessary by 2022 in order to reach the 25 percent emission-reduction target. If prices reached such levels, the framework would raise about $5.6 billion per year.
Within this "pay to pollute" model, TCI is considering an alternative for distributors who may not wish to buy allowances. A potentially more affordable option would be to purchase carbon offsets. These projects would have to demonstrate verifiable, voluntary carbon reductions from investments in various sustainable forestry, agriculture or clean energy activities.
TCI states have yet to adopt their rules or to announce their proposed emission limits. Until then, the cost of the program is unclear, with ranges that depend on the aggressiveness of allowance caps. Initial studies predict gasoline consumers may be charged 7–29 cents more per gallon over 12 years, but consumers can control costs through the use of more efficient vehicles, public transportation, reducing unnecessary trips through telecommuting, or other cleaner transportation policies. Potential investments made in infrastructure projects and more efficient technologies would offset these costs and give consumers even more choices.
In fact, if spread across the transportation economy, the framework's benefits far outweigh potential program costs. A TCI analysis estimates net economic savings of $28.7–$54.5 billion for businesses and $3.6–$18 billion for consumers over a 15-year period. A cleaner, more efficient transportation system would also help avoid more than 1,000 premature deaths, prevent 1,300 asthma attacks and dodge 1,700 traffic injuries—resulting in up to $10 billion in public health benefits per year.
Recent polls suggest strong support among both urban and rural commuters. A November 2019 survey found 63 percent of Pennsylvania respondents would be willing to pay up to $20 per month to fund cleaner transportation choices across the state.
It is critical for Pennsylvania to consider the transportation sector when determining how we can best address climate change. PennFuture will continue to closely follow the Transportation Climate Initiative and fight for ambitious and equitable policies to transition our carbon-based economy. Stay tuned for more updates as proposed regulations take shape.