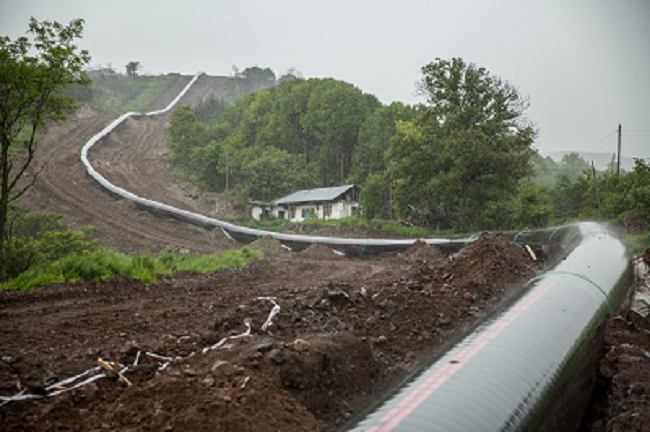 The fracked gas industry in Pennsylvania will never stop trying to convince us that pipelines are safe, efficient and necessary. Just look at a press release that the Marcellus Shale Coalition released in September, in which the group called pipelines "the safest way" to transport fracked gas, and that attempts to block pipelines "will harm local, regional and national environmental progress."
They must not be living in current-day Pennsylvania, because even a cursory glimpse at local and regional news headlines tells a much different story about pipelines.
PennFuture and other environmental advocacy groups have been vocal about the doomed Mariner East 2 pipeline owned by Energy Transfer Partners, which has been plagued by dozens of spills, sinkholes and other accidents that have destroyed our environment and natural resources.
To date, that pipeline project has been:
It should come as no surprise, then, that PennFuture has joined with several Pennsylvania lawmakers in calling for the permits for this project to be revoked. There are literally more than 100 examples of how this project is a public nuisance, and Energy Transfer has shown us - time and again - that it lacks the ability to operate within the bounds of Pennsylvania's laws.
It is offensive and perplexing that this project has been allowed to proceed. But what's even more offensive is that 48 criminal charges apparently aren't enough for Energy Transfer to get its act together.
On the other side of Pennsylvania, in Beaver County, Energy Transfer built the Revolution Pipeline, a 40-mile line that transports fracked gas between two processing plants. You might remember this pipeline as the one that exploded in 2018, causing a massive fireball that burned down a family's home, in addition to a barn and several cars, and caused widespread destruction of a nearby forested area.
When it was announced this week that Pennsylvania's Attorney General filed an additional 9 criminal charges against Energy Transfer in relation to the Revolution Pipeline explosion, the company responded that it was "no surprise to us."
Sadly, it was no surprise to us either. It was no surprise when the DEP hit Energy Transfer with another $30 million fine related to Revolution, and it is no surprise that this company has been allowed to put the Revolution Pipeline back in service despite hundreds of violations from the state.
When is enough enough? Has this company not shown us that it cannot operate safely in Pennsylvania? Will state regulators finally get the message after the next pipeline explosion, sinkhole or spill? When will the DEP step up and take seriously its duty to protect our environmental rights?
So remember: next time groups like the Marcellus Shale Coalition tell you pipelines are safe and necessary, don't believe them. The evidence is right in front of us to the contrary.