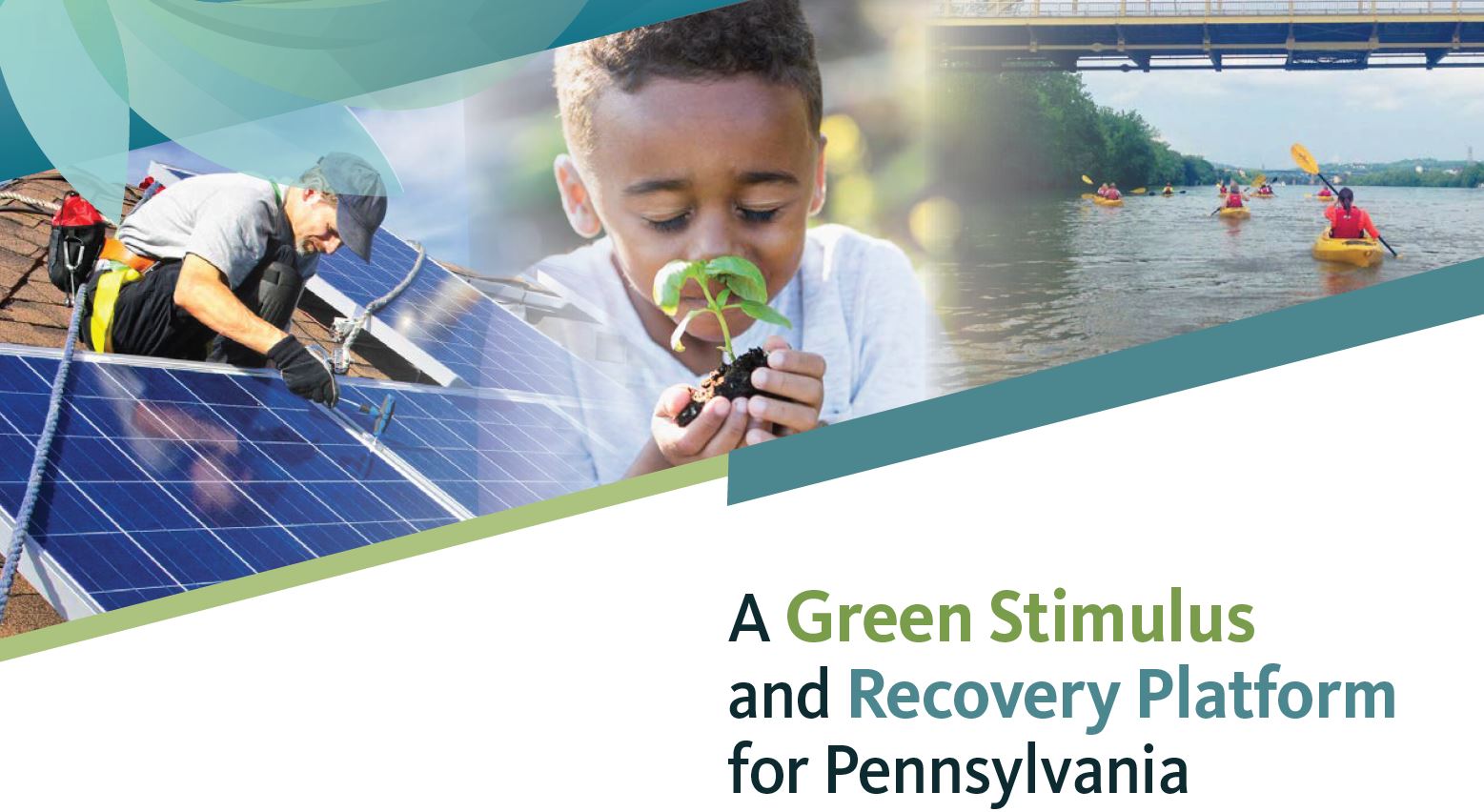 A rampant global health pandemic. A deep and rapid decline in Pennsylvania's economy that is nearly double that of the Great Recession of 2008. Rising racial inequality. Nearly 3 million Pennsylvanians seeking unemployment benefits since mid-March. Small businesses shuttered—some permanently—as Pennsylvania's economy struggles to reopen.
It's abundantly clear that these are unprecedented times, and that our leaders in all levels of government will have to spend the next several years advancing economic and public health solutions that spur our economy towards recovery.
That's why PennFuture released today a strategic roadmap to guide our leaders to implement a green stimulus recovery plan for Pennsylvania.
This 50-page report lays out specific policy recommendations that leverage Pennsylvania's growing nature-based, clean energy, and low-carbon industries to put people back to work and build a more resilient and sustainable economy.
The report has four overarching goals that guide each recommendation made within the document: safely restart Pennsylvania's economy in a way that reduces pollution and is protective of human health, avoid state budget cuts that will harm our businesses and slow recovery, target short-term investments that provide family-sustaining wages, and advance long-term investments to support sustainable infrastructure and industries that contribute to resilient, clean and profitable communities.
All told, PennFuture's policy platform is estimated to amount to $2.8 billion in investments, which would preserve or create as many as 389,000 jobs in the Commonwealth, including nearly 37,200 shovel-ready jobs, while also reducing pollution, promoting our natural resources, and advancing public health.
There is evidence to back up the necessity of our green stimulus and recovery platform.
According to a recent study from Oxford University that analyzed 700 separate stimulus policies from the Great Recession, projects that focus dually on economic recovery and reductions in greenhouse gas emissions deliver higher returns on government spending both in the short and long term.
Our leaders also cannot turn to industry to jumpstart this recovery. Carbon dioxide emissions skyrocketed by 5.1 percent in 2009 when America's economy finally started to bounce back from the Great Recession. It is indisputable that Pennsylvania, similar to the rest of the world, is at a critical juncture where we must make concerted and dedicated efforts to drastically cut our carbon footprint immediately.
Pennsylvania is at an inflection point. We either pursue old and tired methods of recovery that rely on slashing budgets and public sector jobs, or we chart a new direction that creates a new and sustainable economy while serving the dual purpose of addressing the climate crisis.
The choice is ours, and the chance to emerge from this historic challenge as better, cleaner, more resilient Pennsylvania is at our fingertips. Here's to hoping our elected officials are listening.
To read our Green Stimulus report, please click here, or go to www.pennfuture.org/greenstimulus. When you do, please feel free to share it widely with friends, family or your elected officials in Harrisburg.