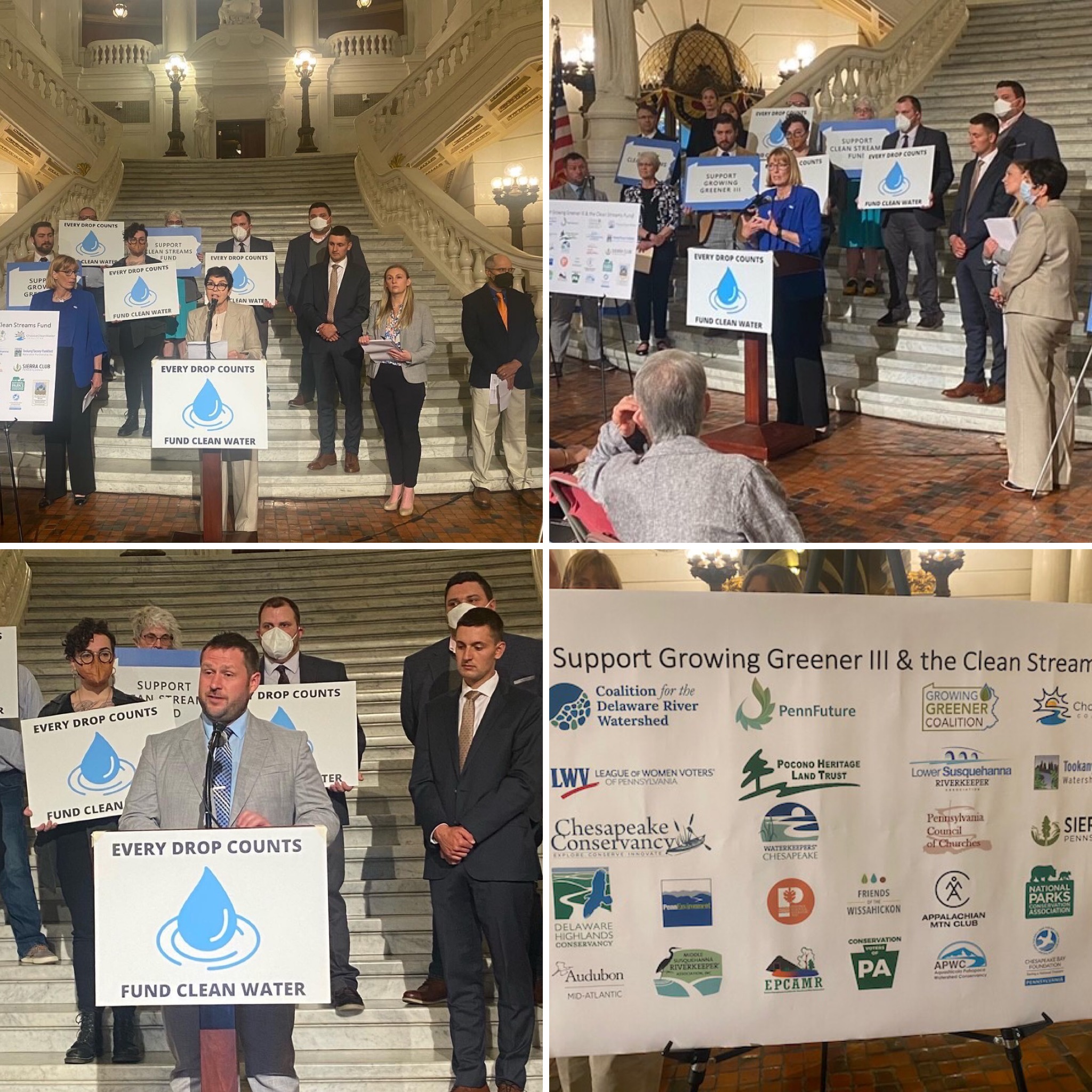 It's budget season in Harrisburg!
Pennsylvania has $2.2 billion in federal American Rescue Plan funding that remains unallocated out of $7 billion it originally received. Recognizing the importance of natural infrastructure and healthy rivers and streams to public health, this money should be used to fund clean water programs and practices.
Fortunately, there are two proposals being debated in Harrisburg that would direct $750 million to conservation, clean water, and open space protection.
The first bill, called SB 525 in the Senate and HB 2020 in the House, would reinvigorate a popular conservation program created under former Gov. Tom Ridge two decades ago.
Specifically, the Growing Greener program provides critical support to community-driven work that improves and protects our cities and towns. Since 1999, Growing Greener has been a lifeline to conservation and clean water projects across the state. These investments bring lasting benefits to communities across Pennsylvania from clean water to open spaces to recreational pursuits for Pennsylvanians and tourists alike.
The second bill, called SB 832 in the Senate and HB 1901 in the House, would create a new Clean Streams Fund to tackle water pollution from nonpoint sources such as agriculture runoff and drainage from abandoned mines. Specifically, this new Fund would establish new programs and give a boost to existing programs. It would create the Agricultural Conservation Assistance Program to help farmers and the Municipal Stormwater Assistance Program to provide funding to local governments to manage stormwater.
On June 8th, PennFuture led a bipartisan effort in the Capitol Rotunda to call on lawmakers to support clean water funding in this year's budget, which must be passed by June 30.
Specifically, PennFuture and 25 partner co-sponsors - along with Department of Conservation and Natural Resources Secretary Cindy Adams Dunn, Sen. Carolyn Comitta, Rep. Lynda Culver, and the Pennsylvania Farm Bureau - held a press conference in Harrisburg in support of the Growing Greener III program and the Clean Streams Fund.
If you want to learn more about this fantastic event, be sure to check out our press release, or look above for some pictures from the event!
Now it's time to ask for your help: both the Growing Greener program and the Clean Streams Fund represent a chance for generational, once-in-a-lifetime funding for clean water, conservation and green space funding in Pennsylvania. We need your help to contact your elected officials to help make sure the funding for both programs is included in the state budget.
Do your part today: contact your elected officials and ask them to support this bipartisan effort on behalf of clean water, conservation and green space in Pennsylvania!