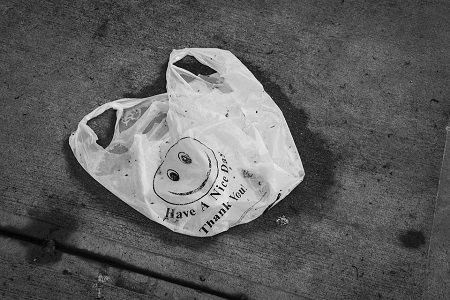 Philadelphia's ongoing efforts to address the plastic waste crisis are poised to make significant advances following City Council's summer recess. This advance is in the form of the potential passing of a new bill under Councilmember Mark Squilla that aims to further address plastic bag use and limit its subsequent harmful impacts.
Prior to Philadelphia's original ban on single-use plastic bags, estimates showed that the city used well over one billion plastic bags a year, which littered our streets and clogged our waterways. For water, in particular, the environmental and human impacts are rather significant. Plastic degrades into microplastics in water, something that recent reports from PennEnvironment confirm is in 100% of the state water samples they collected. These microplastics are not just ingested by the environment and its wildlife but also by people, in addition to the toxic chemicals often found with these plastics such as bisphenol A (BPA) and phthalates, combining to have serious long-term human health impacts.
Plastic bags also clog Philadelphia's recycling facilities, with officials estimating 10,000 hours being spent just untangling bags from equipment.
For these reasons, efforts to reduce plastic bag usage have been in motion for several years. It began first in 2007 when Council tried to ban plastic bag usage outright. Then-councilmembers Jim Kenney and Frank DiCicco led the charge with the support of four others. However, lobbying efforts from grocers and petrochemical actors were too potent for the bill to hold ground.
The same contingent attempted to do the same in 2009, but again to no avail and for similar reasons.
In 2012, media organization Green Philly attempted to revive these conversations, leading a petition to ban disposable bags which received over 1,300 signatures, and started a Facebook page to document the littering of plastic bags across Philadelphia. Though an admirable effort that highlighted the popular sentiment in favor of reducing our reliance on single-use plastics, it was not enough for Council to take action.
It would not be until 2015 that momentum for this cause would increase in earnest. Councilmember Squilla took up this environmental initiative and proposed that a five-cent fee be attached to the bags. It would charge the fee to those using a single-use bag from retail establishments and it would be imposed on both plastic and paper bags. Despite having support from a broad-based coalition of environmental and community groups, the bill again fell through.
In 2017, the Pennsylvania General Assembly attempted to subvert local authority and secure the interests of the petrochemical industries through preemption. A bill managed to pass that would have not allowed municipalities from issuing a plastic bag ban in the first place, something that would go on to be vetoed by Governor Tom Wolf. Again in 2019, the General Assembly maneuvered to sneak a ban into that year's state budget proposal.
Philadelphia sued the State in response and the budget laws banning local governments from implementing plastic-bag bans have since expired.
It would not be until 2019 that a ban on single-use bags would be implemented in Philadelphia. While environmental advocates were enthused about the direction Council was headed with such a bill, there was a recognition that the ban did not go far enough. The biggest concern was the lack of a fee structure. The original bill had a provision for a ban on all single-use plastic bags and a 15-cent fee for others but a compromise was made to remove the fee.
Hybrid structures for bag bans, those with bans and fee components, are found to be the most effective approach in this regard, something that the new bill calls for. It concentrates costs to consumers of plastic bags. Fees for plastic bags labeled as free are in fact not. Instead, the price is passed off overhead of the retailer that is passed onto customers in the price of goods purchased. The 15-cent fee component of this new bill would make sure that this cost is attributed to just those who consume these bags, while fees on recyclable paper and reusable bags would encourage customers to bring their own bags.
This approach would also discourage shoppers from just switching from plastic to paper and encourage the use of reusable carryout bags instead. Studies have supported this. One looked at the response to Washington DC's law applying a five-cent bag fee. It found that after the implementation of the five-cent bag fee, plastic bag use declined by over 60 percent. Much of the same success could be experienced in Philadelphia if the new bill is passed.
The current structure of ban and no fee also runs the risk of increasing plastic and other resource consumption. With no fee disincentive, customers often take whatever alternatives are still available for free. As a result, as consumption of thin single-use plastic bags decreases, consumption of the remaining free paper and thicker plastic bags often increase. Under the 2019 bill, "reusable" bags thicker than 2.25 mils and paper bags become the "free" alternatives. Studies have proven this. One that examined the carryout bag use in Chicago supermarkets before and after the implementation of a fee showed substantial decreases in single-use bag usage and increases in customers bringing their own bags or no bags.
These options, however, are more expensive for the grocer. As a result, this increase in cost is incorporated into retailer's overhead and has more consequential environmental impacts. Thicker plastic bags are heavier to transport, consume higher amounts of fossil fuels and require higher levels of ethylene to produce into plastics. These all serve to increase Philadelphia's overall climate emissions.
Paper bags, on the other hand, have their own set of harmful environmental impacts. The paper-making process uses a lot of energy and can be a major source of water pollution. Transportation emissions are also a concern here. The new bill would help curb these consumer and environmental harms.
Concerns over the additive cost to lower-income residents can also be addressed with this new rendition of the bill. This could be in the form of greater outreach and reusable giveaway efforts towards these lower-income communities and exemptions from fees for those residents that are SNAP/WIP participants.
The time for action is now. While the plastic bag ban bill in 2019 put Philadelphia on the right course to address plastic pollution, it does not do enough. The new plastic ban bill can right the ship and steer Philadelphia into a more equitable, cleaner, and greener future.