On Monday, PennFuture members and staff were happy to stand alongside our partners in clean water at the Choose Clean Water Coalition for a lobby day and press conference in Harrisburg.
Throughout the day, we advocated and reached out to all members of the Pennsylvania General Assembly and the State Senate serving in the Chesapeake Bay watershed on a suite of legislation aimed at creating a long-term dedicated fund for clean water programs and projects, reducing nitrogen and phosphorus pollution in our streams and creeks, and the need for increased clean water funding in our state budget for the Department of Environmental Protection, the Department of Conservation and Natural Resources, and the Pennsylvania Department of Agriculture.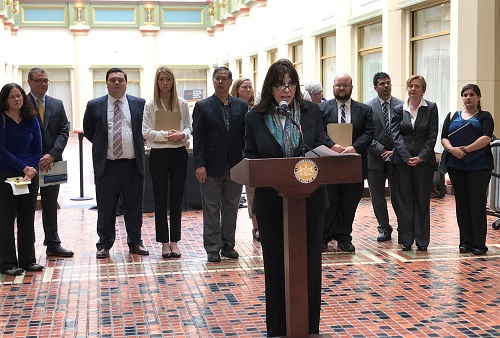 PennFuture Executive Vice President and COO Jacqui Bonomo speaks at PA Water Lobby Day.
We want to extend special thanks to those who provided critical remarks on the importance of investing in Pennsylvania's clean water, including Marel King (Chesapeake Bay Commission), Rep. Garth Everett (84th District & Chair of the Chesapeake Bay Commission), Rep. Mike Sturla (96th District, Member of the Chesapeake Bay Commission), Jacqui Bonomo (Executive Vice President & COO of PennFuture), Carol Parenzan (Executive Director of the Middle Susquehanna Riverkeeper Association), and Liz Deardorff (Director of Clean Water Supply at American Rivers).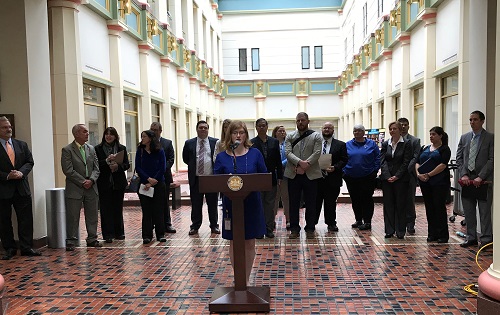 Marel King of the Chesapeake Bay Commission speaks in Harrisburg.
We also want to thank those member organizations of the Choose Clean Water Coalition who were able to join us in Harrisburg to fight for clean water and educate our state legislators as well, including Lower Susquehanna Riverkeeper, Middle Susquehanna Riverkeeper, Lancaster Farmland Trust, Sierra Club Pennsylvania Chapter, Sierra Club, Chesapeake Bay Foundation, American Rivers, and the National Parks Conservation Association.