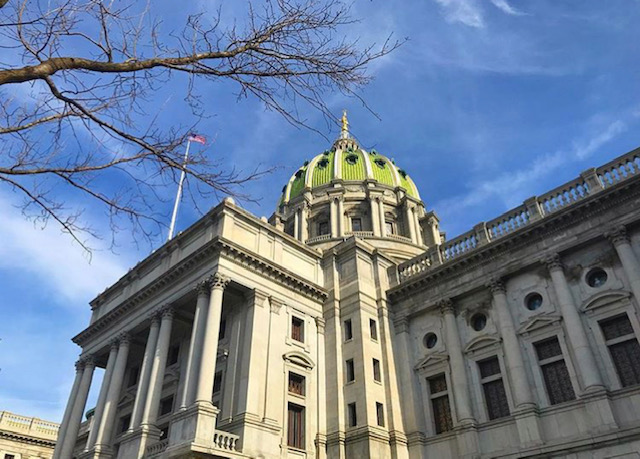 With the close of the legislative session in Harrisburg at the end of November came significant victories for Pennsylvania's environmental protection, as a handful of bills were halted thanks to our work in the Capitol, and thanks to the many citizens who took action by contacting their elected officials.
This would not have been possible without the advocacy and hard work from PennFuture staff, members, supporters, and partners across the environmental and conservation community in Pennsylvania. Through action alert emails that engaged citizens with their elected officials, in-district constituent meetings with members of the General Assembly, calls to offices, sign-on letters with partner organizations and coalitions, and multiple lobby days, our presence and direct opposition to these bills truly had an impact.
While advancing proactive, offensive, good environmental legislation remains a challenge in Harrisburg, PennFuture and partners killed, blocked, and bottled-up a host of anti-environmental and pro-fossil fuel bills and policies in the recent previous legislative session. Below, please find a summary of the good, bad and ugly bills we engaged with over this last legislative session.
Defensive Victories:
In terms of "regulatory reform," which is really just another term for "rollbacks," PennFuture and partners killed a number of dangerous bills in the General Assembly, including:
HB 430 (Legislative blocking/killing regulations via concurrent resolution)
HB 414/HB 509/SB 252 (allowing for 'third-party permit review')
HB 762/SB 253 ('Regulatory Compliance Advisor')
HB 507/ HB 806/SB 5 (Legislative approval of 'economically significant regulations')
HB 827/SB 305 (undermining the Delaware River Basin Commission with eminent domain and requiring 'just compensation')
HB 828 (Regulatory rollback for unconventional drilling: siting, boreholes, water)
HB 1055/SB 251 (Office of the Repealer)
HB 1105 (Energize Pennsylvania package: 'consolidated standards permit')
HB 414/1106 (Energize Pennsylvania package: 'deemed approval' of permits)
HB 1107 (Energize Pennsylvania package: 'PA Permitting Commission')
HB 1874/SB 703 (Amending the Regulatory Review Act for more legislative control of the Independent Regulatory Review Commission)
HB 2025/SB 950 (Requiring legislative approval of RGGI) - Governor Wolf vetoed
HB 2416/SB 327 (Regulatory tolling during COVID-19 emergency declaration)
SB 323/887 (pipeline protest bill; 'critical infrastructure protection act'; liability fees paid by protestors)
SB 619 (attempt to eviscerate PA's Clean Streams Law)
SB 726/727 (Cutting scope, powers, membership of Environmental Hearing Board)
SB 790/HB 1635 (rolling back conventional drilling standards to 1984 levels) - Governor Wolf vetoed
In terms of fossil fuel subsidies and giveaways, PennFuture and partners killed a number of dangerous bills in the General Assembly, including:
HB 11/SB 510 (unlimited & open-ended nuclear subsidies with no Tier 1 AEPS increase)
HB 695 (incentives for waste-to-energy 'recycling')
HB 1100 (Energize Pennsylvania package: open-ended subsidy for 30 years at $660B per petrochemical plant) - Governor Wolf vetoed
HB 1102 (Energize Pennsylvania package: KEEZ/Keystone Energy Enhancement Zones for petrochemicals).
HB 1392/SB 845 (punitive fees on electric vehicle owners)
SB 716/717 (Natural Gas development on state lands)
In terms of raiding environmental protection & conservation in the state's budgets and special funds, PennFuture and partners killed a number of dangerous bills in the General Assembly, including:
HB 1822 (Putting a freeze on spending out of several environmental special funds)
HB 1988 (Placing environmental special funds into the state's General Fund)
HB 2004 (Gives the General Assembly control to allocate funds from special funds)
SB 1034 (Amending fiscal code to include "grant management oversight")
Offensive Victories:
Unfortunately, Harrisburg has offered up few bright spots in terms of legislative offensive victories that are pro-environment during this last two-year legislative session, but state lawmakers did a few, great things:
Creation of new, innovative "Pennsylvania Farm Bill" that elevates agricultural conservation work
Allocated $3M for REAP (Resource Enhancement and Protection Tax Credit)
Allocated $2M for the Conservation Excellence program at the PA Department of Agriculture
Challenges:
A few terrible pieces of legislation passed through the General Assembly and secured the Governor's signature this year, mostly via nefarious policy riders to the fiscal codes of budget packages that PennFuture and partners will continue to fight back against, including:
HB 732 (petrochemical subsidy to the tune of $670M over 26 years to 4 petrochemical plants)
HB 2536 (waste coal subsidy by 'closing the borders' for Tier II of AEPS)
2019's fiscal code (waste coal subsidy for $200M)
HB 1103 (building out state's PIPE program, increased gas infrastructure)
Repeal of data reporting requirements outlined by Act 54 for mining operations in the recent 2021 state budget package's fiscal code (former SB 763)
Termination of Joint Legislative Conservation Commission (JLCC) at the end of 2021 in 2019-2020FY budget
HB 1808 (promotion of plastics/petrochemicals as 'recycling')
What Legislation We Expect to See Next Session (2021-22):
Several beneficial bills advancing clean energy, environmental protection and conservation have failed to pass this session, but we will continue to advocate for them next year alongside partners. Here's what to look for in the coming months in terms of the work ahead:
Advancing Clean & Renewable Energy
Moving forward the DEP's "Carbon Trading Program" through the regulatory process
Establishing carbon Cap & Invest programs in Pennsylvania (formerly SB 15/ HB 2586)
Passing Community Solar legislation (formerly HB 531/SB 705)
Expanding & modernizing the Alternative Energy Portfolio Standards (AEPS, formerly SB 600/ HB 1195)
Enacting legislation increasing buildout of infrastructure for electric vehicles (formerly SB 596)
Advancing Environmental Protections & Holding Polluters Accountable
Closing loopholes on hydraulic fracturing waste (cosponsor memoranda out now from Sen. Muth & Rep. Innamorato)
Passing legislation implementing recommendations from Attorney General Shapiro's 2020 report on environmental crimes by polluters in hydraulic fracturing
Advancing Clean Water Legislation
Setting increased training & application requirements for fertilizer (formerly SB 915)
Passing the "Agriculture Conservation Assistance Program" (ACAP - formerly SB 1272), which would give much-needed support to farmers to implement best management practices and conservation work to improve water quality
Advancing Equity and Funding for Green Stimulus & Recovery
Advocating that Gov. Wolf is bold in his budget address in early February and advocating for an equitable budget as it moves through the General Assembly this Spring, a continuation of PennFuture's "Green Stimulus & Recovery" work
Working with frontline community advocates to pass legislation establishing an "Office of Just Transition" and legislation giving more teeth to the PA DEP's Office of Environmental Justice coupled with increased interagency coordination and review of justice concerns
PennFuture and partners in the environmental and conservation community will again be busy in defensive work. 2021 is setting up to be a year of more hope and opportunity, but many of the same legislative themes will persist. Pennsylvania legislators will likely take yet another crack at "Regulatory Reform" legislation such as the "Office of the Repealer" bill, more legislation attempting to eviscerate the Commonwealth's Clean Streams Law, and more fossil fuel subsidies like the recent waste coal giveaways and the behemoth gifts to the petrochemical industry outlined in the Energize Pennsylvania plan.
What's more, we're likely to continue playing defense against austere and draconian budget cuts to our agencies and dedicated funds for environmental protection and conservation.
For now, the Pennsylvania House of Representatives and State Senate will return to Harrisburg on January 5th to swear-in new Members of the General Assembly, but the two legislative bodies will likely not be back in full swing (and voting session) until mid-late January. Very soon thereafter, Governor Wolf will introduce his proposed state budget for the 2021-22 fiscal year and agency budget hearings for the Appropriations Committees will begin their work in earnest.
We will continue to advocate for a clean and responsible state budget, track and advance legislation that protects our environment, act on climate, and we will defend against any attacks on our Commonwealth's crucial clean air, water, and natural resource protections.