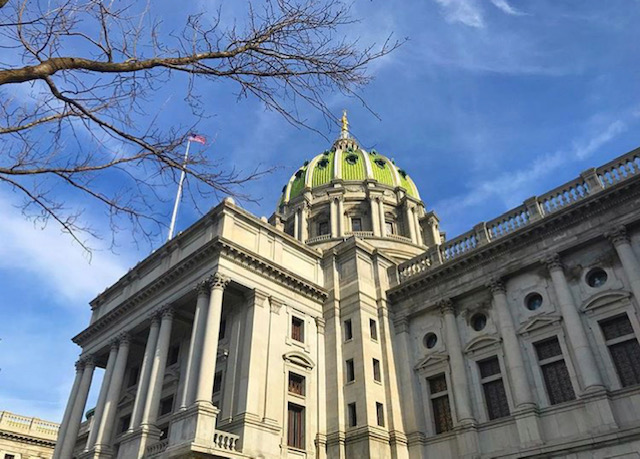 Anti-environmental legislators in the Pennsylvania General Assembly are using the COVID-19 public health crisis as a cover to move bills to block any proposed or final environmental regulations and to attack dedicated environmental and conservation funds.
We've already seen more than a dozen attempts just this legislative session to repeal and roll back critical protections, but now leadership in the House of Representatives is quickly moving two dangerous bills to halt critical environmental regulations that were in the works before the pandemic began.
On April 17, House State Government Committee Chair Garth Everett (R-Lycoming) introduced House Bill 2416, and on April 20, the committee approved the bill on party-line vote.
HB 2416 would stop any proposed or final environmental or other state agency regulation from being finalized until at least 90 days after the March 6th COVID-19 emergency declaration by the Governor is terminated. Everett's bill seems to fit the "demands" made by House Environmental Resources and Energy Chairman Daryl Metcalfe that the Department of Environmental Protection suspend or roll back environmental regulations during the ongoing pandemic. You can read more about PennFuture's comments on this letter here.
The legislation also stipulates that no proposed regulation may be submitted in final form to the Independent Regulatory Review Commission (IRRC) or the House and Senate committees. The bill allows state agencies to petition appropriate standing committees of the Senate and House—solely controlled by House leadership—for a waiver from the prohibition against publishing regulations. Additionally, the bill blocks final regulations from being promulgated as regulations by the Department of Environmental Protection or any other agency.
HB 2416 provides no requirement for the committees to take any action on the request. This legislation seemingly raises noteworthy issues with the Pennsylvania Constitution, because the bill allows for indefinite tolling of regulations without employing the regular legislative process and other deliberative bodies such as the opposite chamber and the Governor's approval.
This legislation would have real implications on several protections and regulatory actions in the proposed or final forms of rulemaking including: increasing fees for unconventional oil and gas well permits, setting air emissions standards for oil and gas operations (such as volatile organic compounds and methane), establishing standards for cleaning up PFOS and PFOA contamination, redesignation for water quality protection for dozens of streams, and setting up a carbon dioxide reduction program, among others.
PennFuture and partners fought back against HB 2416 and was successful in blocking the bill from receiving third consideration and final passage votes last week, though it may come back as the House continues its legislative session. SB 327, an administrative code bill setting up a COVID-19 response task force, was amended two weeks ago to include a provision with regulatory tolling language identical to HB 2416. We'll continue to push back against both anti-regulatory bills in the House and Senate. HB 2416 remains on the House calendar and SB 327 is currently awaiting action in the Senate Rules Committee.
With the rapid action of these fast-tracked administrative code bills, PennFuture will remain vigilant and we call on members of the Pennsylvania General Assembly to oppose both House Bill 2416 and Senate Bill 327.
Unfortunately, those aren't the only bad bills we're watching in Harrisburg.
On April 21st, the Pennsylvania House of Representatives' leadership took a bill—House Bill 1822—meant for giving small municipalities low-interest loans and financial support for COVID-19 response hostage and added a dangerous amendment that would freeze new expenditures for sixteen special funds, including eight funds related to conservation and the environment.
A few of those eight funds include the Environmental Stewardship Fund (Growing Greener), the Keystone Recreation, Park, and Conservation Fund, the Recycling Fund, and the County Conservation District Fund.The Pennsylvania House adopted this amendment from House Appropriations Chair Stan Saylor (R-York) and sent it to the Senate for its consideration, where it remains in the Senate Rules Committee.
What's more: on the morning of May 5, the House Environmental Resources and Energy Committee, chaired by Rep. Daryl Metcalfe (R-Butler), held a voting meeting in Harrisburg to approve another attack on environmental and conservation funding, via House Bill 2004, sponsored by Rep. Jason Ortitay (R-Allegheny/Washington).
This legislation seeks to take control of allocating money in key environmental and conservation funds, such as Keystone Recreation, Parks, and Conservation Fund, from the executive branch agencies to the General Assembly. After Rep. Ortitay mentioned that the Keystone Fund should be opened to compete against other funding priorities, it's evident that legislators in Harrisburg are using this abnormal budget season as an opportunity to put a wildly popular thirty-year-old program at risk. What's being called a measure to 'tighten the belt' of the Commonwealth is nothing more than an austerity measure.
We wholly reject this frame. Our natural resources are necessary and conservation, protection, maintenance of these are a core function of our government. We appreciate Minority Chairman Vitali's (D-Delaware/Montgomery) leadership against this bill in committee along with the steadfast advocacy from Reps. Leanne Krueger (D-Delaware) and Rep. Mary Isaacson (D-Philadelphia).
Rep. Krueger rightfully reminded her colleagues that, being in the middle of a pandemic, timing on moving HB 2004 was questionable. She made the case that the bill would significantly change how Pennsylvania funds our parks, trails, ballparks, and more. Rep. Krueger added that the Keystone Fund has worked for thirty years and now the legislature wants to put it in jeopardy.
Rep. Isaacson admonished the House Environmental Resources and Energy Committee members, saying that the legislature needs to be careful: "this is a restricted fund...this was created to protect treasures in our state that are for everyone. This fund is not to be subject to the will and whims of this General Assembly."
For more information on highlighted projects funded by the Environmental Stewardship Fund (Growing Greener) and the Keystone Fund, please visit: https://esfund.info/ and https://keystonefund.org/.
It's unacceptable that these critical funds are being used as bargaining chips during this budget season and PennFuture wholly opposes HBs 1822 and 2004, which are nothing more than attacks on our clean air and water. Proponents of these bills are using libraries, historic preservation, recreation, conservation, and our state parks and forests as pawns - chess pieces for leverage in the budget fight, and as made clear by Chairman Daryl Metcalfe today, movement of these bills is tied to opposition to Pennsylvania's COVID-19 stay-at-home orders.