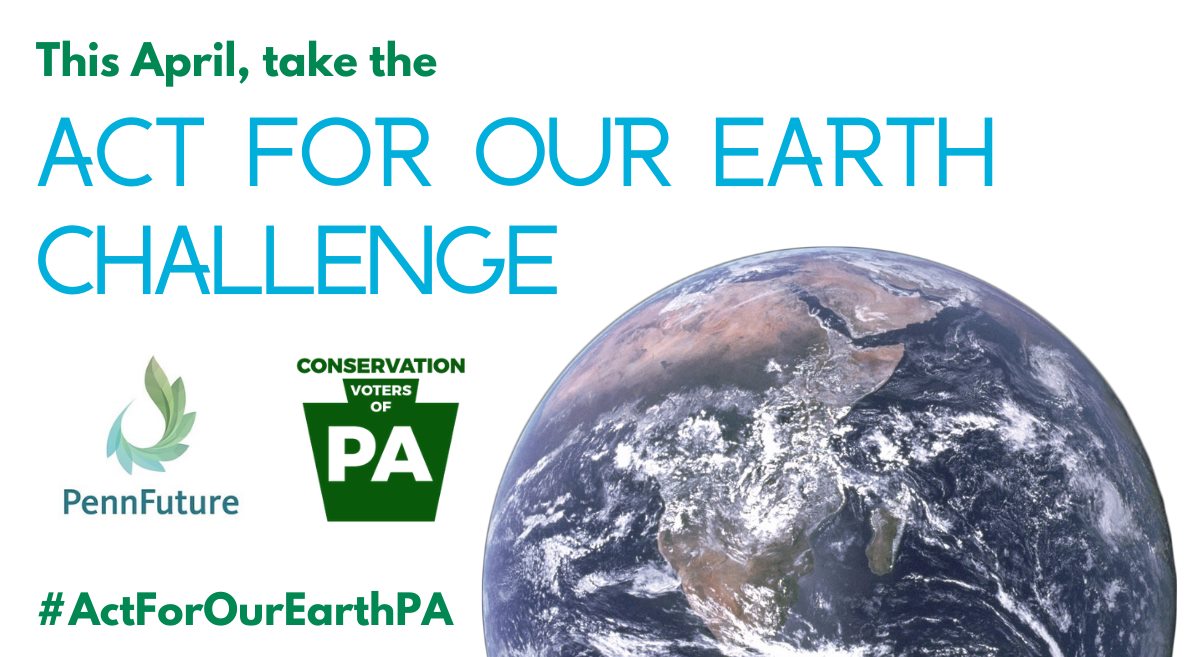 Sometimes, your best-laid plans evaporate in an instant and you're forced to improvise on the fly. So it was for the entire month of April, a time that was supposed to be spent outside with friends, family and colleagues celebrating the 50th anniversary of Earth Day.
Such a momentous occasion should have been marked with rallies, parades and parties. Instead, with the COVID-19 pandemic gripping the world, we were all forced indoors in front of our computer screens, wondering what to do next.
So, we improvised.
The result was a fantastic initiative between PennFuture and our partners at Conservation Voters of Pennsylvania. Called the Act For Our Earth Challenge, participants who signed up for the challenge received one meaningful action in their inbox for each day in April. Most actions only took ten minutes or less, while more involved actions included educational webinars or films.
The challenge was a great success. Over 700 people signed up for the challenge engaging in over 20,000 actions. Throughout the month we aimed to offer a variety of actions in order to find something for everyone. They can broadly be classified as advocacy, voting, education, lifestyle and movement building.
Advocacy
Both PennFuture and Conservation Voters of Pennsylvania strongly believe in empowering individuals to contact policymakers about why environmental protections are important to you. Some examples of these actions included:
Day 1 - Fight back against EPA rollbacks
The Environmental Protection Agency (EPA) announced it will be waiving enforcement of our environmental laws throughout the duration of the COVID-19 crisis. Sign this petition to tell the EPA that its environmental protections are critical.
Day 14 - Sign the 30x30 Nature Petition
Day 19 - Watch our Volunteer Advocacy webinar
Voting
While the primary election in Pennsylvania has been moved to June 2nd, we still are focusing on registering people to vote. We wanted to particularly let people know about the new mail-in ballot option -- especially considering the pandemic we are facing.
Day 2 - Register to Vote!
Day 26 – Sign up to vote by mail
Day 28 – Check out our Run for Office webinar
Education
Many of our challenges involved learning about a variety of environmental issues. Some examples of that are:
Day 5 - Check out our environmental book recommendations
Check out great environmental books like The Overstory by Richard Power, No One is Too Small to Make a Difference by Greta Thunberg, and for the kids check out Greta and the Giants by Zoe Tucker (author) and Zoe Persico (illustrator). Email your thoughts and suggestions to dinicola@pennfuture.org.
Day 17 - Watch the Celebrate Clean Water webinar!
Guests included Secretary Cindy Dunn of the Department of Conservation and Natural Resources, Executive Director Collin O'Mara of the National Wildlife Federation and more. You can watch the webinar here.
Day 27 – Identify environmental justice communities in your area
Lifestyle
While we at PennFuture and Conservation Voters of Pennsylvania focus on policy changes, there are easy and impactful individual actions that each of us can do to reduce our environmental impact.
Day 9 - Learn to Reduce, Reuse, and Recycle Correctly
Day 12 - Calculate your plastic use
Day 16 - Share one thing you do or want to try to live more sustainably!
Movement building
In order to truly build a pro-environment society, we need to grow our movement by galvanizing people of diverse backgrounds. Everyone must feel included, and everyone must have a seat at the table. In an effort to do that, we engaged people with unique and universal actions, asking them to create art, or to take a moment and think about those more important to them:
Day 8 - Who motivates you to act for the Earth?
Day 15 - Make an Earth-inspired Piece of Art
Spark your creativity while connecting with the "Earth" around you. One great way is by following the activity in Sarah Urist Green's new book, You are an Artist – Assignments to Spark Creation. Share your creation on social media or email dinicola@pennfuture.org.
Day 24 – Commit to environmental justice
You can find all thirty actions at PennFuture.org/EarthDay2020. We encourage you to check them all out, take part in several of the actions, and let us know your thoughts. Also make sure to stay informed by signing up for alerts from PennFuture and Conservation Voters of Pennsylvania. We want to build off the great momentum we've achieved throughout April and continue to push for a pro-environment Pennsylvania every day. Join us!