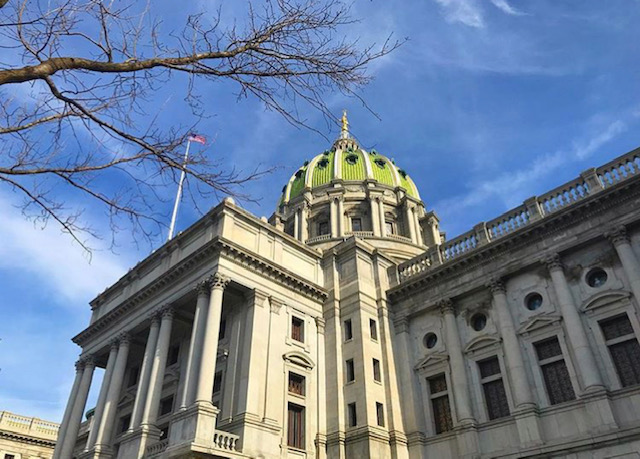 Last week, the Pennsylvania General Assembly hammered out the final pieces of this year's state budget, which began in late May when the Legislature passed a five-month stopgap budget package. On a bipartisan basis, the Legislature passed the budget bill (SB 1350) and the fiscal code bill (HB 2536) and the Governor signed the legislation into law Monday. For a number of reasons, the package was very problematic and PennFuture urged opposition to both bills during their consideration by the General Assembly.
Not only did the Legislature not act on completing the budget without cutting environmental and conservation funds, it sorely missed the mark on making key investments in recovery and protecting Pennsylvanians during the ongoing pandemic.
Senate Bill 1350 (Browne) - 2020-21FY Supplemental State Budget:
House vote: 104Y-97N
Senate vote: 31Y-18N
While most of the environmental protection and conservation budget lines were approved with flat-funded appropriations from the 2019-20FY levels, a number of accounts do take significant hits. We understand that this year's budget is difficult given the roughly $5B structural deficit coupled with the hole caused by the pandemic-induced recession, but flat-funding our agencies is still felt as a "cut" due to being less than the "cost to carry."
For instance, this year's budget approves a 100% ($1,000) cut to the "Great Lakes Restoration" effort as a part of the PA Department of Conservation & Natural Resources budget.
Additionally, 38.5% of the account for "Forest Management & Processing" ($2.5M) and most concerningly, almost 2% of the line for "State Parks Operations" ($985,000) was cut.
Though the need is overwhelming and advocates have been pushing for increased funding for many years, the water and river basin commissions again take big cuts. With this final budget package (FY2020-21) they are funded at:
$127,000 for the Delaware River Basin Commission (DRBC)
$119,000 for the Susquehanna River Basin Commission (SRBC)
$13,000 for the Interstate Commission on the Potomac River Basin (ICPRB)
$40,000 for the Ohio River Valley Water Sanitation Commission (ORSANCO) &
$175,000 for the Chesapeake Bay Commission.
Long a legislative interest and sought after place to raid funding to plug other budget holes, the special, dedicated environmental and conservation funds were once again targeted. Though the Recycling Fund was gutted to the tune of $50M (nearly 50% of its total appropriation) and the Agricultural Conservation Easement Purchase Fund was hit, PennFuture, along with partners in the environmental and conservation community, saved the Environmental Stewardship Fund (Growing Greener) and Keystone Recreations, Parks, and Conservation Fund.
A Closer Look at the Agencies' Funding Levels via SB 1350:
Department of Environmental Protection
General Government Operations: $8,729,000
Environmental Program Mgmt.: $18, 452,000
Chesapeake Bay Agricultural Source Abatement: $1,696,000
Environmental Protection Operations: $54,215,000
Department of Conservation & Natural Resources
General Government Operations: $15,657,000
State Parks Operations: $27,050,000
State Forests Operations: $25,708,000
State Heritage & Other Parks: $2,487,000
Park & Forest Infrastructure Projects: $525,000
What about code bills?
In addition to the appropriations bill and special fund shenanigans, the General Assembly often passes associated "code bills" that implement the budget across different areas. These code bills are often used to move nefarious pieces of legislation that, by themselves, wouldn't make it through the legislature. This fall, the legislature has only passed a fiscal code bill to accompany the budget bill. HB 2536 does hold a few problems and bad policy riders. Because of these, PennFuture urged opposition to the fiscal code.
House Bill 2536 (James) - Fiscal Code:
House vote: 108Y-92N
Senate vote: 33Y-16N
Closing the Borders of Tier II in Alternative Energy Portfolio Standards (AEPS)
HB 2536 included language similar to the proposed SB1305 (Argall) that would close the 'borders' for Tier II of the Alternative Energy Portfolio Standards (AEPS). This language is identical to legislation from 2017 that would close the 'borders' for solar energy in the Alternative Energy Portfolio Standards to help level the playing field for renewable energy and incentivize growth of the renewable energy industry in Pennsylvania, increasing the solar providers in the state. This provision slipped into the fiscal code bill is a giveaway to polluting waste-coal, which could lead to more burning of the coal refuse, dirtying Pennsylvania's air. It is yet another fossil fuel subsidy that the legislature has a storied history of doing so.
Repeal of Act 54 Report
HB 2536 also includes language that hamstrings the Department of Environmental Protection's ability to spend monies and collect fees and penalties as put forth by reporting requirements in Act 54 of 1966, known as the Bituminous Mine Subsidence and Land Conservation Act. This will allow more companies in the mining industry to go without meeting accountability measures set by environmental legislation in the Commonwealth in the 1960s. We must keep these measures in place so that we do not add harm to the historical degradation and legacy pollution from the coal industry in Pennsylvania. No more orange water, acid mine drainage, dewatered streams, and abandoned mine lands. The industry must pay to clean up their own messes and the PA DEP must be well situated to act as the chief regulator and protector of our natural resources.
Next Steps
For many of the issues impacting Pennsylvania's environment, the costs will only continue to increase the longer they go unabated. State budgets are the ultimate reflection of policy making priorities. Our state priorities are far out of order and need to be changed before the problems become intractable and the harm to our citizens grows more severe.
This fall, the state legislature and elected representatives in Washington balked at passing much-needed, further COVID relief to state and local governments. Where stimulus and recovery monies and large-scale efforts would have proved helpful, we now wait to see what the next administration, 117th Congress and new Pennsylvania General Assembly can accomplish in terms of stimulus and recovery.
PennFuture stands ready to urge lawmakers to make significant investments in green stimulus and recovery including making whole our environmental protection and conservation agencies, new money for supporting nature-based jobs, sustainable agriculture and small food producers, revamping our water infrastructure, significant build-outs in energy efficiency and renewable energy, and more. We will also endeavor to make sure Pennsylvania's stimulus and recovery initiatives are equitable and well serve all Pennsylvanians no matter their station.
We've reached the end of this 2019-2020 legislative session in Harrisburg, but we are excited for the next chapter to begin soon. We'll continue to push forward good environmental and clean energy legislation and fight back against anti-environmental bills that are sure to come our way. We'll also keep fighting for a restored budget for our critical agencies. Be on the lookout for a legislative session wrap-up blog coming soon to break down what bills didn't make it across the finish line, which bad bills we've vanquished, and what bills (good and bad) we're likely to see again in the new session.