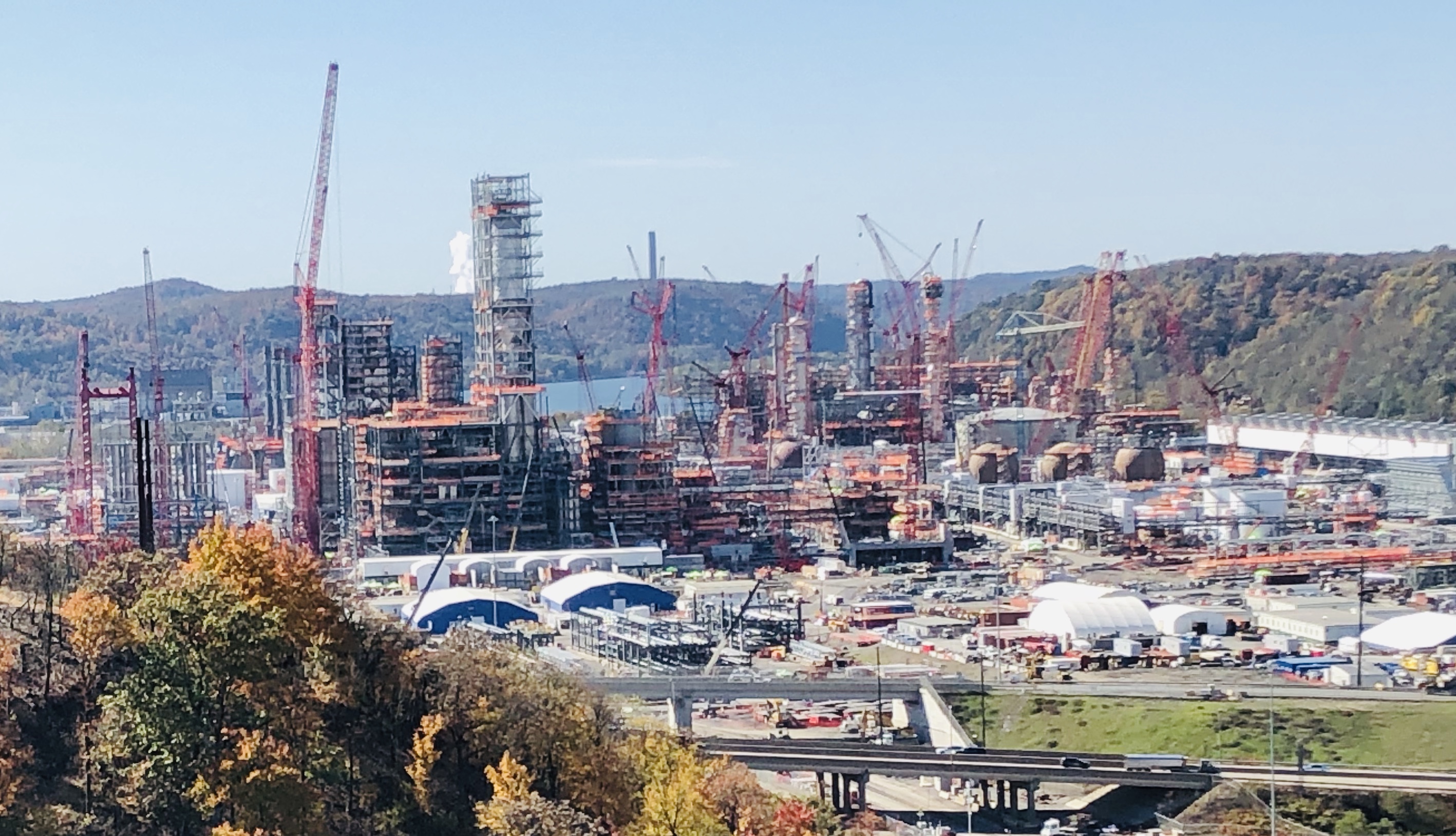 In the United States—the biggest fossil fuel producer in the world—Pennsylvania is second in shale gas production only to Texas. But even Texas is willing to admit something that many Pennsylvania leaders continue to deny: The shale gas and petrochemical industry is dying.
The latest evidence of this came earlier this week when PTT Global Chemical announced it was indefinitely delaying a final investment decision on a new petrochemical project in southeast Ohio, dealing yet another blow to the so-called Appalachian petrochemical renaissance envisioned by industry leaders and politicians alike. Even the Shell petrochemical plant in Beaver County will face significant hurdles once it begins operation, directly undercutting the economic impact it was originally predicted to have on the local economy.
All this bodes poorly for Pennsylvania's fracked gas industry. Record production has led to an overwhelming oversupply of fracked gas and depressed prices below the break-even point for much of the past two years. Petrochemical plants, which convert fracked gas to plastics, were meant to gobble up this excess gas and restore prices and profits.
But as plans to deliver on the promised petrochemical buildout come into question, so too has the future of fracked gas in Pennsylvania. Policymakers have tried to patch these unfavorable economics with subsidies and fracked gas-favoring policies, but the billions of taxpayer dollars they've thrown at the industry has done little to close the gap.
These local examples are mirrored across the world. In a May 2020 article, McKinsey's Houston-based team delivered a sobering analysis to oil and gas proponents, describing the current bust as "an unprecedented crisis for the [oil and gas] industry."
The immediate effects are already staggering[...]," the authors write. "Looking out beyond today's crisis toward the late 2030s, the macro-environment is set to become even more challenging."
In fact, as Pennsylvania continues to ignore the signs of industry collapse, others in Houston are joining McKinsey in a more honest dissection of the harsh economic realities of the failing oil and gas industry. So, in the words of reporters at the Houston Chronicle, in the heartland of oil and gas, I share with you the following:
From a November 18 article by Paul Takahashi titled "Oil bankruptcies rise in the third quarter:"
A new wave of bankruptcies is sweeping the oil and gas industry after the coronavirus pandemic crushed global demand for crude and petroleum products such as gasoline and jet fuel. Unlike past downturns, oil and gas companies are under increased financial pressure after many investors pulled out of the sector in 2018 after years of underperformance.
From a November 3 article by Casey Wagner titled "Energy's plunge is worst among any S&P sector in nearly a century:"
In the biggest drop of any sector going back to 1928, energy stocks have lost 60% more value than the S&P 500 Index has, data from Sundial Capital Research show.
From an October 22 article by Paul Takahashi titled "The oil industry is consolidating. That's bad news for workers in Houston:"
This new wave of consolidation will leave behind a smaller industry with fewer players employing fewer workers, analysts say.
From an October 15 article by Kevin Crowley titled "U.S. oil production already passed its peak, Occidental says:"
Shale's debt-fueled expansion came to a juddering halt due to lower gasoline demand and oil prices, but also because of Wall Street's increasing reluctance to fund growth at any cost.
From an October 14 article by James Osborne and Paul Takahashi titled "Why Houston's oil and gas industry 'is not out of the woods yet:'"
The International Energy Agency warned Tuesday that global energy demand will not recover to pre-pandemic levels until at least 2023 and possibly 2025, setting the oil and gas industry on its lowest growth rate since the 1930s.
From a September 30 article by Paul Takahashi titled "Shell to cut up to 9,000 jobs as virus accelerates overhaul:"
Oil companies also are reorganizing their businesses and laying off thousands of employees to prepare for a future with fewer fossil fuels. BP plans to lay off 10,000 workers and Chevron plans to lay off 6,000 workers by the end of the year. Exxon, the Irving-based oil giant, said it does not have layoff plans, but has changed its performance review process to be more stringent.
From a September 15 article by James Osborne titled "As pipeline projects cancel, future falls into question:"
For years, a small clique of investors has questioned the logic of putting money into oil and gas pipelines that take decades to pay off when climate change policy was pushing the energy sector away from fossil fuels. Banks and other institutions, however, largely continued to finance the multibillion-dollar projects, confident in projections by oil and gas companies that the so-called energy transition would take time and oil and natural gas would be needed for decades to come. But a rash of cancellations and delays of new pipelines, largely brought on by the coronavirus pandemic, raises questions of whether those skeptics' warnings are starting to catch on and the cancellations reflect a newfound wariness among banks to back the projects in view of an uncertain future for fossil fuels.
From a July 30 article by Paul Takahashi titled "Oil and gas production jobs in Texas could hit bottom this fall:"
The oil and gas industry was contracting well before the coronavirus pandemic broke out in the U.S. and brought the economy to a screeching halt. Employment in oil and gas production, including oil-field services jobs, was recovering from the previous downturn of 2014-16, climbing back to 228,500 jobs in December 2018, the alliance said. But then, Wall Street investment soured on the sector after years of underperformance, and the number of operating rigs and employment fell throughout 2019.
As these excerpts show, Texas is confronting a reality that Pennsylvania leaders—from journalists, to state and local representatives, to the industry itself—continue to deny. COVID-19 has accelerated a shift that was long underway: the phasing out of the oil and gas industry, as well as associated infrastructure including pipelines, refineries, and petrochemical complexes.
This is not short-term conjecture but a long-term reality based on industry underperformance, insurmountable debt, commodity oversupply, and a souring attitude to fossil fuels from investors and global regulators. Anyone who fails to disclose this reality is not telling you the full truth.
Despite all this, the favoritism we continue to show for shale gas in Pennsylvania is astounding: Billions of dollars in tax credits, exemptions from critical public health and environmental protections, and a deafening silence on the industry's economic failures, let alone it's failures to public health, the environment, and our climate.
A few weeks ago, independent climate journalist Emily Atkin reported on the failure of national election coverage to include the cost of doing nothing on climate change. When it comes to climate change and to the failing economics of the fossil fuel industry, these silences are not politically neutral, but instead uphold a status quo that is already leading to catastrophic climate impacts.
To report, to regulate, to understand these issues, we must first be able to admit the truth. Only then will we be able to recognize how we are propping up a dangerous and failing industry.