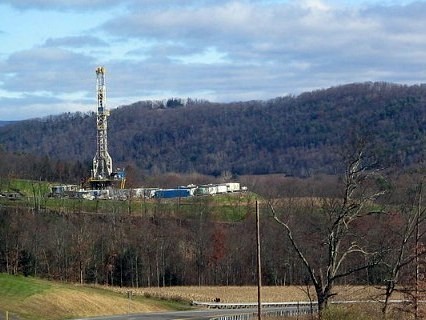 On June 2nd, State Senator Katie Muth, chair of the Pennsylvania Senate Democratic Policy Committee, joined Senator Jim Brewster, Senator Lindsey Williams, and Senator Jay Costa at CCAC's Boyce Campus in Monroeville to host a public hearing on state policy and health impacts of the shale gas industry in Pennsylvania. The hearing, entitled Pennsylvania's Shale Gas Boom: How Policy Decisions Failed to Protect Public Health and What We Can Do to Correct It, focused on the health impacts of shale gas infrastructure in Pennsylvania.
The hearing included testimony from impacted residents, public health and policy experts, and environmental advocacy leaders. Environmental Health Project (EHP), whose leadership was present, recently released a white paper of the same name.
Specifically, the panelists included Gillian Graber, Executive Director, Protect PT; Cathy Lodge, Washington County resident; Mackenzie White, Public Health Manager, EHP; Dr. Brian Schwartz, Professor of Environmental Health and Engineering, Epidemiology, and Medicine, Johns Hopkins University; Lisa Graves-Marcucci, Pennsylvania Coordinator, Community Outreach, Environmental Integrity Project (EIP); and Alison L. Steele, Executive Director, EHP.
Much of the hearing included very personal accounts of the negative impacts of petrochemical buildout in Southwestern Pennsylvania. Each speaker lived close to, and interacted daily with, a fracked gas well or facility. In her testimony, Graber cited an operator with hundreds of recorded violations to health, safety and the environment, on record with the Pennsylvania Department of Environmental Protection, being permitted to build 4 well pads less than a mile from a school in her area. Another operator, also with hundreds of documented violations, is also permitted to build a well pad 1,500 feet from a school. Ms. Lodge stated in her testimony that the Fort Cherry school district in Washington County is surrounded by 40 fracked gas wells.
When discussing policy solutions to better protect public health, the Pennsylvania Department of Environmental Protection (DEP) and Department of Health (DOH) were frequently mentioned. Specifically, the panelists agreed that the DEP was by and large not enforcing regulations partially due to a lack of staffing.
Senator Williams asked how DEP and DOH could be improved. Lisa Graves-Marcucci from EIP cited that, while she knows many well-intentioned DEP staff, there exists a revolving door between the petrochemical industry and DEP, as highlighted in State Attorney General Shapiro's 43rd Grand Jury Report. Ms. Marcucci also cited DEP's proposed draft Environmental Justice policy (in which PennFuture submitted comments), stating that to her knowledge the DEP has not denied permits in 25 years.
Marcucci also stated that health and safety boards need their composition examined, as she sees petrochemical industry influence throughout the organization. Finally, Marcucci recommended that more municipalities should consider high corporate bonds tied to specific projects, citing ordinances in Indiana Township and Smith Township in Allegheny and Washington Counties, respectively.
Steele stated that the DOH has been silent on this issue of public health concerns from fracking, especially when they have been vocal and effective in addressing other issues like COVID-19. Steele also believes that there is a lack of clear mandate to address this issue; DOH should be empowered to take on the negative health effects of the petrochemical buildout. Specifically, DOH should take a firmer stance on the issue, give information to residents on chemicals used, provide guidance to residents on how to protect their health, and provide guidance to health professionals and how to provide a robust response to patients when health concerns related to the issue arises.
Senator Williams added that DEP and DOH employees need increased whistleblower protections: the ability to recover attorneys fees after a suit, reinstatement, and other protections and incentives to speak out which currently are not afforded under state law.
All panelists agreed: with the conversation around hydrogen beginning in Pennsylvania, we must not repeat the mistakes from the fracking boom. We need to ask all the questions upfront – especially how it will impact the health and safety of residents.