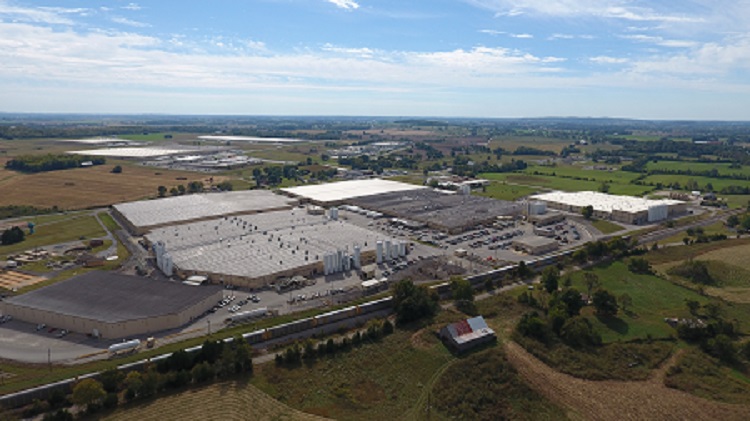 There are costs to irresponsible, endless development. The current trend in Pennsylvania's area of the Delaware River Basin is the expansion of massive warehouses and logistics centers. With these projects come the subsequent increase in truck traffic, diesel fumes, infrastructure damage, and stormwater runoff. Warehouses and logistics centers have severe consequences for the health of the surrounding communities and the environment, and very few benefits.
Driven by the convenience (and safety) of online shopping and the expectation of receiving goods within 24 hours of clicking a button, developers are purchasing land for the sole purpose of building these behemoths. Now, the expansion of the warehouse house empire is beginning to branch north from the current distribution hub of the East Coast - the Lehigh Valley.
Folks living in the quiet, rural communities of the Pocono Mountains are witnessing hundreds of thousands of square feet of forest and wetlands get paved over and transformed into cubes of convenient consumption. These communities are shocked and dismayed, fighting to protect the pristine landscape and unique biodiversity that characterizes the region. Oftentimes, they say that they don't want their region to mirror the distribution hub of Lehigh Valley.
And with good reason. Online shopping created a distribution and logistics bubble that's continued to grow for the last ten to fifteen years in the third largest metropolitan area of Pennsylvania. The distribution economy has created over 30,000 jobs across Northampton and Lehigh counties. That's a lot - about 11% of local residents are employed in the industry. But these jobs come at a high price.
While developers are offered tax breaks, taxpayers end up covering the cost of damaged infrastructure and the increased need for municipal services. What's more is that communities that already experience the impacts of pollution, heat deserts, and a lack of green space are exposed to increased diesel fumes from heavy truck traffic. In 2021, Allentown was considered the "Asthma Capital" of the Northeast Mid-Atlantic region, according to the Asthma and Allergy Foundation of America. Their studies show that the combined issues of exposure to industrial businesses and high-traffic roads with a lack of access to asthma specialists primes residents for this illness. Because we know that communities of color more often than not bear the burden of the cumulative impacts of pollution, it should not be surprising that the city's population is 54% Latino and 13% Black or African American. Yes, this industry provides jobs, but at what cost? And to whom?
Some wonder if what's touted as "economic growth" is as robust as it seems. According to local officials in Lower Macungie Township - a community outside of the city of Allentown - "If a warehouse employs 100 people but eats up 100 acres of farmland, the Valley economy only nets one job per acre of precious land lost." This is not an efficient use of land, especially when considering the loss of ecological services provided by that land. The impervious surface - or pavement and buildings - created by warehouses and distribution centers increases stormwater runoff, which then increases the intensity and frequency of flooding. Rather than soil and plants soaking up the rain, the water sheds right off, inundating streets, storm sewers, and creeks. And once again, the communities that experience the most flooding in the Lehigh Valley tend to be Black and brown communities. The environmental impacts continue to accumulate.
It is a different picture in the Poconos, however. There is a lot of open space, fresh air, and clean streams. Wetlands and forests abound - for now.
For Pocono residents, the development of warehouses and distribution centers threatens the character of their rural communities, the health of pristine streams, and the prospect of generational wealth.
Over 30% of Pennsylvania's waterways are polluted and degraded. However, there are pockets of clean, pristine creeks and streams, but they are few. Only 2% of Pennsylvania's waterways are healthy enough to receive the DEP's special designation of Exceptional Value. These are the cleanest, healthiest streams in the state. They have intact and abundant ecosystems and contain pure water. 80% of them can be found in the mountain, wetlands, and forests of the Poconos.
According to an industry white paper, warehouse developers are looking to northeastern Pennsylvania to expand their empire for a few reasons - decrease in unionization of workers, lower wages, low taxes, and the land is cheap and abundant. While all of that is good for profit, it is very bad for the communities and the environment. Recent plans brought in front of municipalities demonstrate a willingness to build along Exceptional Value streams, which if done poorly, could permanently reduce water quality, threaten wildlife, and increase flooding.
The prevalence of warehouses reduces land values. Folks that live in the Poconos tend to have long-term ties to the region. For some, their house and property is their single source of wealth. It's been passed down through their family. But when a warehouse or distribution center abuts the property line, land value suddenly drops.
There are no guarantees that these massive buildings - usually 250,000 square feet or more - will be filled with what's called an "end user". It's all speculative. Developers may pave over wetlands and impair trout streams without ever placing a business in the building. There are some along Route 512 that have stood empty for years. That's likely to continue if Amazon's business trends are any indication. The online shopping giant is starting to lease its space because it is unable to use it. The distribution bubble is on its way to bursting. But because of the flawed land use and development process currently in place, developers don't need to guarantee business in order to build.
Local government officials in the Lehigh Valley and the Poconos realize that land use laws and zoning codes need to change to put an end to this expansion. The Municipal Planning Code was originally established to protect the health, safety, and character of communities. Every municipality must allow for every "use" included in the MPC. However, developers are taking advantage of the term "warehouse". When the term was initially included, distribution centers that take up one million square feet of land and boast 300-400 truck trips were inconceivable. But because the term is included in the zoning codes, the use must be allowed. That's why municipal leaders are calling on state legislators to take action and change the codes.
When we allow for the pervasive and unchecked development of warehouses, we are choosing corporate profits and convenient consumption over healthy communities and a healthy environment.