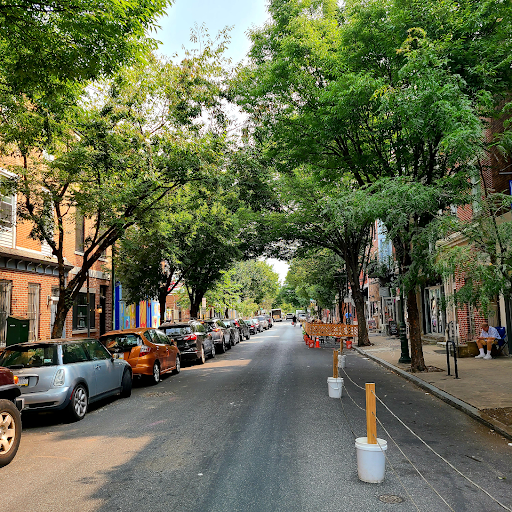 Philadelphia passed Councilmember Katherine Gilmore Richardson's Philly Tree Fund bill during a marathon session last week. The bill helps Philadelphia take a significant step in the protection of its tree canopy and more equally distribute its benefits. 
This legislation was an effort to implement ideas from the recent draft of the Philly Tree Plan, Philadelphia's first long-term urban forest planning initiative, which is expected to be finalized in the coming months. 
Philadelphia's black and brown communities continue to experience disproportionate effects of environmental and health hazards, hazards that threaten to worsen as climate change advances. Among these are dealing with extreme urban heat. The city's Office of Sustainability, for instance, has found more than a 22-degree temperature difference between some underserved communities and wealthier neighboring communities in 2015. Trees have a significant role in these temperature differences. 
Among the more understated values of trees is their shading, which reduces the amount of sunlight hitting pavements and buildings, cooling the surrounding area. Trees also do the same through transpiration, cooling the air as liquid water from the trees' leaves evaporates into gas. It is significant then, that according to the Tree Plan, Philadelphia lost 6% in tree cover between 2008 and 2018. Also of the over a thousand acres of tree canopy that were removed, most were from residential areas exacerbating environmental and health disparities between communities.
Making matters more challenging are the issues that exist in zoning regulations and the zoning process. Regulations designed to protect tree cover require developers to replace certain trees. However, existing policies exempt trees growing in parks or on single or two-family lots, despite both contributing to much of Philadelphia's existing tree canopy. 
The Department of Licenses and Inspections is also in need of more support. In addition to a host of responsibilities that include ensuring the safety of demolition and construction activities, inspectors are also tasked with interpreting and enforcing tree regulations despite most not having expertise in the area. This, as one might suspect, makes enforcement of tree violations that much more inconsistent contributing, at least in part, to declining tree cover. 
Councilmember Gilmore Richardson's legislation seeks to reverse this decline all the while advancing environmental justice efforts and tightening up regulations. 
On the whole, the bill focuses on increasing tree preservation and planting requirements and does so through different means. For one, it removes the exemption from parks and open spaces, requiring developers to replace trees that were cut down in future related projects. It also does the same for single or two-family lots that are greater than 5000 square feet. The same also applies to planting in drive-thrus and parking lots with provisions in place for areas that cannot add trees. This tightening of exemptions will further contribute to tree planting efforts. 
There is also a tree fund created that is sourced from fees on developers who do not replace trees that were cut down. The funds will be used to plant trees elsewhere.
The bill also increases planting in residential areas and grants credits for preserving existing trees towards trees required by the Zoning Code. One of the forms this takes is in the requirement for some development projects to plant yard trees. It also calls for tree plantings in lots near select boulevards, expressways, and roads. 
Again, the creation of this fund and increasing planting requirements and preservation incentives are impactful in helping get Philadelphia back on track towards its goal of achieving a 30% tree canopy by 2030. 
Stormwater runoff remains an issue in Philadelphia. During rain events, water runs off and flows into sewer systems, which can overwhelm rivers and pollute with things like fertilizer, oil, and other sediments. In certain instances, runoff is also capable of flooding homes and businesses. Managing it is essential and green stormwater infrastructure (GSI) is a sustainable means. Buffers are an example of GSI and are a prominent focus of the proposed legislation.
The bill requires vegetative buffers near highways and industrial sites among others. These buffers would provide areas where stormwater can penetrate the soil and replenish groundwater reserves, slowing the runoff rate and protecting the neighboring areas' water quality. It also clarifies the requirements for tree buffers. More efficient tree buffer systems better provide shade and enhance the cooling effects of transpiration, helping decrease temperatures for areas. Additional protections are also put in place for heritage trees.
The bill covers several of the recommendations from the Philly Tree Plan. The most notable of these was the creation of a tree fund sourced from fees for the non-compliance of developers in planting a certain amount of trees, much like the one found in Councilmember Gilmore Richardson's bill. It also addressed calls for greater involvement of local communities in the form of a notification process for tree clearings. 
The bill did however see amendments added to it in order to secure its passing. Other than areas where the technical language was made more specific, this included exempting land under the Philadelphia Authority For Industrial Development from certain rules, in particular those regarding the preservation of heritage trees.
An amendment exempting affordable housing projects from the requirements of the bill raised concerns for multiple testifiers during a previous hearing before City Council's Rules Committee. PennFuture shares these concerns as low-income residents often suffer from the most severe lack of tree canopy and the related benefits. It was also disappointing to see that the 5th Councilmanic District was also exempted from the requirements of the bill as efforts to build our canopy will require a citywide effort and should, ultimately, be governed by uniform standards. 
Despite its significant advances toward realizing the ever-important vision of the Tree Plan and restoring Philadelphia's tree canopy, there is still much work to be done in that regard. 
One of the areas that future legislation can pursue is the creation of a new office within the city's existing Parks and Recreation Department. The Tree Plan refers to such an office as the Office of the City Forester and its function would be to oversee tree-related regulations. This can be one of the most beneficial steps in advancing Philadelphia's tree efforts, helping improve the coordination of all tree-related activities, programs, and planning. 
Further, also in line with the Tree Plan's aims to invest in the people and communities as part of the tree effort, existing programs that communities trust to support tree planting and tree care should receive greater funding. One of these organizations is PowerCorpsPHL, a workforce development program that focuses on environmental service. PowerCorpsPHL is responsible for planting 8800 trees in Philadelphia since its recent conception. Greater funding would help programs such as this do more for trees, while also helping citizens acquire careers in the process. 
More significant financial incentives for private landowners are also a viable option to pursue. More free tree seedlings could be provided to homeowners in addition to greater public education efforts around urban trees. This could also take the form of more substantial grants, tax rebates, and consulting services. In Hawaii, owners of certain valued trees for instance can claim a tax deduction of $3,000 every three years for maintenance costs. 
The bill is a vital first step in realizing the significant environmental and socio-economic benefits trees can have on Philadelphia and can be the foundation from which these benefits manifest for all.