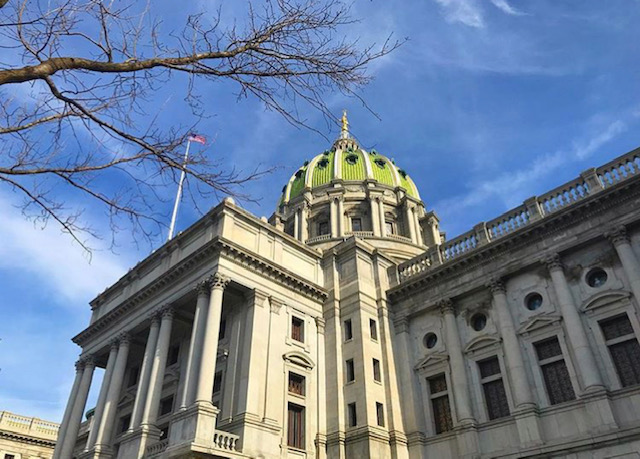 At a time of unprecedented environmental, economic and public health concerns, now is a time when Pennsylvania's legislators should be developing common-sense solutions.
The General Assembly is unfortunately not known for being the most solutions-oriented of the country's legislative bodies. That said, the most recent legislative session does give us some reason for optimism in 2022.
Here is our roundup of the best - and the worst - of the bills expected to make their way through the Pennsylvania General Assembly in 2022.
The Good
With thousands of miles of impaired waterways flowing across the state, it is imperative that Pennsylvania dedicates more funding toward conservation, pollution remediation, and agricultural best practices. The American Rescue Plan offers a rare chance to do just that, providing potentially millions of dollars in untapped funding.
But first the General Assembly needs to enable state agencies to use ARP funds toward clean-water projects. SB 525 would create a Growing Greener III program and infuse $500 million from ARP funds. Separately, HB 1901 proposes a new Clean Streams Fund that would dedicate resources to improve water quality by reducing agricultural runoff, acid mine drainage, and stormwater pollution across the state. HB 1901 would allocate an additional $250 million in ARP funds.
With the Farm Bureau showing their support, we may finally have a funding mechanism to address our water pollution challenges.
For years, PennFuture has championed legislation that would allow building occupants - including those who are not property owners or who lack roof access - to benefit from solar energy. Community solar legislation (SB472 and HB1555) may finally have its day in the sun.
Additionally, legislation is progressing to enable changes to a voluntary clean energy financing tool, known as Property Assessed Clean Energy (PACE). The update may allow for counties to amend their current programs to expand the financing tool's eligibility to include multi-family buildings (HB1760).
When Pennsylvania participates in its first emissions-allowance auction as part of the Regional Greenhouse Gas Initiative (RGGI), millions of dollars of funding will be made available for clean energy and clean air projects.
SB 15 and HB 1565 proposes to spend those proceeds on programs that would support workers and communities affected by the clean energy transition, investing specifically in frontline and environmental justice communities.
Without this legislation, the Department of Environmental Protection (DEP) is limited by law in how it can spend auction proceeds. That leaves the door open for the General Assembly to siphon or otherwise divert proceeds to causes or programs that would not benefit frontline workers, communities, or our shared environment.
The Bad
Pennsylvania's long journey toward joining RGGI may soon come to pass — but not without more desperate flailing from the state's elected officials. The Legislative Reference Bureau refused to publish DEP's final CO2 Budget Trading Rule until after the House completed a resolution to disapprove the rule. Resolution SCRRR1 passed by a vote of 130-70 in December. Fortunately that's short of being veto proof. After Governor Tom Wolf issues his veto, the path to joining the emission-trading program will finally be clear.
Across the country, gas utilities are responding with fear to the growing number of restrictions on gas connections. Consistent with efforts to rapidly decarbonize, cities such as New York and San Francisco have placed limits on gas hookups in new construction homes and businesses. But rather than find creative strategies to reduce greenhouse gas emissions from Pennsylavanians' natural gas use, HB 1947 and SB 275 would simply prevent individual municipalities from developing their own policies. This "energy choice" legislation is not only bad climate policy, it's totally inconsistent with claims that the General Assembly values the independence of local municipalities to develop their own regulations.
Undermining Spill Reporting Tools
Pipeline accidents, fuel tanker spills, and other environmental catastrophes remain regular occurrences. Despite the need to better enforce existing clean water protections, HB 1842 allows polluters to pollute more, without notifying anyone or without consequence. The legislation would egregiously take away our rights to know when a spill or discharge is impacting public health and local businesses. It jettisons spill reporting requirements from the experts at the Pennsylvania Fish and Boat Commission (PFBC) and DEP, leaving our waters unprotected and with our communities, families, and businesses uninformed of the risks.
PennFuture will continue to monitor the legislative actions coming from the General Assembly — the good as well as the disastrous. Stay engaged for action alerts so you can help make sure our legislators act in the best interests of Pennsylvania's natural environment and our most-vulnerable communities.