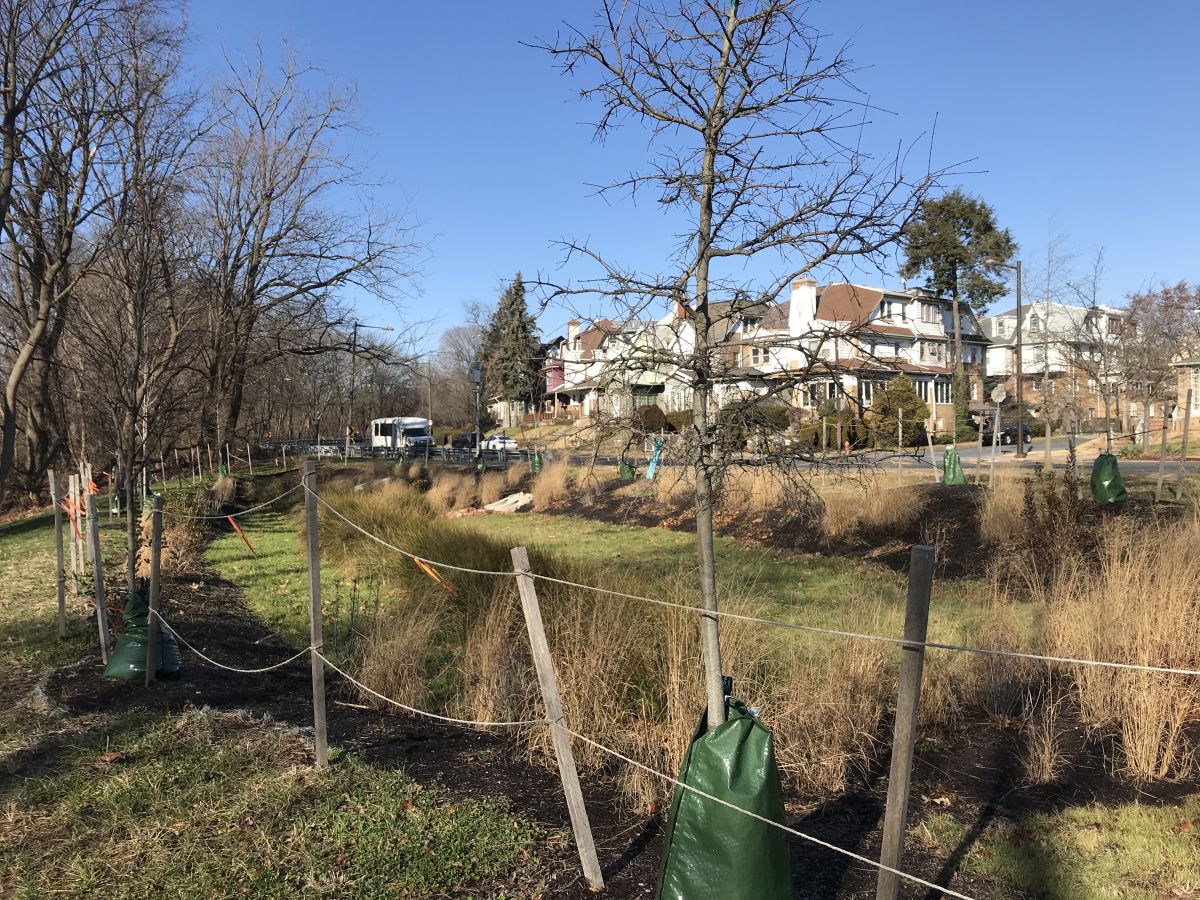 Last week, the Pennsylvania Department of Transportation (PennDOT) and Philadelphia Streets Department announced they will be funding and installing improvements along Cobbs Creek Parkway, and also initiating a process for a more comprehensive design. This welcomed announcement comes after months of pressure from community residents and elected leaders Jamie Gauthier, Anthony Hardy Williams, and Joanna McClinton. As part of this new initiative, PennFuture is recommending investments in green and complete streets to address decades of neglect including the environmental injustices of the urban heat island effect, unequal access to green space, and stormwater pollution.
Cobbs Creek Parkway is located on the border of West and Southwest Philadelphia and is a main traffic corridor for the city. In August, the intersection of Cobbs Creek and Catherine Street was the site of the tragic and preventable death of 25-year-old Avante Reynolds, who left behind a 2-month old son. Her death has renewed calls for action to address the safety of the busy highway. Investing in a green and complete streets design of Cobbs Creek Parkway can increase safety, improve the environment, and address inequity in Philadelphia's neighborhoods. 
This hit and run along Cobbs Creek Parkway is not an isolated incident, as there have been 155 crashes there between 2012 and 2016. Residents have lobbied the city and state for decades to invest in safety improvements, but in the end only got small changes. One of the reasons, residents acknowledge, for the lack of investment is structural racism. The 12-mile long Parkway sits between the Cobbs Creek Park - a park where communities play and recreate, and on the edge of one of Philadelphia's largest Black neighborhoods that was subject to 20th century redlining. Last month I blogged about how redlining in Philadelphia caused environmental injustices, particularly for Black communities, and how PennFuture is working to address some of the harms. 
One way we're working to address some of those harms is through our Keep Philly Green & Water Clean Campaign in Philadelphia, which is aimed at supporting the Green City, Clean Waters program - Philadelphia's Combined Sewer Overflow Long Term Control Plan Update. The program relies primarily on green stormwater infrastructure to reduce combined sewer overflows. The 25 year plan aims to construct 10,000 greened acres using green stormwater infrastructure tools like rain gardens, tree trenches, and curbed bumpouts. Green stormwater infrastructure refers to a nature-based solution to water quality issues that urban stormwater runoff causes and provides greater benefits than conventional stormwater solutions. The plan aims to reduce stormwater pollution from the combined sewer system by 85 percent.  
But rain gardens, tree trenches, and curbed bumpouts do more than just intercept and filter stormwater. They also increase access to green space for Philadelphians, particularly in neighborhoods that were redlined and experienced decades of divestment from city and state agencies. The same neighborhoods that, during hot summer days, experience up to a 22 degree temperature difference because of a phenomenon known as the Urban Heat Island effect. The social, economic, and environmental benefits of green stormwater infrastructure, when combined with other city resources, can increase investments back into historically neglected neighborhoods. 
Streets make up about 40 percent of most cities' impervious surfaces, and streets are more than just pathways for automobiles. In the case of Cobbs Creek Parkway, along with being a major traffic artery through the city, the road is used by cyclists, walkers and joggers, buses and trolley, and neighbors seeking to play and recreate in the park. The Cobbs Creek Community Environmental Education Center located along the parkway features meadows, forest areas, two creeks and a wetland. Cobbs Creek Park is a community resource of basketball courts, picnic tables, and walking trails. It is the home of Cobbs Creek Recreation Center, ballfields, a skating rink, and swimming pool. 
But roads have also been used historically to divide communities and prevent particular segments of populations from accessing resources. In Cobbs Creek's predominantly Black community, the parkway also divides the community from safely accessing this community amenity and green space. The busy street and limited intersections for safe crossing make the road dangerous for neighbors to cross.
In 2009 Mayor Nutter issued an executive order that ensured the City's streets would be designed, built, and maintained as "Complete Streets". What this means is that the City's streets would accommodate "all users of the transportation system, be they pedestrians, bicyclists, public transit users, or motor vehicle drivers." The Complete Streets Design Handbook includes traffic and pedestrian accommodating elements as well as urban design tools like green stormwater infrastructure. Green infrastructure used in Complete Streets design can act as a traffic calming measure and community beautification tool that also makes the streets greener and safer for pedestrians and reduces stormwater pollution.
One example of this type of Complete Streets design is a green stormwater infrastructure project at Berks Street and Sedgley Avenue in the neighborhood of Strawberry Mansion. The Water Department recently installed a scope of GSI elements, including a rain garden, subsurface trench, tree trenches and planters. But the construction was also able to include a number of safety improvements to reshape the infrastructure, providing a safer, more beautiful route for students who frequent the intersection on their way to school and the nearby park. New pedestrian crosswalks, additional parking, and upgrades to ADA ramps were all part of the system's construction. The project also included community participation and engagement that allows residents to offer feedback. 
The Philadelphia Water Department has already contributed meaningful significant investments into Cobbs Creek Park. Parts of the Cobbs Creek itself are serviced by combined sewer overflow systems, meaning that when it rains or when snow melts, the runoff combines with household wastewater and the sewers discharge untreated wastewater into the creek. This is the problem that the water department is working to correct through the Green City, Clean Waters program. The green stormwater management tools capture the stormwater before it enters into the sewer systems, filtering the water and reducing the capacity entering the system, ultimately reducing the amount of untreated discharge into nearby waters. 
This Spring the water department completed an installation of more than 25 stormwater management tools that collect runoff along Cobbs Creek Parkway from North of Market Street all the way down to Baltimore Avenue. The improvements keep about 372,000 gallons of stormwater out of local sewers during a 1-inch rainstorm. Features include close to 60 new trees, one basin, four bumpouts, 11 infiltration trenches, seven rain gardens and three tree trenches. These green improvements not only benefit the local waterways, but also benefit the community by providing traffic calming improvements, increasing green space, and beautifying the neighborhood.
However, other parts of the parkway are not within the combined sewer overflow area, but do experience significant flooding and stormwater related pollution. Unfortunately, those parts of the creek are outside the scope of the Green City, Clean Waters program. Without the focus of this program, Philadelphia must do more to ensure that all of the community receives similar benefits. The multiple community, pedestrian, vehicular, and environmental concerns require a comprehensive plan.
The announcement from PennDOT of its work to improve this area and consider a comprehensive design process is welcome progress to address the inequities. But the community's voice must be included in the process to ensure that the improvements benefit not only traffic and stormwater issues, but community health and safety measures. Throughout the process PennFuture will work with residents, state and local agencies, and elected officials to elevate the importance of green and complete streets and bring environmental investments to long neglected communities.