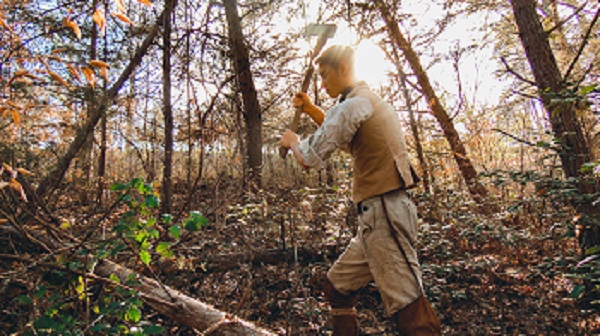 Momentum is growing for a 21st-century version of the New Deal-era Civilian Conservation Corps.
The CCC's legacy can be found across America. Many of our parks, bridges, roads, reforested landscapes, and forest-fire defenses are the accomplishments of CCC worker camps. Champions of a modern-day "Civilian Climate Corps" envision the potential for CCC to again provide much-needed economic relief while also catapulting forward the nation's efforts to control the climate crisis.
In a January 2021 Executive Order, President Joe Biden recognized the urgency of putting Americans back to work as well as the huge number of workers we'll need to build the green economy. Executive Order 14008 calls for a new Civilian Climate Corps Initiative that would "mobilize the next generation of conservation and resilience workers."
Since then, President Biden's vision has materialized in the Build Back Better Act. The reconciliation package passed by the U.S. House of Representatives provides $10 billion for the federal government to engage 300,000 Americans with good-paying jobs and workforce-development opportunities over the next decade.
If adopted by the Senate, the proposed program would - like the original CCC - help lift thousands of Pennsylvanians out of poverty, while building natural climate solutions, climate resiliency projects, and clean energy improvements.
Many of our most-underserved communities are also the most vulnerable to climate disasters and the public health impacts of climate change. In recognition of these overlapping crises, a framework CCC policy endorsed by Congressional leaders proposed half of funds would be directed toward hiring from disadvantaged and frontline communities, with special attention on formerly incarcerated individuals, unemployed youth, and veterans.
As Congress continues to negotiate the Building Back Better Agenda, private donors are already working to launch complimentary programs.
The William Penn Foundation (WPF) recently announced a $1.65 million Delaware River Climate Corps that would fund up to 200 jobs restoring landscapes, installing green stormwater infrastructure, and performing home weatherization throughout the Delaware River watershed. Funds will expand upon existing, or establish new, climate and conservation workforce programs within ten watershed communities across Pennsylvania, New Jersey, Delaware and New York, positioning them for additional federal funding.
WPF should be applauded for its visionary and generous leadership. Their philanthropy will cover the costs for training, mentorships, salaries, and administration of programs across 10 communities.
The Delaware River Climate Corps stands as a model for how a CCC can uplift environmental justice communities. In particular, WPF plans to prioritize opportunities for young adults aging out of foster care and formerly incarcerated adults reentering society.
After all, the economic hardship endured by formerly incarcerated people - especially people of color - is comparable with struggles Americans faced during the Great Depression. Prior to the pandemic, the unemployment rate for formerly incarcerated people was estimated to be five times higher than for the general public. At 27 percent, that's substantially higher than when unemployment peaked in 1933.
At a time of multiple crises, the CCC can begin the process of correcting generational injustices. We are long overdue to step up action to address the climate crisis, to restore and to reclaim the natural beauty of our natural resources, and to establish meaningful career pathways for members of our society who have the fewest opportunities for advancement.