UPDATE: PUC's final implementation order on the solar borders issue was released May 3. Click here to read more.
On Thursday, April 19, the Pennsylvania Public Utility Commission (PUC) took an important step forward and removed a long-standing barrier that kept solar projects from being built in Pennsylvania. In a unanimous vote, the PUC implemented the bipartisan Act 40 to require solar-credited projects under the state Alternative Energy Portfolio Standard (AEPS) be built in Pennsylvania.
While Pennsylvania is traditionally a leader on developing and installing new energy sources, we have been lagging behind surrounding states when it comes to deploying solar energy.
Pennsylvania ranked 19th behind Massachusetts, New York, New Jersey, Maryland, and Ohio in the most recent Solar Jobs Report. The Commonwealth is ranked 39th in solar jobs per capita. Massachusetts alone had about three times more solar jobs than Pennsylvania.
There are a number of reasons why Pennsylvania lags behind. One issue is that the solar alternative energy credit program (SAEC*) part of our AEPS has much lower targets than many nearby states. Pennsylvania requires 0.5% solar energy by 2021 compared to 4.1% by 2028 in New Jersey, 2.5% by 2020 in Maryland, and 8.4% by 2030 in New York. Compounding the problem, Pennsylvania was one of the only states in the region with "open borders" that allowed solar from anywhere on our electric grid -- encompassing 13 surrounding states and the District of Columbia -- to be used for compliance. This lowered the value of SAECs in the state, meaning solar jobs went elsewhere. According to the most recent AEPS report, more than 60% of SAECs in 2017 came from out of state.
Last December, Governor Wolf signed into law Act 40, a bipartisan bill that requires solar-credited projects to be built in Pennsylvania. Unfortunately, the PUC originally proposed to implement the bill in a way that would make it almost completely ineffective and still allow projects to be sourced outside of the state. This changed last week when all five PUC commissioners voted in favor of a joint statement by Chairman Brown and Vice Chairman Place that reversed that decision.
Going forward, new credits must now come from facilities connected to Pennsylvania's distribution system. Specifically, Act 40 changes the following depending on when a solar project was credited under the AEPS: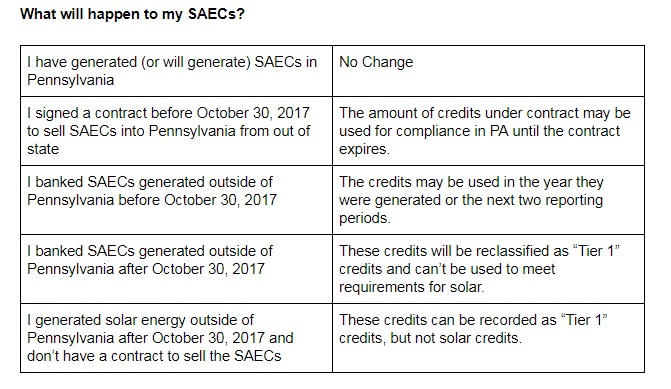 What does this mean for the value of my SAECs?
Since Act 40 was signed by the governor, SAEC prices have risen from about $6 to around $11, but it's unclear how much of that is attributable to the change in law. Because a relatively large amount of credits are banked, most in the industry are not expecting to see the full impact of this rule for at least two more years. Still, Act 40 is a good start and will lead to more solar projects in Pennsylvania in the coming years.
Next Steps
Now that we have taken a step in the right direction, Pennsylvania should make the commitment to becoming a solar leader. We have a lot of tools at our disposal to get there; some things to consider include:
Increasing the AEPS solar target to be more in line with surrounding states.
Enabling Community Solar so families and businesses that can't install their own solar panels have meaningful access to solar.
Encouraging more and better financing options for solar.
Making sure solar gets the same state tax benefits that fossil fuel projects enjoy.
Ensuring energy purchases fully account for public health and environmental costs.
PennFuture is working with the PA DEP, US Department of Energy, industry experts, and over 450 stakeholders to evaluate options like these, but even the best ideas are not going to get implemented without strong public support.
*SAECs are commonly called a Solar Renewable Energy Credits or "SRECs."