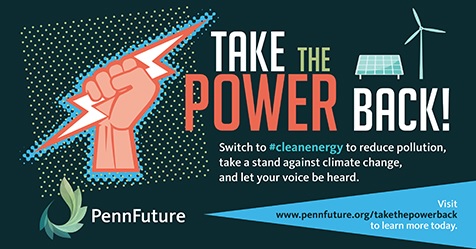 Clean renewable energy is a growing success story. A recent report on the electric power industry from the federal Energy Information Administration showed that non-hydro renewable energy grew 13.4 percent year-over-year in 2017. Of that, solar power grew at an impressive 46.9 percent. While clean energy was growing, fossil fuels were in a slump with coal generation down -2.5 percent and natural gas generation dropping -7.7 percent.
This trend shouldn't be surprising. A recent study shows the cost of generating solar electricity from large solar farms dropped 11 percent last year, and the cost of rooftop solar dropped 26 percent. For those of us in Pennsylvania who want to install a solar system, the drop in prices is good news. At least, it is good news if you are lucky enough to live in a location where you can buy or lease a solar system for your rooftop.
Unfortunately, this still isn't an option for many Pennsylvanians. The cost of solar systems is certainly a factor, but many families lack a good location for solar power. Families who rent or live in multi-family units face particular challenges, but even those who own their own single-family homes need property that isn't in the shade, that has suitable wiring, and a roof that is both big enough and strong enough for the installation. As a result, maybe 50 percent or more of Pennsylvania families lack meaningful access to solar generation during the present time. Some states have "community solar" laws that allow customers to buy a share of a solar system and have the generation deducted from their bill, just like they would if the panels were on their roof. Unfortunately, the legislation in Pennsylvania hasn't progressed that far and most families also lack this as a viable option.
It's not surprising that Pennsylvania consumers may feel trapped into buying energy from dirty fossil fuel companies. But, there is still an option for many of us: Pennsylvania is one of the 17 states and the District of Columbia that has a retail electric choice program.
This is why PennFuture recently launched the Take the Power Back campaign to help make consumers aware that they have the power of choice, and that choosing clean energy can be easy. We want to start the conversation about the benefits of switching to clean energy as an investment in our future. If you can generate your own clean energy, that is fantastic. If not, making the switch to buying clean energy is the next best choice: our website shows you how.
Most Pennsylvanians have a regulated utility that delivers electricity to their homes, but those utilities are basically delivery companies. They don't own the power plants and they are not in the business of selling electricity. If we don't choose to shop for power, they will do the shopping for us - but the choice is ours.
This means that if you are tired of waiting for the government to get serious about climate change, or if you are frustrated at the amount of tax breaks and other handouts that are given to the fossil fuel industry, you don't have to wait for someone else to act. You can make the choice to buy clean energy. In many cases you can even save money in the process.
If you already made the switch to buying clean energy, you can be a part of the conversation, too. While most Pennsylvania businesses already shop for electricity, comparatively few residential customers have taken advantage of consumer electric choice. We need your help to spread the word that we can #TakeThePowerBack.
Switch today, use the hashtag on social media, and join the conversation!