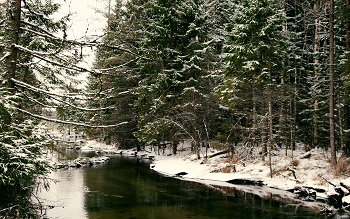 It's the end of another year, and what a momentous year it was. The holiday season often offers time for reflection, and I've compiled some thoughts below:
2019 was the Year of our Climate Youth, and we are grateful every day for their bold activism and ambition.
2019 was the year that the stakes in the fight to stop Pennsylvania's blind embrace of gas for energy and petrochemicals rose to new heights. Words were spoken, sides were taken, industry plans were exposed, and the public noticed.
2019 is nearly over and that brings us closer–finally–to 2020.
I am so proud of PennFuture. Our work continues to be essential and at a crucial time. In order to address threats to clean air, pure water, a healthy climate and sane energy policy, PennFuture must work in partnership, collaboration and coalition with many other groups, and we do. But I will boast on a few highlights in 2019 where our organizational signature of excellence is shining through.
On October 19, Governor Tom Wolf issued an important climate-related executive order, beginning a 24-month regulatory process that will lead to a cap on carbon pollution in Pennsylvania and our participation in the Regional Greenhouse Gas Initiative (RGGI) market. PennFuture's Energy Center Director Rob Altenburg has been front and center in keeping the public informed on what RGGI is about and how it can help address climate pollution.
In the last several weeks, Rob faced fire in Rep. Daryl Metcalfe's Energy and Environment Committee and on talk radio. To demonstrate what we are up against, read this piece about Speaker Mike Turzai's audacious alignment with the gas industry to demolish RGGI.
The gas industry's response to Pittsburgh Mayor Bill Peduto's remarks opposing a petrochemical buildout has been loud, monied and consistent. PennFuture's Media Relations Director Jared Stonesifer has launched a rapid response blog to bust myths propagated by the industry and its spokespeople. You can have a look here.
Through a unique partnership with students at Vermont Law School's Environmental Advocacy Clinic, PennFuture is suing industrial polluters who are violating clean water laws along the Delaware River. Our focus on protecting the exceptional value headwaters of the river continues as we watchdog energy and transportation projects that stand to adversely impact the best water quality in our state. In addition, we are in litigation against the Environmental Protection Agency for failure to set coal oven standards in a timely manner. This exceptional work advances under the leadership of our senior attorneys Alice Baker and Abby Jones.
Following the lineage of our successful high profile advertising campaigns Toxic Neighbor (targeting perpetual air quality violations at U.S. Steel's Clairton Coke Works) and Our Pocono Waters (targeting misguided development that will impact Pocono headwaters), we launched our Keep Philly Green & Water Clean campaign, drawing attention to green stormwater management and the open space, public health, recreational and habitat benefits it provides, and we are encouraging the city of Philadelphia to remain a national leader with these programs.
Our Clean Energy Pittsburgh campaign is endeavoring to bring clean energy to Wilkinsburg, Swissvale and Braddock. These campaigns all take place under the leadership of staff including Jay Andrews, Lena Smith, Emily Baldauff, Annie Regan and Kelsey Krepps.
This year of 2019 produced a new strategic plan for the organization, under the leadership of our Vice President and Chief of Staff Matt Stepp. PennFuture has a different voice and will unapologetically champion a better future for Pennsylvania, one where the rights guaranteed by our environmental rights amendment prevail over the pollution of our people and natural resources. There is much work to do.
Here's what I am looking forward to in 2020:
PennFuture's Civic Engagement program will be front and center in counties all over the state as we organize volunteers, work on non-partisan voter registration and get out the vote efforts. Staff including Josh McNeil and Mike Mehrazar will be very, very busy. PennFuture's reach will extend into new places including Erie, Lehigh and Bucks counties.
Our state legislature will be back in session, struggling to govern and do the will of the people. All eyes will be on the so-called Energize package of bills that propose to subsidize petrochemical infrastructure and manufacturing.
PennFuture's policy director Ezra Thrush will be focused on that and stopping the constant onslaught of attempts to roll back regulations that protect public health and our environment. On the positive side of possibilities, there is renewed interest in electric vehicle support infrastructure and community energy proposals that have a decent chance of success.
We earnestly hope the 50th anniversary of the first Earth Day will reset and re-invigorate the environmental movement and the day will turn out diverse and intergenerational peoples bringing a clarion call to elected officials: the peoples of the earth deserve a future, the time has come to act boldly on climate.
Finally, on November 3, 2020 the United States will elect its next president. If you make no other New Year resolution, make sure everyone you know who is eligible to vote is registered, and make sure they vote on Election Day. We must cast votes on behalf of our environment and our earth, and if we do, next year at this time, our hope for the future and our planet will be renewed.
Writer's note: PennFuture's staff consists of dedicated professionals - too numerous to all mention here - who have excellent and important skills. We are governed by a dedicated Board of Directors and advised by members of our President's Leadership Council.