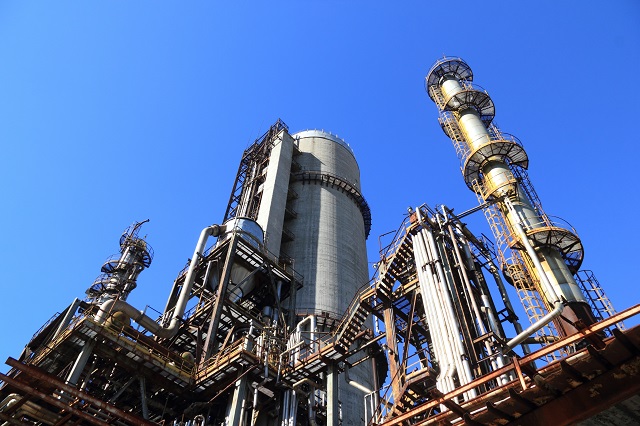 In late August, I traveled to South Philadelphia to testify before Philadelphia's Refinery Advisory Group, which was formed by Mayor Jim Kenney to consider how the closure of the Philadelphia Energy Solutions refinery will affect the city's economy, environment, public health and safety.
My message was simple: dumping money into the petrochemical industry is a dead end for Pennsylvania and we need a better and more sustainable pathway for our future.
Originally owned and operated by Sunoco, the refinery by 2012 was in financial trouble and needed more capital to continue operations. The Carlyle Group put up $175 million and ended up with a two-thirds share of the new company—PES—as well as operational control of the 1,300 acre facility. Sunoco, in a separate deal, merged with Energy Transfer Partners around the same time and that company retained the remaining one-third stake. In spite of this deal, and with another $25 million in grants from Pennsylvania taxpayers along with tax benefits and concessions from environmental regulators, PES remained financially troubled.
Phil Rinaldi, the former chief executive officer of PES, often blames the company's financial difficulties on environmental regulations and, particularly, the ethanol mandate that requires refiners to blend in a certain amount of ethanol or purchase credits, known as RINs. Despite the fact that other refineries are able to meet the standard, PES hasn't actually been buying all the RINs it needs for the past few years and they now owe the Environmental Protection Agency more than $350 million worth of credits.
Apparently it's easier to blame the EPA than admit their failure is largely self-inflicted. In 2013, for example, when crude oil prices were more than $90 a barrel, Rinaldi blew through $186 million on a terminal to transport crude by rail, otherwise known as the oil bomb trains. When oil prices collapsed in 2015, that plan quickly became unprofitable.
In spite of the failures, Carlyle and the other owners made sure to secure tidy profits for themselves, taking more than $400 million in dividends from PES, more than half of which was financed through debt against the refinery. As a result, even after emerging from bankruptcy reorganization in August 2018, it seemed likely that PES was again heading for bankruptcy. When a massive explosion shook the refinery on June 21, that became a reality sooner than expected as PES decided to cease operations and once-again filed for Chapter 11 bankruptcy protection.
PES is now attempting to restructure its debt and reorganize, and Phil Rinaldi is back in the picture once again attempting to get another bailout for the facility. Aside from restarting the facility, this time he also proposes to build a digester to create methane gas from the city's food waste, but that greenwashing is not only too little and too late to cover up the failures of the past, it doesn't begin to offset the continued pollution from the plant. The petrochemical industry isn't the economic savior it's made out to be, but that is apparently a hard lesson to learn.
We Must Act on Climate
Last October, the Intergovernmental Panel on Climate Change released a special report finding that to have a reasonable chance at keeping global warming below 1.5 °C we will need to reduce emissions by 45 percent from 2010 to 2030 and reach net-zero emissions by 2050.
That recommendation is significantly more aggressive than the one put forth under the Paris Agreement, which calls for a 26 to 28 percent reduction in emissions from 2005 to 2030. It is also bolder than the path put forth by Pennsylvania Governor Tom Wolf, who proposed meeting the Paris Agreement goal and then reaching an 80 percent reduction by 2050.
Philadelphia has responded with its Clean Energy Vision and is attempting to shift electricity consumption to 100 percent renewable generation by 2050. City leaders are also taking other positive steps such as planning to convert the city's street lights to more efficient LEDs. But, pollution from our electric grid is just one piece of a larger problem. We need to come to terms with our overreliance on dirty fossil fuels.
The gas industry often claims that carbon pollution has declined as natural gas generation has replaced coal on our power grid, but these claims overlook the fact that those reductions are not sustainable. As recently as 2004, Pennsylvania had 90 percent of its generation coming from either nuclear or coal and 5 percent coming from gas. By 2017, Pennsylvania had 34 percent of our generation coming from gas. With 27 percent of our nuclear capacity scheduled to go offline in the next two years, coupled with sharply declining coal generation, gas could easily become 70 percent or more of our generation. That scenario would be a climate killer, and it doesn't even consider the gas used outside of generation in facilities like the Philadelphia Energy Solutions facility.
Attempting to Restart Operations is a Dangerous and Unsustainable Pathway
When we dump money into the petrochemical industry we are buying additional problems that will need to be fixed—possibly at great expense to taxpayers—in a few short years. Often, as in the case of PES, this goes beyond carbon pollution. The refinery was the largest source of toxic air emissions in southeast Pennsylvania and has also been a significant emitter of ozone-forming volatile organic compounds (VOCs) and oxides of nitrogen (NOx) as well as particulate emissions.
As is common with petrochemical plants, even with the facility closed the environmental problems don't go away. There are 1,300 acres of heavily contaminated soil and groundwater that must be remediated, but also ongoing air pollution. PES will likely be able to register the reductions in VOC, NOx, PM-10, and PM-2.5 emissions from its closure as Emission Reduction Credits (ERCs) with the Pennsylvania DEP. These credits have a 10-year shelf life and can then be purchased by other entities who want to increase emissions. Delaying closure of this plant could mean more pollution for years.
Moreover, the remediation of PES should not be delayed. The site is already at a heightened risk for flooding during severe weather events and, at the rates of sea-level rise predicted by the IPCC, areas of the site could be underwater before 2050 and most of the site could be flooded before 2100. The more we wait, the more we risk of additional catastrophic events that will result in much higher remediation costs.
We Need To Focus on Building Sustainable Industries and Jobs
If we are going to reach our climate goals, and if we are going to address the chronic air pollution impacting the residents of the region, the city needs to transition away from fossil fuels to more sustainable industries. In the near term, we need skilled workers to assist with the closure and remediation of the site, but we also need a long term plan. We see this vividly in the coal and nuclear industries where plants are reaching the end of their useful life and no new plants are being built to replace them. Those jobs are going away and, for the most part, there has been little thought given to the transition of the workforce.
While relatively low fuel prices and considerable subsidies makes gas and other petrochemicals inexpensive, the industry suffers from the same fundamental problem. Fossil fuel prices have always been volatile and prices are likely to rise. Clean renewable alternatives, on the other hand, are already cost-competitive in many areas and prices continue to fall. Subsidizing fundamentally unsustainable industries like petrochemicals isn't the path to long-term job growth, it actually creates more at-risk workers.
It's not surprising that when the Bureau of Labor Statistics projected the top 20 fastest growing job sectors from 2016 to 2026, solar installers and wind turbine service technicians topped the list with 105 percent and 96 percent growth respectively while no petrochemical jobs made that list. We see similar results in Pennsylvania where a recent report from the National Association of State Energy Officials showed that solar alone already accounts for well over 4,000 jobs in Pennsylvania with much less than one percent of our generation.
While the future is in green jobs, a number of fossil fuel jobs will continue to be necessary, particularly for the safe closure and remediation of retiring facilities. Unfortunately PES recently announced layoffs of almost almost 400 union workers, including maintenance workers and operators. This raises significant concerns that there will be a lack of qualified staff to safely wind down operations.
A Pathway Forward
Recently, more than 300 stakeholders came together with the Pennsylvania Department of Environmental Protection on a project called "Finding Pennsylvania's Solar Future" to identify 15 key strategies and 52 separate action items that could significantly enhance clean renewable energy deployment in the Commonwealth.
One key ask of the stakeholders was to support the creation and adoption of uniform policies to streamline siting and land-use issues while encouraging conservation. In certain cases, co-locating solar resources with agricultural operations may be beneficial, but often we are seeking to preserve prime agricultural and forest land and encourage solar on less valuable property, including former industrial sites. We've seen this used across the border in New Jersey where PSE&G reported that landfill and brownfield solar sites were about 40 percent less expensive than typical residential installations.
While direct policy intervention to encourage renewable development on brownfields is a possibility, programs could also indirectly encourage development on brownfields by easing access to capital. Some programs, like expanding our Alternative Energy Portfolio Standards or Enabling community solar in Pennsylvania, will take state action, but Philadelphia could take action on its own in a number of different forms such as:
Expanding the availability of solar lending products through a green bank.
Lowering interest rates through loan loss reserves.
Easing third-party financing decisions by entering into long-term contracts for solar energy from new facilities on brownfields.
These are just a few of the action items identified, but even if it is not an exhaustive list, the stakeholder project has clearly shown that there is considerable interest in these policies and a significant amount of expertise in the region ready to assist in their further development. With the closure of PES, the city has an opportunity to leverage this work to rapidly expand its sustainable development. We encourage the city to do so.