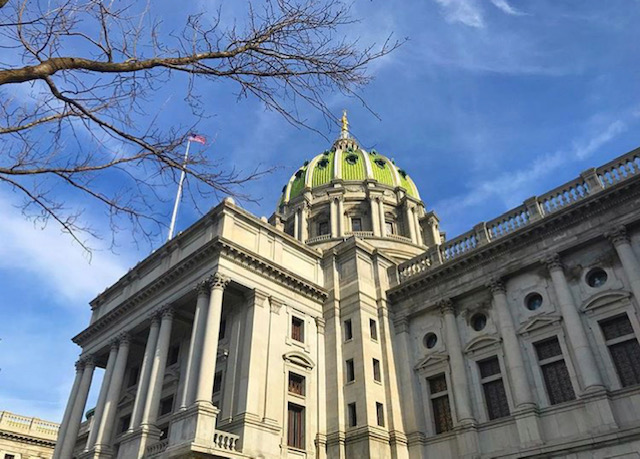 Late last week, the Pennsylvania General Assembly passed a five-month stopgap budget package to fund most of the state government through November 2020. While the state's education funding has been appropriated for a full year, all other lines, including conservation and environmental protection, were largely funded at flat levels from the current 2019-2020 fiscal year. 
PennFuture recognizes this stopgap budget is necessary because of the circumstances surrounding the COVID-19 pandemic, but we are nonetheless pleased that the plan holds steady funding for environmental and conservation agencies that protect our natural resources. Now is not the time to slash funding or otherwise undermine the work being done by these critical agencies, which work every day on behalf of the millions of Pennsylvanians who cherish clean air, pure water and a healthy environment. In addition, it's imperative that our state government makes real and meaningful investments on behalf of our environment as the legislative session moves forward this year.
The Five-Month Spending Plan
The $25.8 billion spending plan of the budget package was moved by the general fund appropriations bill called House Bill 2387 (Saylor). The legislation unfortunately called for cutting essential funding to the river basin commissions that do critical water quality and quantity work, protecting and restoring our Commonwealth's rivers and streams. Thankfully, this year's budget bill did not call for raiding special or dedicated environmental and conservation funds that are restricted and statutorily set aside for conservation projects.
The House and Senate will have to return to the appropriations work in Harrisburg after the November 3, 2020 election for a 'sine die'—or 'lame-duck'—legislative session to hammer out a supplemental appropriations bill for the remainder of the 2020-2021 fiscal year. Pennsylvania hasn't seen a sine die session for almost 15 years and proponents of "good government" are rightfully concerned; legislators voting on the supplemental budget may be retiring or may have been defeated, but would still retain their seats for this session. Because of this and the projected $5.2 billion budget shortfall for this and next fiscal years, climbing out of this hole for funding will be a challenge. Filling this hole and even moving Pennsylvania to adequate investment levels for conservation and environmental protection will be a steep climb. 
Some Members of the legislature will call for draconian cuts to these resources agencies and will try to move austerity measures like gutting our dedicated funds, such as the Environmental Stewardship Fund, Keystone Recreation, Parks, and Conservation Fund, and more. We must remember that these areas are not fluff that we can cut indiscriminately, but these are core functions of our state government. We must protect these funds and move to invest more in these agencies that have been cut more than 40 percent since 2002.
What About Code Bills?
In addition to the appropriations bill, the General Assembly often passes associated "code bills" that implement the budget across different areas. These code bills are often used to move nefarious pieces of legislation that, by themselves, wouldn't make it through the legislature.
This year we tracked and analyzed an administrative code bill and two fiscal code bills that were a part of the budget package. First was the administrative code bill called Senate Bill 1027 (Gordner). For the most part, SB 1027 was 'clean' of bad policy riders, but did include a requirement for the Governor and his administration to notify the legislature when regulations would be suspended (temporary or otherwise) along with the normal processes already in place. This may create increased work and bureaucracy for an already underfunded and understaffed agency.
What's more, we typically see a fiscal code bill accompany the state budget bill to direct and implement the spending plan. Due to COVID-19, this year we had an additional fiscal code bill—House Bill 2510 (Turzai)—moving federal dollars that have been spent to Harrisburg per the CARES Act from earlier this spring for response efforts. Even more troubling was the passage of the regular fiscal code bill—House Bill 1083 (Sankey)—which we called on the legislature to oppose its passage.
HB 1083 contains a shell-game of moving money from the personal income tax (PIT) revenue to support the Environmental Stewardship Fund (ESF/'Growing Greener'); for the last few years we have seen transfers of money from the Oil and Gas Lease Fund to the Environmental Stewardship Fund, via the Marcellus Legacy Fund, but that move was blocked per the fiscal code of the budget for the 2020-2021 fiscal year.
Perhaps the most concerning provision slipped into HB 1083 and approved by the General Assembly and signed into law by Governor Wolf is a dangerous paragraph extending 'preemption' language for another 12 months OR until six months after the expiration of Governor Wolf's March 6, 2020 disaster declaration and any renewals, whichever is later.
The bill explicitly says that it "prohibits the General Assembly or a local government from enacting or enforcing a law relating to the use, disposition, sale, or prohibition or restriction of single-use plastics." Another giveaway to the plastics and petrochemical industry from our legislative leadership; it's also another thumb in the eye of local governments and environmental advocates trying to move forward sound policy and solutions for their communities.
We appreciate the work of our environmental champions on this issue in the legislature, especially Leader Costa and Minority Appropriations Chairman Hughes in the Senate and Minority Environmental Resources Chairman Vitali and Minority Appropriations Chairman Bradford in the House.  
Budget Advocacy is Critical
This year's budget week was full of drama, and the budget process in Pennsylvania still isn't anything close to transparent or inviting of public participation and input outside of a small circle of insiders and leaders in the "Peoples' House." Despite the pandemic restrictions put in place this year, PennFuture has remained a leader for the environmental community in the trenches of this year's budget fight and worked hard to keep up environmental investments and keep out bad policy. Budget advocacy, it's true, took a different form this time around, but our mission remained to ensure Pennsylvania's budget is a 'moral document' and a values statement. 
It's been said, often tongue-in-cheek, that if you're not at the table, you're on the menu. We will continue to make sure the voices of the environmental and conservation advocates are at the table as we wrap up legislative session in Harrisburg this spring and as we piece together the second half of our Commonwealth's budget package in the fall.