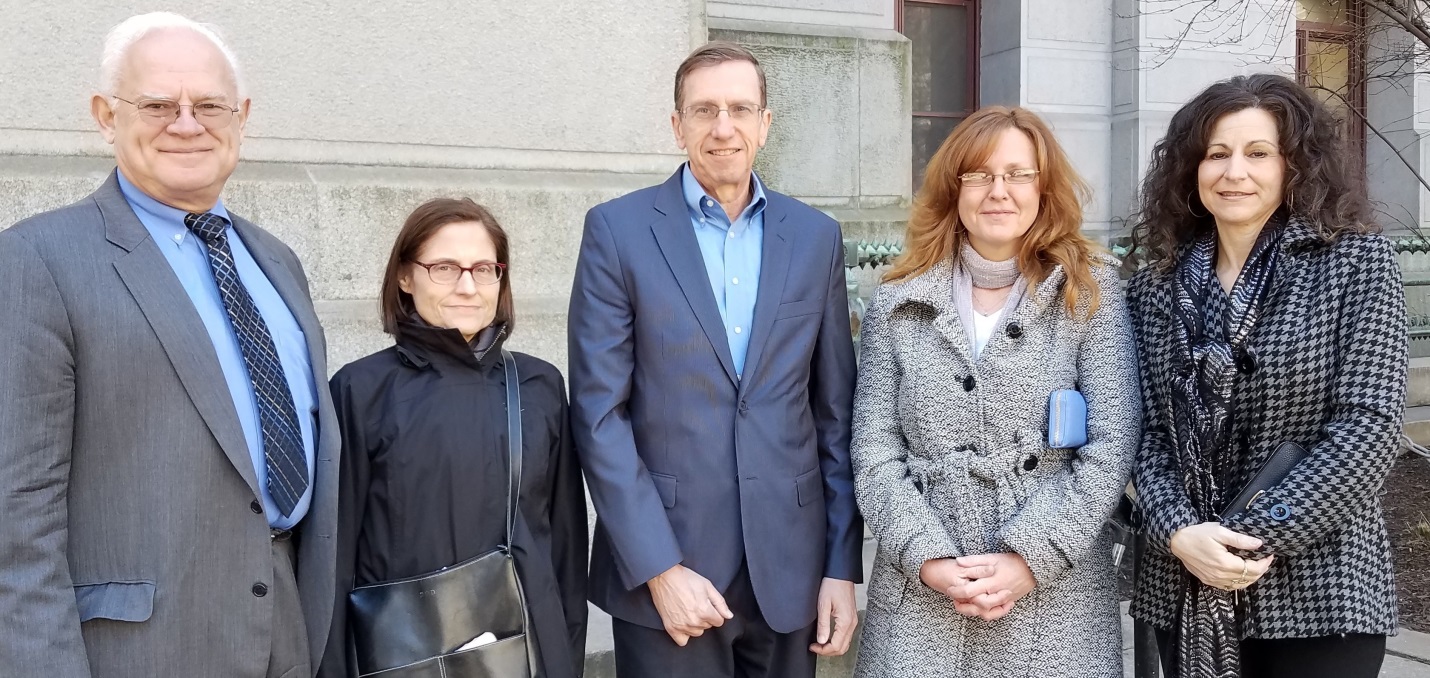 When Dawn and Brian Gorsline purchased property in Fairfield Township, they were overjoyed.
In 1999, Dawn and Brian were looking for property that would allow them to build a home to raise a family in a healthy and safe environment - a place where they could conserve land, grow Christmas trees and watch generations of their family experience the beauty of nature at its fullest.
Their search led them to an area in Fairfield Township, Lycoming County, zoned Residential-Agriculture. Dawn had grown up in the area and her family still lived there. "It was the perfect place with the best people living in it," she said.
Little did she realize that several years after building her dream home, Dawn's desire to protect her family's way of life would involve her in a constitutional law case that would lead all the way to the Pennsylvania Supreme Court.
In 2013, a neighbor mentioned to Dawn that a company, Inflection Energy, was looking at locating a shale gas well pad near their homes, and that a township meeting had been scheduled. Dawn recalls the meeting. "It was filled with angry people who had a lot of questions" she said. It was at this meeting that she met one of PennFuture's legal team members, who, after studying the township's zoning ordinance, said, "We have a case."
Because the township's ordinance did not expressly regulate oil and gas development, in order to allow shale gas development in its R-A district, the township had to find that use of the land for construction and operation of a well pad was "similar to and compatible" with other land uses expressly allowed in the district. Despite opposition from those most impacted by the well, the township's board of supervisors approved use of the land to construct and operate the well pad. Within 3,000 feet of the pad were 126 drinking wells. The owner of the property on which the well pad would be located lived in another township. PennFuture, representing the Gorslines and their neighbors, the Batkowskis, challenged the township's decision in Common Pleas Court.
Dawn and her neighbors quickly experienced the impacts associated with construction of a gas well pad in a residential neighborhood. Seismic "thumper" trucks showed up unexpectedly; strangers with chainsaws appeared in backyards without permission; helicopters hovered overhead and dropped cables across those same properties. It generally felt like life had gone from predictable to chaos in a few short months.
When Inflection began constructing a holding pond for the well pad despite the pending appeal, PennFuture's legal team sprang into action and obtained an injunction to prevent further construction activities until the judge could rule on PennFuture's challenge. After deliberation, Judge Mark Lovvechio issued a decision in favor of the Gorslines and Batkowskis, reversing the township's conditional use application. Judge Lovvechio believed that Inflection had failed to show that the proposed land use was "similar to and compatible with" other land uses expressly allowed in the district.
Not to be outdone, Inflection appealed its loss to the Commonwealth Court. After written and oral argument, a three-judge panel of the Court reversed the Common Pleas Court's decision. The opinion was extraordinary in that the Court held that an industrial land use that uses heavy machinery, large diesel engines, and involves the storage of highly flammable material, toxic waste and explosives, and generates waste characterized as industrial by the state of Pennsylvania, was "similar to and compatible with" other land uses expressly allowed in the R-A district, such as single family homes. The ruling effectively cut an exception in the zoning ordinance so wide that it would result in shale gas development being allowed everywhere, regardless of the nature of the zoning district. It was an outrageous demonstration of judicial overreach.
Not giving up, PennFuture sought allocator permission to have the case reviewed by the Pennsylvania Supreme Court. Only a small percentage of these types of petitions are granted by the Court, but this one of them. The case presents for decision the issues of whether shale gas development constitutes an industrial land use, and whether the government violates the constitutional rights of existing property owners who relied on the township's zoning scheme by allowing incompatible land uses in the zoning district in which the residents reside. The case was argued on March 8, 2017. The case has the potential to establish statewide precedent on a number of important environmental and public health issues facing Pennsylvania.
Dawn feels strongly that clean air and clean water should never be threatened and that we - all of us - need to fight for our basic rights to protect those natural resources and public health and safety. Dawn teaches third grade and environmental science at her primary school and regularly emphasizes to her students that "wherever you step, there is life where you walk. You cannot just abuse the land and expect good results."