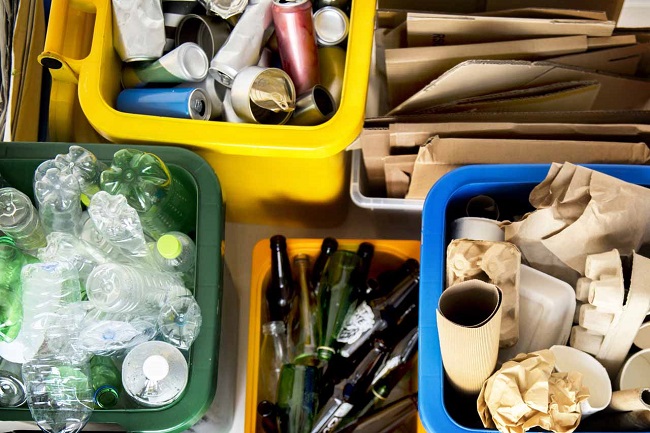 China remains the world's largest producer of plastic, but research has shown that the United States was the world's number one source of plastic waste as of 2016, pushing 42 million metric tons into the environment. Americans also use more plastic per capita than any other country on the planet at roughly 286 pounds per person.
Because the U.S. lacks the waste management infrastructure to recycle all its plastic waste, the country transports about half of its recyclable materials to other countries. However, this has been complicated by China's 2018 announcement to stop the importation of plastic waste, followed by announcements by other Southeast Asian states such as Thailand in 2021, Vietnam by 2025, India, and even Turkey. Clearly, something must be done to tackle our plastic waste problem in the U.S., and states like Maine might be leading the way and teaching us all a thing or two about finally solving this issue.
According to a 2018 study cited by the Environmental Protection Agency, containers and packaging (namely "bags, sacks and wraps; other packaging; polyethylene terephthalate (PET) bottles and jars; high-density polyethylene (HDPE) natural bottles; and other containers") rank as the most used plastic in the U.S. at over 14.5 million tons.
For the past thirty years, U.S. states have begun to pass individual statewide legislation to curb the usage of plastic bags. In 1991, Maine became the first state to enact legislation requiring recycling efforts at retail stores. The law prevents retailers from supplying plastic bags unless they provide a convenient storefront receptacle to ensure used bags are collected and recycled. Since then at least four other states—California, Delaware, New York and Rhode Island—and the District of Columbia have followed their lead.
However, as we have previously noted in our PennFuture Blog, plastic recycling by the consumer alone will not solve the plastics pollution crisis our global environment is facing, as just 9 percent of global plastic waste is recycled. PennFuture has previously argued that the world must transition away from plastic packaging altogether. As of this writing, eight states—California, Connecticut, Delaware, Hawaii, Maine, New York, Oregon and Vermont—have banned single-use plastic bags.
Arguably, a major step towards the total elimination of plastic packaging can be seen in Maine's new extended producer responsibility (EPR) policy for packaging which makes it all the more costly for companies to use plastic packaging, among other types as well.
Maine's new EPR law begins to shift the burden on recycling from the consumer to the producer by requiring producers to cover 100 percent of its municipalities' recycling costs. Maine's Department of Environmental Protection will set fees for different types of packaging. Companies will be charged on the amount of packaging waste they create in the state, with higher fees charged for materials that are more difficult to recycle. The fees will drop when companies redesign and replace old packaging for more recyclable ones, or increase the amount of recycled content in their packaging. This eco-modulation system "incentivizes less packaging and better packaging" according to State Rep. Nicole Grohoski, one of the bill's primary sponsors.
Maine's DEP will partner with a "packing stewardship" organization that will run the program and will offer companies assistance in designing packaging that better fits the system. The organization will need to report data such as tonnage of packaging collected and provide funding for infrastructure and education improvements.
While 33 states currently have EPR laws, they are far more narrow; typically focusing on specific products like used mattresses and tubs of paint. Even in this narrow application, Connecticut's mattress, paint, electronic and thermostat EPR programs have diverted more than 26 million pounds of waste since 2008, according to one study.
Packaging-centric EPR policies have achieved success worldwide as well. In Quebec, Canada, a similar program results in $250 million sent back to communities for recycling purposes each year. Around 63% of packaging is recycled in Quebec, versus an average of 25% in the U.S. A study by the Oregon Department of Environmental Quality of Canadian EPR programs found that consumer product prices had increased by only $0.0056 per item.
Plastic pollution is undoubtedly an issue in Pennsylvania. Studies have estimated that by 2050 there will be more plastic in our oceans than fish. On average, in a single year, the Philadelphia Water Department removes 44 tons of trash from a 32 mile stretch of the Schuylkill and Delaware rivers, 56% of which was plastic waste, according to a PennEnvironment report. In Pennsylvania, plastic is the most common form of visible litter. In fact, the Department of Transportation spends over $13 million every year cleaning up just roadside litter. The problem is so widespread that nine of the largest cities in Pennsylvania spend over $68.5 million every year on litter and illegal dumping, with $46.7 million of that going toward litter abatement.
Pennsylvania's very low cost in sending trash to landfills and incinerators places Pennsylvania as among the largest importers of out-of-state waste in the nation. At the same time, Pennsylvania's Department of Environmental Protection, facing cuts in their funding by the legislature, has cut grant funding for the state's recycling program in 2021.
With the plastics pollution issue increasing in Pennsylvania in the face of cuts to traditional recycling programs, it is time to change course. Maine has shown us that legislators can stand up to the plastics manufacturers and larger petrochemical industry and force them to take responsibility for the plastic pollution they are putting into the marketplace, and by extension, the environment at virtually no cost to the consumer.