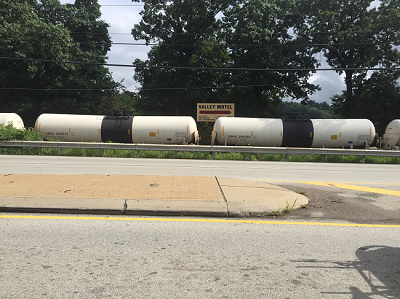 Communities across Eastern Pennsylvania are at the center of a new debate over whether fracked gas and its byproducts, specifically liquified natural gas (LNG), can be safely produced and transported to new markets. As the LNG project in Bradford County moves ahead, the debate will morph into an experiment in freight design and fuel transport. Put simply, those who live along Pennsylvania's rail lines will be at risk.
Following federal approval in July, the first bulk transport of LNG by rail will potentially travel from Wyalusing to an export terminal in Gloucester County, New Jersey, crossing through the Wyoming, Lehigh and Delaware valleys along the way.
On August 18, Pennsylvania joined 14 state attorney generals to sue the federal government on grounds that shipping LNG by rail is absurdly dangerous. On the same day, a coalition of environmental groups likewise challenged the health and safety of the U.S. Department of Transportation's new LNG-by-rail regulations.
Petitioners argue LNG transport rules, finalized by the Pipeline and Hazardous Materials Safety Administration (PHMSA) on July 24, fail to offer sufficient public safety rules and lack evaluation of environmental impacts. Attorney General Josh Shapiro described LNG rail transport as "extremely dangerous" and potentially "explosive."
Transporting LNG would risk creating "bomb trains," posing new hazards to communities and habitats along its path. Read PennFuture's previous articles describing the basics of LNG and detailing the threats posed by transporting LNG on rail.
The PHMSA rule allows LNG to travel by rail in tanker cars never before used to transport LNG. DOT-113 cars would need to add enhanced, thicker carbon steel outer tanks. These enhancements would make the cars heavier than almost any other freight. How these enhanced tanker cars would withstand a rail accident remains unknown.
Bomb trains would be subject to a new speed limit of up to 50 mph. Yet the limit would be voluntary. Federal Railroad Administration officials have noted tank cars are unlikely to survive impacts at even 30 mph.
The National Transportation Safety Board and the National Association of State Fire Marshals have both objected to the PHMSA rule. PHMSA claims DOT-113 cars have a track record of transporting other cryogenic flammable materials. But these cars have experienced numerous failures while transporting other, less dangerous cargoes.
A study by University of Wyoming professor Charles Mason—paid for by the Charles Koch Foundation—acknowledges the danger of rail transport of crude oil. From 2010 to 2016, the study tracked 75 oil spill incidents. Although the spill rate has fallen in recent years, at its peak rail-related spills occurred once for every 1-2 million barrels (about 90 million gallons) shipped.
The Pennsylvania LNG plant developer, New Fortress Energy, plans to ship 3.5 million gallons of LNG per day by either freight or truck. That's equivalent to three rail tank cars per day. Recently, Lehigh Railway announced a five-year lease to TranZ, "a bulk material handling company serving the needs of the energy industry," to operate a rail-truck transfer station in Wyalusing.
The exact route LNG trains would take is not yet public information, but Delaware Riverkeeper Network maps out two potential routes.
From the Wyalusing plant, Lehigh Railway would carry the bomb trains until the railway interchanges with the Reading & Northern Railroad lines at Mehoopany in Wyoming County. From there, trains would likely travel alongside the Susquehanna River through Lackawanna and Luzerne counties, then south through Carbon, Schuylkill and Berks counties. Once arriving in Reading, cargo would travel along a Norfolk Southern line to Philadelphia or via Trenton. See the Pennsylvania Railroad Map.
PennFuture fully supports this litigation aimed at protecting our communities and environment from the threat of bomb trains carrying the highly explosive LNG. We will be sure to update you with any information and will continue to do all we can to limit this threat from LNG in Pennsylvania.