On the date marking President Trump's first 100 days in office, PennFuture staff and members joined colleagues from Sierra Club - Pennsylvania Chapter and the Conservation Voters of Pennsylvania in Harrisburg by marching for clean air, pure water, and a healthy climate. The president observed his first 100 days in office with a rally in our city, and we wanted to make it clear that climate change is real and it is an issue that must be addressed.
It was a warm and humid day, much like any summer day in Pennsylvania, but overcast, and our city was electric with anticipation. People from across the state and country descended upon the Capital City.
Upon learning that President Trump and Vice President Pence would be speaking at a rally at the Pennsylvania Farm Show Complex to tout victories and accomplishments of the administration, our environmental community banded together with other statewide and local community organizations in Harrisburg to stand up against the President's dangerous and damaging environmental policies.
While more than 200,000 of our neighbors and allies marched on Washington, D.C. during the People's Climate March, held on the same day, we decided to make a statement to President Trump that he could not take shelter in the Keystone State from listening to our voices and our earth. We aimed to bring the energy of the People's Climate March to Harrisburg and remind President Trump of his obligation to lead on environmental issues.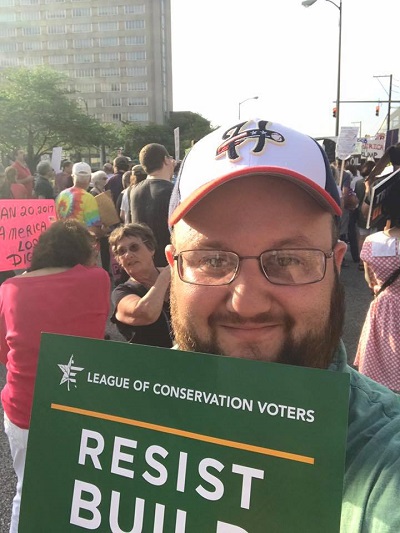 During his first 100 days in office, President Trump dismantled hard-won climate protections, issued assaults on our air, water, and land, directly attacked the well-being of working families, and marginalized Indigenous communities, people of color, immigrants, the LGBTQIA community, women, young people, and low-income communities. Further, the President's policies have attacked national monuments and the Endangered Species Act, and put at risk key funding for our farmers and watermen through the Chesapeake Bay Program and the Great Lakes Restoration Initiative.
By any and all measurements, the first 100 days of the Trump Administration and the Scott Pruitt-led Environmental Protection Agency (EPA) have completely failed when it comes to protecting our health and environment. In fact, virtually all of Trump's environmental actions have put public health at greater risk, exposing us to dangerous pollution from power plants, cars and other sources, and toxic chemicals in our water and pesticides on food kids like to eat.
President Trump and EPA Administrator Pruitt have also failed to push clean energy and the jobs that come with it. Their unprecedented actions that jeopardize the safety of Americans are squarely at odds with what, in poll after poll, the American people want: clean air and safe water, clean energy, action on climate, and for their government to hold polluters accountable.
Specifically in Pennsylvania, farmers' crops are being hurt by the changing climate, outdoorsmen are encountering diseased game, fishermen are finding sick bass, public drinking water in a number of municipalities face lead contamination, and our cities are experiencing flooding and stormwater problems at new, out of control levels.
We gathered around in the early evening among the state's towering administrative buildings to speak truth to power. After listening to uplifting speeches from friends, nearly 500 citizens marched up 7th Street to Maclay Street before moving over to Cameron Street by the Farm Show Complex. It was a beautiful evening as the sun set and we were met with the community support of honking cars and cheers as we passed by the different city neighborhoods.
As Vice President Pence left the event, we made sure to share our signs and chants with him, and we did the same as President Trump's motorcade left the location and pulled onto Cameron Street back to Washington. The evening put over six miles of trekking on the marchers, but seeds were planted, and an overwhelming spark of empowerment in our fellow marchers was evident. It resonated long after the night concluded.
We marched, because all Pennsylvanians deserve a voice. All Pennsylvanians, no matter their station, have a right to clean air, pure water, and the preservation of our environment. It is the duty of the Commonwealth to serve as trustee of Pennsylvania's precious resources for not just the rich, and not just the powerful, but for all. We must continue to advocate for conservation and our environment. We must continue to show up and share our stories, not only by marching in the streets, but by continuing our work in the halls of the State Capitol and in Washington.