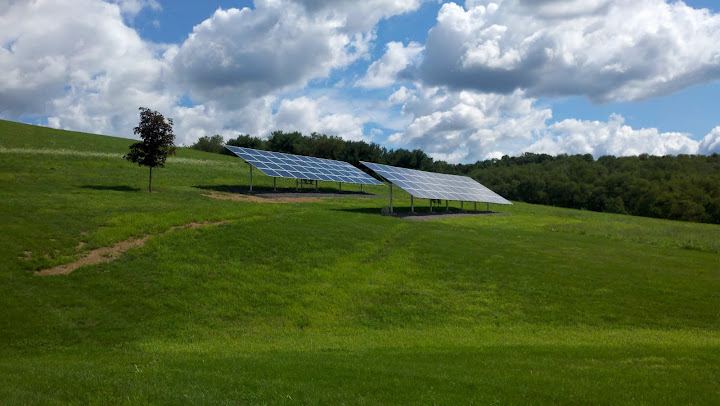 The next few years will be an exciting time for solar energy in Pennsylvania.
Nationwide, the solar industry is booming. Average installation costs dropped 12 percent from 2015 to 2016, and those costs continue to fall. Increasing demand has made jobs in the industry grow almost 12 times faster than the economy as a whole.
With increasing solar installations, related products including home battery storage and affordable electric vehicles may soon see breakout sales. And, this is just the beginning.
Change is coming. The question for Pennsylvania is: What will it take for the state to be a leader on solar?
The PA Department of Environmental Protection (DEP) and the federal Department of Energy recently announced a cooperative agreement to answer just that question. Work is beginning on a project called, "Finding Pennsylvania's Solar Future," in which DEP and interested stakeholders* will spend the next 30 months investigating how to expand in-state solar generation to 10 percent of sales by 2030.
That is an exciting goal that is leaps and bounds above our existing target of 0.5 percent by 2020.
Is 10 percent by 2030 too high? Will market demand drive us to even greater sales? Either is possible—that is what makes 10 percent a good target. We need to look beyond incremental changes that we are sure are achievable and understand what a significant change means. What are the technical challenges, policy issues, and market forces we need to consider?
How the Project Will Work
This will be a stakeholder-driven project. Interested people from across Pennsylvania with backgrounds including business, government, utilities, academia, environmental advocacy, and consumer advocacy will have an opportunity to share their views and experience related to policy proposals, technical issues, and the impact of business models and market forces.
Stakeholders will then help decide which of these scenarios will be selected for additional modeling and analysis.
Modeling, conducted by Vermont Energy Investment Corporation, will help inform the stakeholders as they refine the proposed scenarios into a set of core recommendations. The results will be published as a draft report for public comment, as well as independent academic review. Stakeholders will have another opportunity to revise their recommendations in light of the additional review before the final report is released as Pennsylvania's Solar Future Plan. This report will be available for use by policy makers, regulators, industry, investors, and consumers.
Next Steps
Together, we can develop a vision of Pennsylvania's clean energy future. To keep informed about the latest news, be sure to check out the project website at www.dep.pa.gov/pasolarfuture. Those interested in participating as a stakeholder can contact the project team at RA-EPPASOLARFUTURE@pa.gov.
*PennFuture is working with PA DEP to coordinate the stakeholder process.