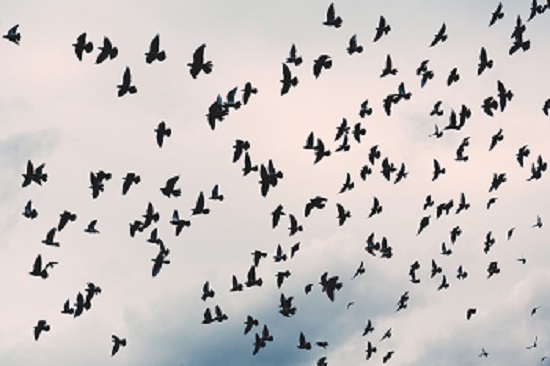 I'm writing this from southern Luzerne County, where I've been working since March 16 when the whole of PennFuture's team went to a work-from-home policy to help us safely ride out this phase of the COVID-19 pandemic. I am grateful for those elected officials, community volunteers, and every frontline worker who is playing a part to help us weather this horrendous virus that has upended our communities, country and the world. I wish safety and good health to all.
The pain of loss and disruption caused by this virus is felt everywhere. But our Earth is breathing again, even as human lungs are under viral attack. The air is notably cleaner, lost hues are making it back into our sunrises and sunsets. The blue of our skies is amplified and crystal.
Wildlife is liberated as people hunker down. Songbirds are back and occupying new locales made quieter from the lack of traffic. They can hear each other sing to prospective mates, no longer drowned out by motors and jake brakes.
All that seems to be coming to an end. The people of the United States have found a way to let an insidious and indiscriminate killer like COVID-19 fracture us even further. The red, white and blue of the American flag has not emerged as the true colors of this national emergency as it did after the September 11, 2001 attacks. We've not found a unity symbol of "alone but together," at least not in my community.
Three weeks ago, we marked the 50th anniversary of the first Earth Day, which was April 22, 1970. From the people's struggles against the Vietnam War, racism and poverty, alarms went up around a growing ecological crisis:
The unsustainable expansion of humans into all corners of, and habitats on, planet Earth;
Pollution-induced profits increasingly lording over the welfare of the people; and
Poisoning of our air, water and atmosphere.
The emerging science and data of the COVID-19 pandemic is telling us that our inability to address the ecological and social issues of the last 50 years is driving the worst attributes of this virus' origins and helping define many of its victims—the black, the brown, and the unhealthy, all made more vulnerable because of weaknesses in the natural systems that sustain life, most notably the air we breathe, the quality of the places we live and the kind of food we eat. And the virus is illuminating the weaknesses in the economic drivers in which we've invested for decades.
We expect a different normal going forward. We understand that how we generate income, socialize, educate, recreate and coexist as communities will change and must change given the extent to which the past bad decisions and poor investments made, and "leaders" we've elected have gotten us to this moment in time. We must not fail in re-shaping these basic aspects of our future, having been given an unforeseen opportunity in the form of a horrible pandemic that is crushing every normal we know.
We must reinvent our society through the lens of equality and sustainability. But Pennsylvania has many Achilles Heels in regard to our ability to re-create a future where authentic resiliency of our economy, our environment and our people takes the lead. We have opposition here to livable wages; we have unions that are resistant to change, entrenched in old industries and mindsets; we have centuries of reliance on fossil fuel industries that have created jobs at the expense of workers' health and the environment; diverse voices are suppressed in our civic systems and disparate viewpoints are suppressed in deliberative government bodies; and now, we have politicized a pandemic making bridging these dynamics—and so many others—an even harder undertaking.
But we have an unprecedented opportunity before us and cannot be deterred by these unflattering attributes of our state: The federal government has the capacity and power to create stimulus funding and programs that must salvage our tattered small businesses; create commensurate employment opportunities for workers and sectors where job loss is projected to be permanent or semi-permanent; and create jobs and training for the hardest hit, including our 2020 high school and college graduates and less skilled individuals. We must make a just and progressive mark on these funds and programs.
PennFuture has an important perspective to bring to the stimulus and recovery discussions, in the form of ideas for programs, projects and funding that can drive a rebuilding of our state centered on sustainability and equity. We will be sharing that soon.
The other opportunity is that we are in an election year, and it is critical that every eligible voter exercises their right to vote. Please vote for individuals who have articulated an unambiguous commitment to a very, very different future for Pennsylvania and our country.
Senator Gaylord Nelson—the father of Earth Day—called for "a new national coalition whose objective is to put quality for human life on a par with Gross National Product."
Plainly said and still direly needed today. Let's activate and do our parts to ensure that our recovery leads to a green future.
Let's get it right this time around, beginning with our home state of Pennsylvania.