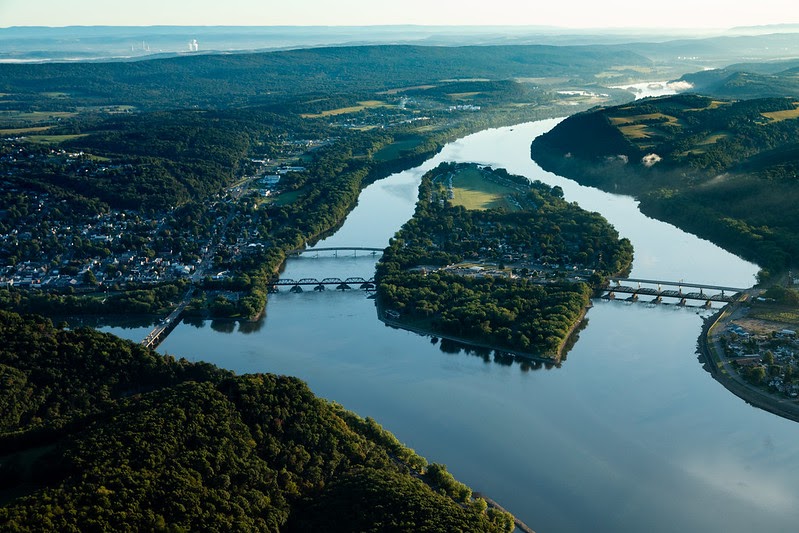 This week, the University of Maryland Center for Environmental Science (UMCES) gave the Chesapeake Bay a C in their latest report card. This is an improvement from last year's grade of C-.
UMCES assigns grades to numerous regions across the estuary and watershed. The Upper Bay, where Pennsylvania contributes 90 percent of the freshwater, received a grade of C, showing a health trend that is significantly improving. In Pennsylvania, the West Branch of the Susquehanna scored an A-, the Lower Susquehanna and Juniata watersheds received a B-, and the Middle Susquehanna a C+.
This year's report card has new social and economic indicators of watershed health, including stewardship, protected lands, walkability, and heat vulnerability. As the President for UMCES, Dr. Peter Goodwin, pointed out, "Improvements in our environment go hand-in-hand with improvements in our communities, particularly those that are traditionally disadvantaged."
The indicators showed varying results. The scores for dissolved oxygen and total nitrogen improved. However, chlorophyll a—a measure of algae—and total phosphorus scores declined, with a slight decrease in water clarity, benthic community (aquatic life living at the bottom and an important food source for the ecosystem) and aquatic grass scores.
The UMCES says that the impacts of the COVID-19 pandemic on the health of Chesapeake Bay are not yet known, except for a reduction in atmospheric nitrogen from reduced travel and commuting. Between March and May 2020m, routine water monitoring did not take place.
The good news is that long-term trends of the indicators are showing improvement,thus demonstrating that the efforts taken to improve the health of the stream that drains to the Chesapeake Bay are working.
Pennsylvania is required to reduce its load of pollution into the Susquehanna and Potomac Rivers by 34 million pounds of nitrogen and 756,000 pounds of phosphorus by 2025.
Pennsylvania has long remained behind in meeting clean water goals to address the health of the Chesapeake Bay. That's why this April, PennFuture released a report that provides a legislative roadmap to fully meet our funding and policy needs.
Titled "Underfunded and Polluted: Solutions to Fund Clean Water in Pennsylvania and the Chesapeake Bay Watershed," our report puts forth a legislative agenda that, if acted upon, would provide the technical assistance, agency support, and public investments needed to put Pennsylvania on the path toward meeting the Environmental Protection Agency's Chesapeake Bay Total Maximum Daily Load, or the so-called "pollution diet" goals, by its 2025 end date.
Efforts to improve the Bay will benefit our local waterways here in Pennsylvania. The Susquehanna River watershed—including a portion in New York— contains over 49,000 miles of streams. There are more than 15,000 miles of polluted streams within Pennsylvania's portions of the Susquehanna and Potomac River Basins alone.
What We're Watching in the General Assembly
Pennsylvania's annual state budget must be passed by June 30th. PennFuture and our partners advocate for increases in funding for critical clean water programs at the Department of Environmental Protection, the Department of Conservation and Natural Resources, and the Department of Agriculture.
Right now, Pennsylvania is faced with a unique opportunity. The recent passage of the American Rescue Plan Act of 2021 provides the Commonwealth with $7 billion in federal funds. We believe that a portion of the funding should be invested to improve and protect our rivers and streams. The state is also facing a potential $3 billion projected budget surplus.
We are working to secure dedicated funding for clean water through programs such as the creation of a Clean Streams Fund as well as a reinvigorated Growing Greener III program. We're advocating that a portion of this money—at least $500 million—be invested in our water resources which in turn supports jobs, a vibrant recreation economy, and supplies our drinking water.
The Theodore Roosevelt Conservation Partnership found that outdoor recreation in Pennsylvania contributes to over 390,000 jobs with a total value of $26.9 billion, including over $7 billion in federal, state, and local tax revenue.
Another bill we are tracking is the Agricultural Conservation Assistance Program, or ACAP, that is proposed to help farmers install conservation practices that improve and protect our rivers and streams. Senate Bill 465 would significantly improve the water quality impacted by nutrient pollution in Pennsylvania. Senate Bill 465:
Expands upon the Conservation Excellence Grant Program, a program from the PA Farm Bill;
Provides flexibility and places decision-making power at the local level where counties and farmers can make decisions based on local need and benefit;
Can provide up to 100 percent of a project's cost, which can leverage other private and state and federal funding sources; and,
Allows County Conservation Districts, the State Conservation Commission, and Penn State or similar institutions to keep a small percentage of allocated funds for technical assistance and administrative costs.
Another clean water bill we are tracking is SB 251. This is a lawn fertilizer bill that would reduce the excess nutrients that are impacting the health of our waterways. Over 2,600 miles of the Commonwealth's streams are impaired due to excess nutrients, which is the 5th leading cause. One source of excess nutrients comes from applying excess fertilizer. Passage of SB 251 will:
Create a level playing field across the state and protect local waters. This bill will move towards one standard across the region, providing regional companies with similar market requirements to those in neighboring states
Limit how much nitrogen and phosphorus are applied to turf (grass) protecting our waterways from excess nutrients running off into our streams.
Establish a professional fertilizer applicator certification program, similar to pesticide applicators, to ensure that professionals apply fertilizers at the proper rates.
Develop an Agricultural and Homeowner Education Program to educate nonprofessional applicators on the proper rate of applying fertilizers.
Protect consumers through standardization of fertilizer composition and labels.
The University of Maryland Center for Environmental Science's recent report card is proof that investments in our waterways can make an impact. It's encouraging to see the health of the Bay improve and Pennsylvania's passing grades. The Commonwealth has the resources available and pending legislation to make significant investments in the health of our rivers and streams.
Our legislators have a choice to make—invest in our constitutional right to clean water or continue to see slow improvements to Pennsylvania's 25,000 miles of impaired streams.
Do your part today and click here to contact your elected officials. Tell them to advocate for increased funding for clean water initiatives and programs, and to support efforts to improve the health of waterways across Pennsylvania. When legislators invest in our waterways, we all benefit. Clean water is essential for healthy communities, healthy residents, and healthy economies.