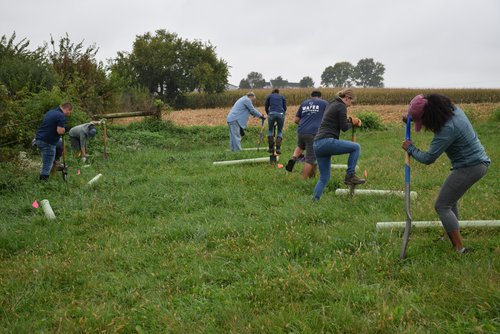 It might be the best way to clean our water. Planting trees along rivers and streams provides multiple benefits in the work to protect and restore our rivers and streams. Known as riparian buffers, they prevent pollution from entering waterways, stabilize stream banks, and provide critical habitat, shade, and food for critters. What's more, it's also one of the most cost-effective ways to improve water quality.
For all these reasons, PennFuture was thrilled to partner with the Choose Clean Water Coalition and the Alliance for the Chesapeake Bay to host its first on-the-ground restoration event. Gathering on a Plain Sect dairy farm in Lancaster County on October 13, a group of 20 volunteers planted approximately 600 trees as part of a two-acre buffer on a direct tributary to the Conestoga River.
Buffers like this are an important part of Pennsylvania's Phase 3 Watershed Implementation Plan (WIP) and are effective in both rural and suburban areas. According to the Phase 3 WIP, Pennsylvania has committed to plant more than 85,000 acres of buffers at a cost of $28 million annually. This would greatly improve local water quality by preventing 16 percent of nitrogen and 41 percent of phosphorous pollution from reaching our waterways. According to the 2021 numeric milestones, Pennsylvania has planted only 42 percent of its forest buffer goal.
But buffers are just one of many practices Pennsylvania has agreed to implement by 2025. Other necessary projects, such as manure storage, are much more expensive. Fortunately, in the Pennsylvania General Assembly there are two proposed pieces of legislation with broad bipartisan support that would invest a combined $750 million dollars of the American Rescue Plan Act funding in clean water programs.
Growing Greener III
First passed in 1999 with bipartisan support, Growing Greener continues to receive overwhelming public support today. In 2020, a poll commissioned by Conservation Voters of PA and the Growing Greener Coalition showed that nearly 90 percent of voters support funding for Pennsylvania's land, water, and wildlife, even during the economic downturn of the COVID-19 pandemic. Growing Greener funding provides critical support to community-driven work in our communities through grant programs at the Department of Conservation and Natural Resources, the Department of Environmental Protection, and the PA Department of Agriculture. A boost of $500 million, as proposed in Senate Bill 525, from American Rescue Plan funding is much needed for this program.
Clean Streams Fund
But to reach its clean water goals, Pennsylvania must also invest state funds into clean water programs. A piece of legislation currently moving through the Pennsylvania state legislature would provide another source of crucial support to improve the Keystone State's waterways. The Clean Streams Fund (SB 832 and HB 1901) proposes $250 million in dedicated funding from the American Rescue Plan to create new clean water programs, including the Agricultural Conservation Assistance Program. This program would provide farmers funding to implement conservation practices on their land. Of Pennsylvania's 50,000+ farms, 98 percent of them are family-owned with an average net cash farm income of $42,020. With agriculture as the number one source of water pollution in Pennsylvania, the state must help farmers effectively steward their land by investing in conservation practices.
A Worthwhile Investment
The dairy farm where we planted the riparian buffer on October 13 is part of the Sustainable Dairy Pennsylvania project, a collaboration between The Hershey Company, Land O' Lakes, and the Alliance for the Chesapeake Bay focused on supporting a more sustainable and climate-friendly dairy supply chain in Pennsylvania for Hershey's Milk Chocolate. But getting conservation practices on-the-ground isn't free. Using American Rescue Plan funding through the Growing Greener III and passing the Clean Streams Fund will provide much needed assistance to our farmers. As many farmers have shared with us, by planting buffers and implementing other conservation practices, they are doing their part to ensure clean water for now and future generations.
We look forward to getting our hands dirty again at another planting, but until then, we will keep up the fight to ensure all Pennsylvanian farmers have the necessary resources to effectively steward their land and leave a legacy of clean water.