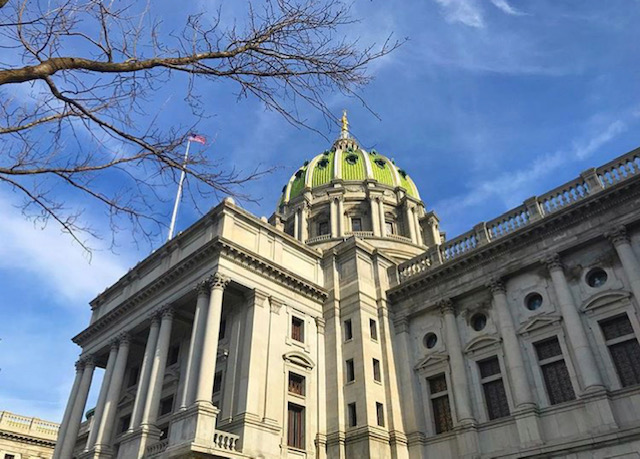 What was for the most part a quiet week in Harrisburg, the Pennsylvania State Senate and House of Representatives met for a few days to continue to move a suite of bills to reopen different sectors of businesses and Pennsylvania's economy. Both chambers also continued to move code bills preparing for the state's budget season, in earnest, with the House moving nine appropriations bills for varying boards, commissions, and agencies.
Equally concerning is that the legislative leadership at the State Capitol is still using the cover of the COVID-19 public health crisis to move deregulatory bills. Instead of increasing protections for Pennsylvanians, members of the General Assembly used this opportunity to approve blocking numerous environmental regulations.
On May 13, the State Senate met to amend and move Senate Bill 327 out of the Senate Rules Committee and push a concurrence vote before the entire Senate before heading back to the House. The bill received a party-line vote with a few members pushing back against the provision blocking regulations.
SB 327 seeks to undermine the regulatory authority of our agencies—environmental and other—that are tasked with safeguarding Pennsylvanians' public health. This legislation would stop any proposed or final-form environmental regulation from being finalized until at least 90 days after the March 6th COVID-19 emergency declaration by the Governor is terminated. Specifically, this could drastically impact the ability for state agencies to continue their work protecting Pennsylvanians. This bill jettisons Pennsylvanians' rights to environmental protection for what could be many months, and this is simply unacceptable.
Further, SB 327 moves to unnecessarily lengthen the regulatory review process and could delay implementation of regulations that are critical to keeping us safe. It is irresponsible to indefinitely abandon work that aims to keep our air and water clean.
This bill would affect: a proposed regulation setting water quality standards for harmful neurotoxin manganese; a proposed regulation establishing cleanup standards for PFAS water contamination; a final regulation to reduce deaths related to air pollution by reducing sulfur in heating oil; a proposed regulation redesignating the water quality protection for over 40 streams; a proposed carbon dioxide reduction program, and more.
The legislation puts in jeopardy hundreds of millions of dollars from the federal government that aids in our state regulatory agencies' ability to do their jobs. SB 327 may very well cause our Commonwealth to abdicate primacy and its own administration of federal programs and could result in the federal government taking over these programs.
Thankfully, Senate Minority Leader Jay Costa (D-Allegheny) spoke up in defense against SB 327. He made the case that this legislation would impact "many regulations proposed by our agencies…[which] now will be tolled or stopped. Some of the most important regulations are environmental ones...we need to proceed with them." Leader Costa continued to advocate for moving these critical protections forward, getting public comment, and advancing the process for Pennsylvania to link its carbon emissions reduction program to the Regional Greenhouse Gas Initiative, which would bring millions of dollars in proceeds to the Commonwealth that could be used for clean air projects and be reinvested in our workers, infrastructure, and more.
We thank Senator Costa for his comments supporting transitioning from fossil fuels to renewable energy. Due to the blocking of regulations in SB 327, Costa argued, "this bill is inappropriate to move forward at this time."
On May 14th, in a surprise voting session that was called by Speaker Turzai the evening prior, the House leadership called up Senate Bill 327 for concurrence—the final vote in the House chamber before being sent to the Governor for his consideration. After robust debate and defense from environmental champions in the Legislature, SB 327 was approved by the House by a largely party-line vote (108-94). We appreciate Representative Todd Stephens (R-Montgomery) who joined the House Democratic caucus in opposing this bill in the final vote.
Rep. Kevin Boyle (D-Montgomery/Philadelphia) rose to speak against SB 327 during the floor debate and said that the bill was troubling and he urged a 'no' vote because it "suspends all new regulations during the entire duration of the emergency COVID-19 declaration." He continued to share that, "Harvard University said that our current emergency could last until 2022…[Boyle] couldn't help but think [SB 327] was more about a deregulatory agenda instead of COVID-19."
We also appreciate the salient remarks from House Environmental Resources Minority Chair Rep. Greg Vitali (D-Delaware) and House Minority Leader Frank Dermody (D-Allegheny) who posited that SB 327 would cause "huge problems for the environment and will cost the Commonwealth millions of dollars in funding."
Before calling for a final vote to move the bill to Governor Wolf, House Majority Leader Rep. Bryan Cutler (R-Lancaster) made the troubling comment that "if the Governor can suspend our economy, we can suspend regulations."
We are thankful that Governor Wolf has already committed to vetoing Senate Bill 327 when he receives the legislation and we are grateful for those in Harrisburg who continue to fight—even during this pandemic—against all the attacks on our protections and funding to keep our air and water clean.
We continue to work as your watchdogs in the halls of Harrisburg and take that duty seriously.