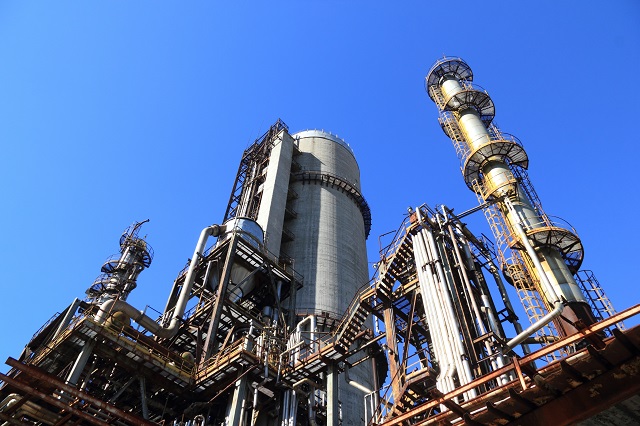 When Pittsburgh Mayor Bill Peduto announced his opposition late last month to any more petrochemical companies in western Pennsylvania at the Climate Action Summit, I might have been the second person in the audience to rise up and out of my chair to applaud in appreciation and agreement. Advocates and constituents alike have been yearning for an elected leader to call attention to a growing problem: Pennsylvania's proposed petrochemical buildout is bad for the environment, bad for the economy, and bad for our communities.
Mayor Peduto followed his statement of opposition with powerful food for thought: Who was at the table—and who was not—when decisions were being made to lay the groundwork for the Royal Dutch Shell cracker plant in Beaver County? Who's at the table on where Exxon will build a second plant? Where the industry wants to build a plant in northeast Pennsylvania? Mayor Peduto makes an important suggestion: the region (and in our opinion the state) should reopen its planning for a massive buildout of a three-state Appalachian Petrochemical Storage Hub, and that those plans be the subject to a much more inclusive regional, state, and public dialogue. Otherwise, Pennsylvania's politicians and business leaders are taking the state down a troubling economic and environmental path with little to no discussion.
Questioning Pennsylvania's Petrochemical Buildout is Leadership Against Doublespeak
Mayor Peduto's comments show significant leadership. Consider alone the transit of air, water, and climate pollution that will emanate from the cracker plant. The suggestion becomes even more relevant in light of increasing expressions of concern from the frontline communities and families that have been impacted by failing pipeline construction and property value impacts. Rural and urban residents alike simply want a future and livelihood that doesn't come with an unhealthy and fouled environmental price.
Plenty of voters support Mayor Peduto's stance, but his statements were met with outrage and opposition from politicians and industry cheerleaders who lack the courage to buck the will and dominance of the so-called fracked gas and petrochemical industries. There is a disturbing refusal among many elected officials and captains of industry to embrace the changes needed to address climate change and the sustainable industries, jobs, and profits that will grow out of it. Fracked gas and petrochemicals will not be major economic players of a climate-stabilizing future, yet the region and state stubbornly lean into climate-killing industries in a way that is not only intellectually dishonest, but also funnels billions in taxpayer subsidies to help the shareholders and CEO's of petrochemical companies make a profit.
There is a pervasive problem in Pennsylvania: our elected leaders talk out of both sides of their mouths. Self-identified, climate-aware leaders like Allegheny County Executive Rich Fitzgerald and Governor Tom Wolf repeatedly say that Pennsylvania's fracked gas can be extracted and exploited safely. On Nov. 12, Wolf gave an interview in which he publicly disagreed with Peduto's stance and said Shell's cracker plant is part of an "energy efficient future."
Wolf and others follow these statements with a belief that Pennsylvania can also be part of the climate solution. There is a mountain of science, models, and experts that say otherwise. It's the work of organizations like PennFuture to expose the duality of these views and get the facts out about the fallacies behind them, and help the public unravel these confusing statements.
The Petrochemical Buildout is a Statewide Problem
Heading up a statewide environmental advocacy organization requires that I keep an eye on the whole of our state. As such, I feel it is important to note that the attempt to elevate Pennsylvania as a world petrochemical power is not just confined to western Pennsylvania. It's intricately connected to pipelines in the southern tier counties, petrochemical projects in northeast Pennsylvania, existing plastics manufacturers in Erie, and along the Susquehanna River, among other existing infrastructure.
Unfortunately, this large scale buildout has flown under the radar. So much of the fracked gas and petrochemical industry's success depends on cultivating elected officials with campaign contributions and other goodies. The industry relies on its access to elected officials to get preferential treatment without the complication of public debate. The industries rely on public relations machines to hammer opposing viewpoints, like that of Mayor Peduto, at a moment's notice. This machine churns out messaging packaged for ease of use by the petrochemical industry's surrogates in government and powerful economic development circles.
I fear the spread of petrochemicals in Pennsylvania is becoming unstoppable. Projects are pervasive. Along the Susquehanna River, New Fortress Energy is constructing a Liquefied Natural Gas facility in Wyalusing, Bradford County. Caithness Energy cut ribbon on its gas fired power plant in Salem Township—the Moxie Freedom Generating Plant—along the river in Luzerne County. Elsewhere, the only compressor station along the PennEast Pipeline is moving ahead in Kidder Township, Carbon County, in close proximity the Pocono's Hickory Run State Park and tributaries to the Lehigh River.
With the help of elected officials, the gas industry is loosening the ground for another possible fracked gas and petrochemical hub in Northeast Pennsylvania. Reminiscent of the exclusionary conversations suggested by Mayor Peduto, a closed door meeting of business leaders (Cabot Oil & Gas, CAN DO, Greater Hazleton Chamber of Commerce, Northeast Pennsylvania Manufacturers and Employers Association, UGI Energy Services) and elected officials (Sen. John Yudichak, Speaker Mike Turzai, Rep. Aaron Kaufer, and Rep. Tara Toohil) recently held in Luzerne County mulling over a wish list of site specifications, subsidies, and regulatory rollbacks that would be needed for Northeast Pennsylvania to become home to another cracker plant like Royal Dutch Shell's 900-acre industrial behemoth in Beaver County.
Shortly after the meeting, Sen. Yudichak published an op-ed aimed at sowing confusion, arguing that building out more fracked gas and petrochemical infrastructure is the right thing to do for the environment and electricity reliability. While carbon pollution from the electric generation sector has reduced slightly because gas has replaced coal, that trend will not continue. As the few large coal-fired power plants left in Pennsylvania rapidly approach retirement, we are now seeing most of the pollution come from gas plants. That is bad today, but in a few short years we could see more than 70 percent of our generation coming from gas. That not only means much more pollution, but putting all our eggs in one basket is terrible for reliability. Worse yet, gas plants are dependent on the relatively fragile infrastructure of our pipeline system and, when disruptions inevitably happen, municipal gas systems will have a higher priority to receive fuel.
Pennsylvania Needs Leadership, Not Lackeys
Elected officials and business leaders have the right to their opinions, but as they govern and lead, they owe the people a level playing field, and they owe others with differing viewpoints respect. They do not have the right to negotiate an unsustainable future behind closed doors, spread misinformation and toe industry lines, or be close-minded to alternative and diversified economic development like that being embraced in our neighboring states. They also don't have the right to misdirect, misinform, and confuse what little direction they're providing their constituents at a crucial moment in Pennsylvania's economic history. The decisions made in the ensuing years will dictate the next 50 years of environmental outcomes. Our leaders shouldn't take that so lightly and without deference to facts, science, and community impacts.