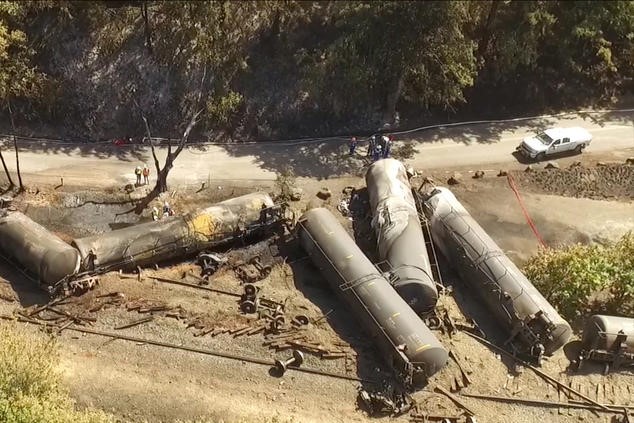 Before New Fortress Energy announced their risky plan to ship millions of gallons of liquified natural gas across the state's rail lines, perhaps they should have consulted with the emergency responders who would have to clean up a spill or one of many other potential catastrophes the project could bring.
With no risk assessment, no public safety analysis and no environmental review of the potential hazards to communities along the possible LNG transport routes, a growing chorus of local officials are denouncing the New Fortress Energy plan and insisting that state regulators stop the scheme in its tracks.
Over the past month, resolutions opposing the local transportation of LNG by rail or truck were approved by Scranton City Council and Clarks Summit Borough Council in Lackawanna County, Kutztown Borough Council in Berks County, and the Lehigh County Board of Commissioners. Similar concern is being raised by four at-large members of Philadelphia City Council and a member of the Pennsylvania House representing Northeast Philadelphia, citing the overwhelming hazards to residents with no benefits.
In addition to denouncing the inherent risks of LNG ground transport, these resolutions and letters of opposition are requesting the Delaware River Basin Commission deny New Fortress Energy's permit to build an LNG shipping terminal. If approved, the Gibbstown, New Jersey terminal would be the last major hurdle for so-called "bomb trains" to carry dangerous LNG through unprepared communities from a proposed facility in Wyalusing, Bradford County.
PennFuture joined with over 120 other organizations in demanding that the DRBC, the multi-state regulatory agency tasked with protecting waters of the Delaware River, reject the permit that would allow LNG to be exported from an expanded Gibbstown facility. The DRBC also received more than 71,000 petition signatures to stop the project.
Clearly, public opposition is having an effect. Earlier this month, three of the state commissioners voted to delay approval and to stay any further construction until DRBC issues a final permit decision.
PennFuture welcomes the decision by the governors of Delaware, New Jersey and New York (Pennsylvania abstained) to take a "careful look" at the dangers of LNG.
Shipping LNG by rail or by train is dangerous on multiple levels. In addition to the risks of an accident during transport, LNG opens new markets to fracked gas, perpetuating the industry's disastrous environmental footprint throughout Pennsylvania. LNG production and distribution results in greater emissions, hazards and energy use by adding major steps to the supply chain between well heads and consumers.
As the region determines our energy future, neither the Wyalusing production facility or Gibbstown shipping terminal should be part of the path forward. DRBC and local and state leaders should listen to public concern and prevent these wrong-minded projects from moving ahead.