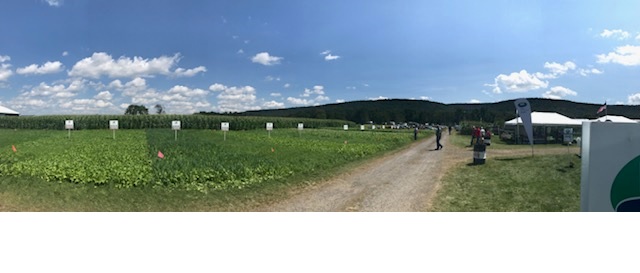 This blog post is one in a series from Ag Progress Days, an event hosted by Penn State University's College of Agriculture Sciences.
Wednesday at Penn State's Ag Progress Days brought state and federal policymakers to Centre County. The show's site was busy with farmers and members of the agriculture and conservation communities, but public officials and legislators hustled and bustled around the grounds to check out the displays and taste the food.
The morning held an informational meeting for a joint group of Pennsylvania House and Senate Agriculture & Rural Affairs committee members to talk about the recent updates on the Commonwealth's Phase III of the Watershed Implementation Plan (WIP). Present were Chairman Sen. Elder Vogel, House Chairman Martin Causer, House Minority Chairman Eddie Day Pashinski, Rep. Sid Kavulich, Rep. Pam DeLissio, Rep. Stephen Bloom, Rep. David Millard, Rep. David Zimmerman, Rep. Russ Diamond, Rep. Dan Moul, Rep. John Lawrence, Rep. Rich Irvin, Rep. Mark Keller, Rep. Mike Tobash, and Sen. Sharif Street. The participation of the committees at Ag Progress Days speaks to the importance of understanding water quality concerns in Pennsylvania and making real changes with solutions that may be difficult.
The committees heard from Department of Environmental Protection Secretary Patrick McDonnell and Department of Agriculture Secretary Russell Redding on the current status of the Watershed Implementation Plan for the Chesapeake Bay watershed. Secretary McDonnell shared that to date, 12 percent of all Pennsylvania farmland has been inspected by the DEP or partners and staff members in the state's Conservation Districts (280 total; assessing almost 246,000 acres), which the Wolf administration has touted as being a very successful first year of agricultural inspections for nutrient management and erosion and soil plans on hand.
One great statistic to hear from Secretary McDonnell is that 60 percent of all Pennsylvania farms have plans in place, but more work is needed in this regard. To address the remaining 40 percent of farms, McDonnell and Redding asked the legislators for help to figure out a good way to collaborate and provide support to farmers. Here, more funding for technical assistance to farmers at the state level is critical and more incentives for developing and implementing management plans would go a long way.
Highlighted during the hearing was the fact that Pennsylvania has its own unique challenges to overcome, but the state is required to meet water quality goals not only due to the federal government's Total Maximum Daily Load – a pollution diet – the Pennsylvania Clean Streams Law, and the Environmental Rights Amendment to the Pennsylvania Constitution, but because Pennsylvanians believe in the right to clean water. Pennsylvanians deserve all streams, creeks, and rivers to be swimmable and fishable once again. Making real changes and investments by the state and federal governments would make significant progress in meeting our water quality goals.
As of the hearing, Pennsylvania is responsible for 69 percent of the remaining basin-wide nitrogen load reduction that is needed by 2025, and more than 80 percent of this is because of agricultural run-off, our state's largest non-point source pollution.
The state's agency officials did bring some good news, however; the water quality in the Chesapeake Bay and our local waterways are largely getting better. This is happening as a direct result of farmers, conservationists, environmental professionals, and governments at every level coming together to brainstorm and put solutions in place.
The past year was successful in that the Penn State University College of Agricultural Sciences executed a farm conservation survey that showed farmers are doing a great deal of best management practice work on their own dime, but it is more evident that the state needs to step up. Our conservation districts are doing great work at relying on their relationships with farmers to collect data and empower farmers to be good stewards with help, and the DEP Chesapeake Bay office noted recent successes, such as setting up an urban stormwater cost-share program, agricultural best management practice special projects, an established WIP Steering Committee, and a road map for execution.
Secretary McDonnell stressed the importance of taking state and federal dollars and spending on conservation practices in specific, targeted watersheds which could use the most help. Secretary Redding made a great point to the legislators at Ag Progress Days by noting though the state receives funding from the federal Farm Bill and the EPA Chesapeake Bay Program, there is a very real gap in funding for agriculture best management practice implementation. Much more money is needed from public private partnership involvement, but primarily more money needs to be invested by the state government.
Following the legislative meeting at the College of Agricultural Sciences building, state legislators and the agency heads joined Governor Tom Wolf for remarks at the College's Ag Government and Industry luncheon. Congressman Glenn "GT" Thompson and Congressman Dwight Evans also took part in the lunch, and later spoke at a town hall discussion on agriculture issues from Pennsylvania stakeholders.
Governor Wolf reminded attendees that, "Clean water is a problem for everyone in this state," not just for the agriculture sector, or for those in certain parts of the state. Wolf nudged his colleagues in the legislature in a friendly manner to finish the state budget and make sure that there is more money for clean water and fixing this crisis in the Commonwealth. Wolf went on to say that he wants to make sure that Pennsylvania is a place for agriculture to thrive and wants to make sure that the state government is not standing in the way…especially because it may be lacking financial resources to help, which is now a recurring, and unacceptable, theme in the Keystone State.
Secretary Redding and Secretary McDonnell were adamant in their take that the goals should be coequal and not competing. We need to do whatever we can in Pennsylvania to advocate for viable farms and champion clean water at the same time. We don't have to choose, but our state needs leadership and dedicated funding for our water resources to make this happen.
State legislators, you're up to bat.
As was mentioned again during the hearing today, we all contribute to our state's waterway impairment problems, so we can – and must – all be part of the solution.