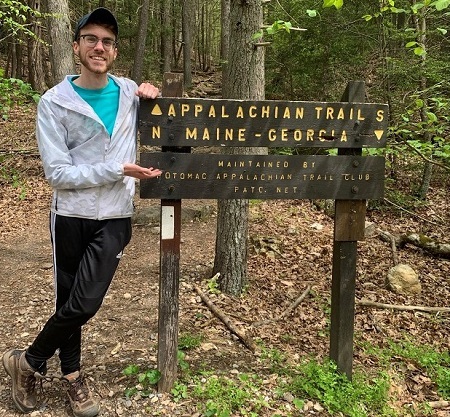 Trevor Nordquist thinks every part of Pennsylvania offers something special and beautiful, and he should know: the 27-year-old just visited each of Pennsylvania's 121 state parks in a span of 303 days!
From kayaking in Codorus State Park in southwestern York County and Bald Eagle State Park in Centre County, to biking in Moraine State Park in Butler County, to hiking in just about every park that offered trails, Nordquist has seen more of Pennsylvania's beauty in the last year than most of us experience in entire lifetimes.
But Nordquist, a graduate student at Slippery Rock University in Butler County, first had to leave Pennsylvania to appreciate its beauty.
"Growing up in Pennsylvania, especially when I graduated high school, I wanted out of here," Nordquist recently told PennFuture. "I never had an appreciation for this state like I should have."
Nordquist's journey took him to Colorado as part of the AmeriCorps program, and it was there that he became "obsessed with the outdoors." Given ten weeks to explore the state after his service ended, the Pennsylvania native set a goal to hike a "Fourteener," or one of the 53 mountain peaks in Colorado that exceed 14,000 feet.
After spending the summer of 2019 immersed in training and planning, Nordquist accomplished his goal by climbing Grays Peak in the Rocky Mountains right before coming home to Pennsylvania.
The experience, he said, opened his eyes to the natural beauty in Pennsylvania he previously ignored.
"When I returned, I realized that I never gave Pennsylvania any credit for also being beautiful, maybe even more beautiful than a majority of the country," he said. "So I thought I should explore our state parks."
And that's exactly what he did.
Starting on October 15, 2019 at Oil Creek State Park in Venango County, Nordquist covered about 15,000 miles over the next year to see everything Pennsylvania has to offer.
"I loved every single park that I visited and I'm going to start revisiting some beginning this weekend," he said. "I thought each park offered something special. The trails are very well maintained and clearly marked. I think Pennsylvania sets a great example for what a state parks system should look like."
Specifically, Nordquist said he was "blown away by the beauty" of the Pennsylvania Wilds area that includes the Allegheny National Forest and the Pennsylvania Grand Canyon, among others, as well as the "colonial feel" of southern Pennsylvania.
His favorite park was Salt Springs State Park in far northeastern Pennsylvania, a park that is home to hemlock trees that are over 500 years old and are among the largest trees in all of Pennsylvania.
Calling it "quant with numerous waterfalls and meadows full of wildflowers," Nordquist said it was the highlight of his trip. Not so much for Marsh Creek State Park in Chester County, he said, because it was jam-packed with visitors and didn't allow for much in the way of exploration.
Regardless, "every part of this state offers us something special, and I hadn't realized that before," he said.
Unfortunately, his journey took a very unexpected turn when the COVID-19 pandemic began unfolding in March. Lockdown orders sent residents outdoors and into state parks in unprecedented numbers, which isn't a bad thing on its face. But then came the enormous amounts of litter.
"I saw way too much trash," he said. "Once COVID hit, everyone started to do more outside activities which is great, but they were not mindful of the environment. I started taking a bag with me and picked up after people. I think people think that there are people hired to clean up after them, so they aren't as mindful of their trash, but I really urge people to start cleaning up."
Another area of concern for Nordquist came when he was reflecting on his journey. Only once during the entire ordeal did he have to worry about driving in snow, which is typically a frequent occurrence during Pennsylvania winters.
"It's not common that we only experience one minor snowfall in any given year, and it really opened my eyes to the threat our world faces regarding climate change," he said. "Climate change is a real threat."
Nordquist finished his impressive feat in mid-August with a visit to Susquehannock State Park in Lancaster County. Now back home and able to reflect more intently on his journey, Nordquist said he hopes his experience inspires other Pennsylvanians to appreciate their homeland, but also to respect it.
"I hope native Pennsylvanians appreciate where they come from," he said. "Pennsylvania is a great state. But I hope it also brings more awareness to being respectful to nature. I think we need to clean up after one another more. I would love to reach out to my local representatives and have an open discussion with them regarding the topic of environmental protection and my experience and how we can better the state."
At PennFuture, we chose to tell Trevor's story for two reasons: it's an impressive story that highlights all of the beauty Pennsylvania has to offer, but it's also a cautionary tale about funding for our abundant state parks.
Now more than ever, it's crucial that our lawmakers maintain funding to these vital resources, especially because Pennsylvanians are flocking to our state parks in record numbers.
However, a contingent of lawmakers in Harrisburg have previously tried cutting funding for our parks, a move we could see again as the General Assembly works to bridge a significant budget deficit made even worse by the COVID-19 pandemic.
In addition, a new bill has been introduced in Harrisburg—House Bill 2806—that would remove the current ban on charging admission and parking fees at our state parks. PennFuture opposes this bill, and any bill that could restrict access to our parks and natural resources.
Rest assured, PennFuture will be pushing back against this bill, as well as any attempts to gut funding for our parks and natural resources once budget discussions begin in the fall.