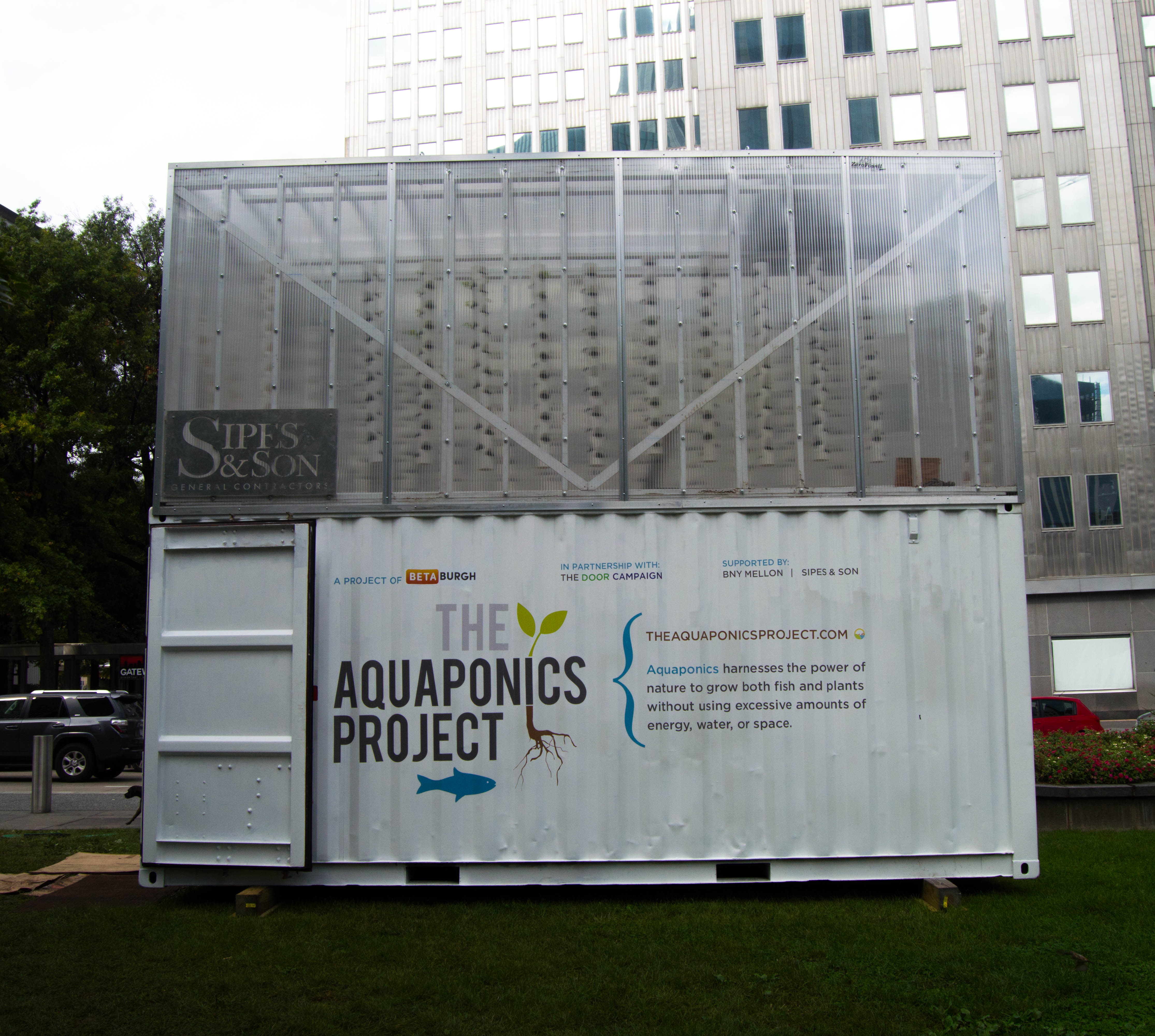 The Aquaponics Farm is a stop on PennFuture's upcoming Pittsburgh Solar Tour, which will be held Saturday, Oct. 14. Click here for more information and we look forward to seeing you there!
Aquaponics is a sustainable agricultural practice built upon naturally occurring relationships. This system relies on the built-in checks and balances within ecosystems, allowing for optimal production while maintaining suitable living conditions for the entire ecological community. Aquaponics harnesses these incredibly powerful biological processes and marries them to cutting edge technology to create a controlled, profitable, and entirely sustainable system of food production.
Our Story
Two years ago, a small group of students from the University of Pittsburgh, myself included, formed The Aquaponics Project. Our objective was to build Pittsburgh's first portable aquaponics farm. We recognized Pittsburgh's status as a food desert, defined by a shortage of supermarkets and other stores that carry affordable healthful food, as well as many issues with traditional farming practices. We were able to find a solution to both problems in aquaponics.
Aquaponics allows us to grow plants and fish within the same system and capitalize on the symbiotic relationship between the two. The plants are grown in water alone; all nutrients the plants require are provided by the fish waste and, in turn, the plant roots purify the water, creating a healthy aquatic environment. It is a closed loop system in which every bit of energy is conserved and put to use. The only input is fish food, and the output is a lofty 600 pounds of vitamin-rich greens and protein packed fish per month with no waste, no pollutants, and no large footprint on the community.
With this practice, soil is unnecessary, allowing for a more efficient use of space. This can save acres of forests, meadows, and wetlands from destruction for the purpose of being converted into farmland.
Our team was able to come up with a design which recycles old shipping containers and uses them as the base for our greenhouses. The bottom level contains a 300 gallon tank of fish and the top holds about 35 vertical grow towers capable of producing 700 plants. The entire container only takes up 20' x 8', allowing it to be placed in practically any community in need of fresh produce without creating a disturbance to the land or property values. It is also compact enough to be moved from location to location as an educational tool.
Our greenhouse has already made an appearance in Downtown Pittsburgh by the Gateway T Station and Manchester Park in the North Side. Next, we will be partnering with Repair the World and 412 Food Rescue to tackle food insecurity issues in East Liberty.
Embracing Modern Technology
Every technological advancement we make to our design is meant to optimize yield, efficiency, and ease of use. Yet, increasing productivity does not have to mean increasing one's carbon footprint. In order to optimize our production, we have put into place a number of monitoring systems to collect data on PH levels, temperature, and growth. Additionally, as with all decisions we make regarding this project, we draw inspiration from natural processes. In order to support our electrical needs, we installed solar panels on the roof of our structure. We simply took note of what the plants in our greenhouse had been doing since the beginning of life itself; converting light waves into energy.
The sun is an inexhaustible source of energy that has been largely untapped. With the invention of photovoltaic cells and the recent decrease in production cost, harnessing the power of the sun has never been more accessible. Along with promoting healthy food choices, buying local, and eliminating food waste, The Aquaponics Project is proud to support the solar movement in Pennsylvania.
If you have yet to take a tour of our facility, we are excited to be a stop on PennFuture's Solar Tour this Oct. 14, so drop by! We would be happy to show you around and discuss the unlimited potential of solar power within homes, businesses, and even the odd farm. Click here to register today.