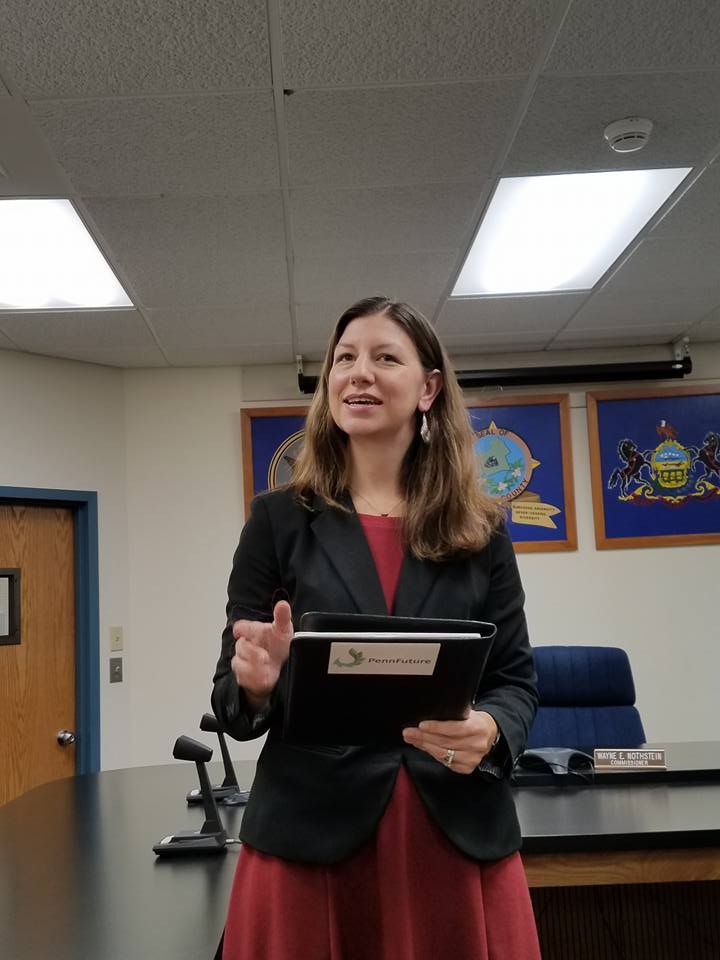 PennFuture Staff Attorney Abigail M. Jones is pictured.
Last Thursday, a local Carbon County environmental organization hosted a press conference to bring to light concerns surrounding the anticipated approval of the PennEast pipeline.
Save Carbon County Coalition, along with PennFuture and the Lehigh Gap Nature Center, gave testimony on this issue at the Carbon County Courthouse Annex building in Jim Thorpe, PA after the commissioners meeting.
The group is anticipating that the Federal Energy Regulatory Commission (FERC), will give PennEast pipeline the certificate it needs to proceed with the pipeline construction following a meeting scheduled for Dec. 21.
With this in mind, Save Carbon County President Linda Christman organized this press conference to highlight the environmental impacts that will follow pipeline construction. The impacts include clear cutting trees in Carbon County, treats to waterways and wildlife, along with eminent domain struggles for landowners. Save Carbon County will be holding frequent meetings with landowners to inform them of their rights at every step of the Eminent Domain process.
Lehigh Gap Nature Center's program specialists Chad Schwartz and Brian Birchak spoke about the clear cutting trees issues and how it will affect farmland, wetlands, and invite invasive species to inhabit the area. Clear cutting trees will create an edge for the regional/ native species that live in the area. This "edging" will offer space for invasive species, such as the spotted lantern fly and tree of heaven to take over the clear cut areas.
"While PennFuture has many concerns with the increased pipeline infrastructure in Pennsylvania – including climate change and cumulative environmental impacts – our focus is on the price that our environment and individual landowners are forced to pay as a result, even before the pipeline route is finalized," said Abigail M. Jones, PennFuture Staff Attorney. "In our state, we are seeing an alarming lack of protection for the environment at the hands of the expansion of natural gas pipelines… it is estimated that Pennsylvania could have upwards of 10,000 miles of Marcellus Shale gas pipelines crisscrossing the state by the end of the year."
Jones also highlighted: "Our environmental rights are as fundamental as our right to free speech. Yet DEP's pipeline policy fails to protect our environmental rights from pipeline construction and 'pre-construction' activities."
PennFuture, Save Carbon County, and Lehigh Gap Nature Center came together to educate the public and bring to light major concerns about the clear cutting process during preconstruction of the PennEast pipeline. This not only affects wildlife and nature, but the pipeline and tree clear cutting will affect the natural, scenic, historic, and aesthetic values to the environment throughout Carbon County and the rest of the PennEast pipeline route that brings economically valued tourism and a beautiful place to live in the Lehigh Valley and beyond.