Demand that U.S. Steel invest in healthy communities, clean air, and jobs for the future.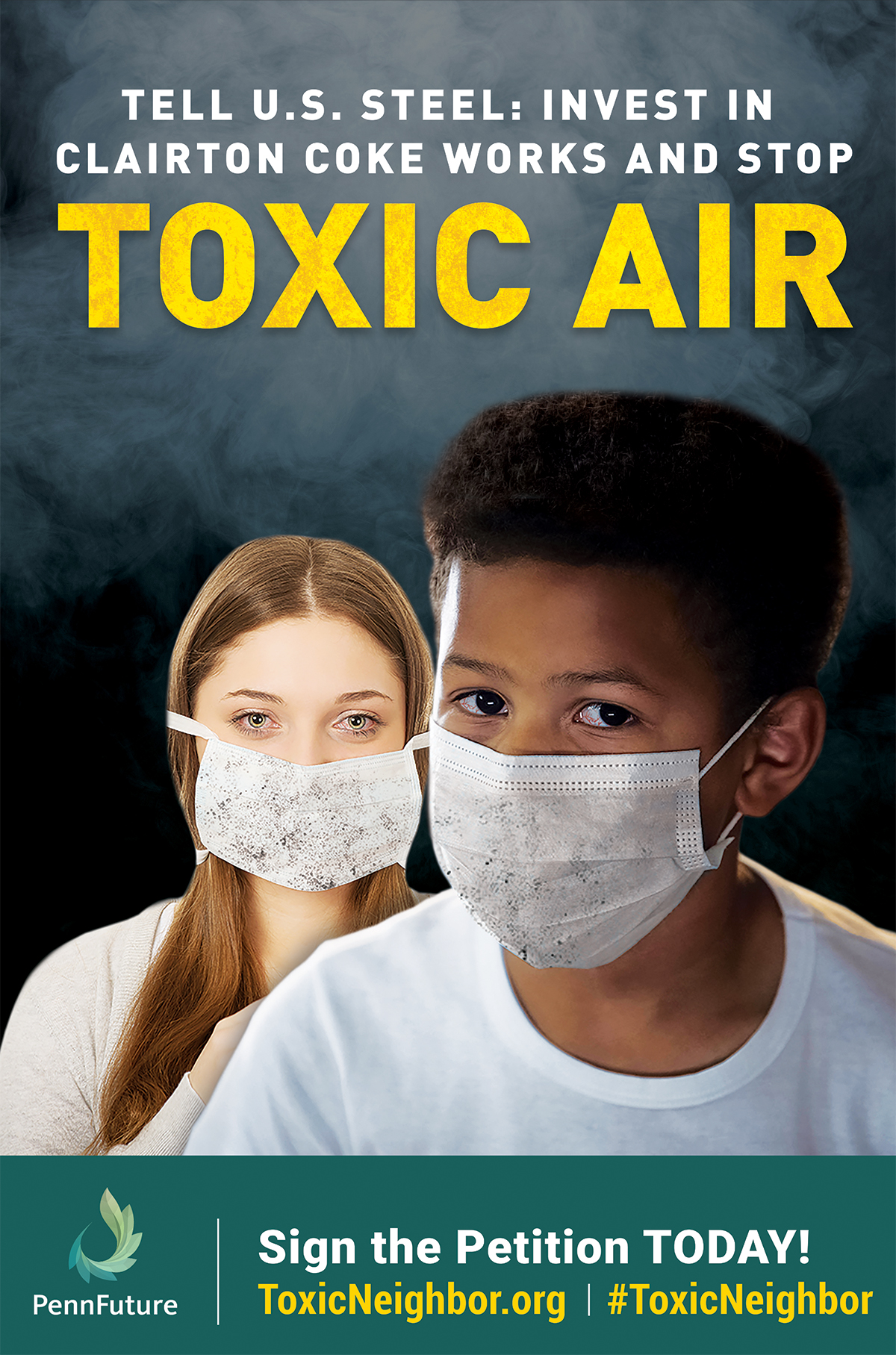 The steel industry of Pittsburgh and western Pennsylvania has played a significant role shaping the region's economy and culture. It also has, and will continue to have, an enormous impact on the quality of the air we breathe.
Since June 2018, regulators issued two enforcement orders against U.S. Steel's Clairton Coke Works: one for failing to meet emissions regulations and one for multiple air quality exceedances following a fire on Christmas Eve 2018.
The fire damaged the facility's desulfurization unit, causing the subsequent discharge of airborne pollutants, impacting nearby communities including Clairton and the city of Pittsburgh. U.S. Steel is expediting post-fire repairs while attempting to mitigate the increased emissions at Clairton Coke Works. But it's not enough.
Clairton Coke Works' long history of toxic pollution -- caused by a combination of the sheer age of the Works and its multiple failing components – can no longer be addressed through bite-sized fixes. It is time for U.S. Steel to invest in the facility – at levels sufficient to eliminate or significantly reduce problems, pollution, and emergencies.
An infusion of U.S. Steel investment for modernization of Clairton Coke Works is one way for the company to indicate its long-term commitment to jobs, the community, and clean air. Based on recent reported earnings, U.S. Steel is a profitable entity and should be in a position to invest in the environmental and economic health of our region.
In the past, when U.S. Steel has invested in Clairton Coke Works, air pollution levels have fallen. In 2012, the company replaced three 1950s-era batteries with a modern "C-Battery." As a result, small particulate matter pollution decreased significantly. U.S. Steel had agreed to build another environmentally-advanced coke oven – sometimes referred to as D-Battery – to replace the 1950s-era Batteries 1, 2, and 3, which are among the most polluting at the plant. However, the company did not fulfill its commitment to replace Batteries 1, 2, and 3. Consequently, in January 2016 PennFuture filed a 60-day notice of intent to sue U.S. Steel over 6,700 documented air quality violations at U.S. Steel's Clairton Coke Works facility between January 1, 2012 and May 31, 2015. The source of many of those violations were Batteries 1, 2, and 3.
1950s-era batteries make no sense in the 21st-century, technologically advanced steel industry in the Mon Valley.
It's time for U.S. Steel to reinvest in the largest coke facility in the country. It's time to make Clairton Coke Works the cleanest, most sustainable, and most technologically advanced coke facility in the country. It's time to improve the Pittsburgh region's air quality – currently ranked 8th worst in the country. And it's time to invest in the jobs that have defined an industry and can do the same into the future.
The time for change is now! SIGN THE PETITION and demand that U.S. Steel's leadership to do the following:
Retire Clairton Coke Works' oldest, dirtiest, and most problematic coke batteries: 1, 2, and 3.
Modernize Clairton Coke Works by investing in technologically advanced upgrades to ensure cleaner air and safer Mon Valley jobs now and in the future.
Commit to public transparency about plant operations, especially in cases of emergency.
Other Ways To Take Action and Join the #ToxicNeighbor Campaign
Sign up to receive updates and action alerts from PennFuture.

We'll keep you informed and ready for action.
Call U.S. Steel's Corporate Headquarters and tell them to invest in Clairton Coke Works. We want clean air, good jobs, a technologically advanced facility, and more transparency about the operations of the plant.
Use the hashtag #ToxicNeighbor

Help us spread the word about Pittsburgh's #ToxicNeighbor on Facebook, Twitter, and Instagram. Call on @U_S_Steel to invest in Clairton and the region's future.
Write a Letter to the Editor

Write and submit a 250-word letter to the Pittsburgh Post-Gazette about your experiences with the air quality in your community. You can submit your letter by:

Email: letters@post-gazette.com
Fax: 412-263-2014
U.S. Mail: Letters to the Editor, Pittsburgh Post-Gazette, 358 North Shore Drive, Suite 300, Pittsburgh, PA 15212
Sign up for air quality alerts from Allegheny Alerts

Stay safe and informed about poor air quality days in the county. You decide how and where you're contacted – email, text, voice, work, home, mobile – any or all of them. Sign-up here: Allegheny Alerts
Don't forget to tag @PennFuture and tell us if you've taken any of our actions, seen our ads, or attended one of our tabling events.
In the News:
Join the conversation on social media: #ToxicNeighbor