Environmental Voices is sponsored by Envinity, designing and installing solar power systems for homes and businesses in Central and Western PA since 2005. Contact Envinity for information on how to achieve net-zero carbon solutions.
Our goal on Environmental Voices will be to tell the critically important environmental stories facing Pennsylvanians throughout all regions of the state. Large swaths of the state still, on a daily basis, suffer disproportionate impacts of dirty air and polluted water and we want this podcast to be a venue for those on the frontlines to share their stories. We also hope it will be an avenue to connect you with the work we're doing here at PennFuture: in the courtroom, at the State Capitol, and in your communities, to help protect our common environmental rights.
Listen to our tenth episode: Connecting With Lake Erie – May 2023
Lake Erie is the fourth largest of the five Great Lakes. The city of Erie is the main access point for Pennsylvanians to the Great Lakes. In this episode, we speak to experts and activists on Lake Erie's uniqueness, its history, and threats to its waters and ecosystem.
Part I Guests: Filmmakers Melissa A. Troutman and John C. Lyons, the team behind the documentary Lake Erie, Our Kin, which was released by WQLN in April.
Part II Guests: Sister Pat Lupo and Dr. Mike Campbell, long-time activists with the small, but bold Hold Erie Coke Accountable, discuss their efforts in holding the coke factory accountable for air quality violations and spilling contaminants into Lake Erie.
Part III Guest: PennFuture's Campaign Manager for Clean Water Advocacy - Lake Erie Watershed, Jenny Tompkins, explains her role in advancing policy and education to support clean water and responsible development in the region that includes not just Lake Erie, but the surrounding tributaries.
Listen to our nineth episode: Earth Day, Environmental Justice, and Democracy – April 2023
A discussion on the history of Earth Day and upcoming events across Pennsylvania. Learn about PennFuture's work in the Lehigh Valley and engaging communities through Democracy for All.
Featured guests:
Maria Ocasio, PennFuture's Lehigh Valley Field Coordinator
Emily Gale, PennFuture's Director of Civic Engagement
Listen to our eighth episode: A Lifetime of Achievement in Conservation
Featured guest:
Jeanne Bonnie Van Alen, former Executive Director and President of Willistown Conservation Trust (WCT)
---
Listen to our seventh episode: Influential Voices
Featured guests:
Patrick McDonnell, PennFuture President and CEO
Maya von Rossum, Delaware River Keeper
---
Listen to our sixth episode: The Inflation Reduction Act and the Environment
Featured guests:
Jessica Arriens, Program Manager, Climate & Energy Policy at the National Wildlife Federation
Bishop Marcia Dinkins, Executive Director of Black Women Rising and founder of the the Black Appalachian Coalition
Prof. Michael Mann, Director of the Center for Science, Sustainability & the Media at the University of Pennsylvania and as a member of the National Academy of Science
Jeaneen Zappa, Executive Director of the Keystone Energy Efficiency Alliance
---
Listen to our fifth episode: A Shared Vision for Pennsylvania's Environment and Communities
Featured guests:
Katie Blume, Conservation Voters of Pennsylvania Political Director
Michelle Giles, Conservation Voters of Pennsylvania Policy Analyst
Michael Mehrazar, PennFuture Campaign Manager for Watershed Advocacy
Jenn Quinn, Sierra Club of Pennsylvania Legislative and Political Director
Diana Robinson, Make the Road Pennsylvania Civic Engagement Director
---
Listen to our fourth episode featuring PennFuture President and CEO Jacquelyn Bonomo
Our guests included:
PennFuture President and CEO Jacquelyn Bonomo
Charles Bier, who is the Senior Director for Conservation Science at the Western Pennsylvania Conservancy. Before coming to PennFuture, Bonomo spent nearly a decade at the Western Pennsylvania Conservancy as that organization's vice president of conservation programs. From 1999 to 2008, Jacqui was responsible for budgeting, planning and administration of the largest natural resource conservation program in the region, with staff in eight locations. She also increased the organization's operating budget from $1 million to $5.7 million and grew staff from eleven to over 80 through 2007.
Cindy Adams Dunn, who has served as the Secretary of Pennsylvania's Department of Conservation and Natural Resources since 2015. From 2013 to 2015, Dunn served as the president and CEO of PennFuture. Like Bonomo, Dunn is one of the most noteworthy environmental advocates in Pennsylvania over the last several decades.
Tim Ference, with Friends of the Nescopeck, which is where Bonomo's environmental advocacy began.
---
Listen to our third episode featuring Women in Conservation
Our guests included:
Leah Zerbe won PennFuture's 2019 Woman of Environmental Media, Marketing & Communications award for her outstanding environmental writings at publications such as Dr. Axe, Rodale Publishing, the Bucks County Courier Times, and the Philadelphia Daily News. Since that time, she has been an active participant in her community, including serving as the chair of the Pottsville Citizens Climate Lobby chapter, running after-school educational programs, studying to become a Master Watershed Steward, and most recently serving as a columnist with the Pottsville Republican Herald.
Ann Rosenthal won PennFuture's 2020 Women of Environmental Arts award recognizing her over 40 years' experience as an artist, writer, and for her work which examines the intersections of nature and culture through timely issues, including climate change and biodiversity, Recently she co-edited Ecoart in Action: Activities, Case Studies, and Provocations for Classrooms and Communities, a collection that seeks to showcase how teachers, citizens, policymakers, and scientists can find inspiration in art.
Heidi Secord is a winner of PennFuture's 2021 Lifetime Achievement Award. Heidi owns and operates her 48-acre Josie Porter Farm with her husband Gary Bloss in Northeastern PA. Josie Porter Farm is a farmer led community-based food hub that supports other local and regional farmers and provides fresh produce to the community. Heidi also served as State President of the Pennsylvania Farmers Union and sat on the National Farmers Union Board of Directors. And Heidi was recently appointed by the Biden Administration to serve as the State Executive Director for the Pennsylvania Farm Service Agency.
Susanne Whitehead is PennFuture's Donors Relations Manager. Susanne is instrumental in organizing all aspects of our Celebrating Women in Conversation awards, including evaluating nominees.
---
Listen to our second episode featuring Bill McKibben
Our guests included:
Bill McKibben, a renowned environmental advocate who is known for founding the global grassroots climate campaign known as 350.Org. McKibben has organized for climate action on every continent, including Antarctica. He played a leading role in launching the opposition to big oil pipeline projects and the fossil fuel divestment campaign, which has become the biggest anti-corporate campaign in history, with endowments worth more than $15 trillion stepping back from oil, gas and coal. His latest project is called Third Act, which works to organize Americans over the age of 60 to act on the climate crisis. Recently, he has been quoted and published in outlets like The New York Times, The Guardian, and The Washington Post.
Ginny Kerslake, a Chester County resident who has been a passionate and outspoken advocate against the Mariner East pipeline for years. Ginny co-founded several grassroots organizations to raise public awareness about the project and has been a leading anti-pipeline voice in Pennsylvania.
Rob Altenburg, who serves as PennFuture's Senior Director for Energy and Climate. Rob is one of the foremost experts on clean energy in Pennsylvania, working with regulatory agencies and clean energy industry experts on climate and energy issues across the Commonwealth. Before the pandemic, Rob traveled extensively throughout Pennsylvania to talk to students, community groups, and other organizations on climate and energy issues, and of the benefits of transitioning to a clean energy economy.
---
Listen to our very first episode, please click here.
Our guests included:
Melanie Meade, an environmental advocate from Clairton, Pa. who fights for clean air and a healthy environment in her community. Melanie is also involved in other important endeavors like the Black Appalachian Coalition, among others. We were thrilled to welcome Melanie as our first guest on our first podcast.
State Rep. Donna Bullock, a representative from the 195th Legislative District in North and West Philadelphia, has served in the Pennsylvania General Assembly since 2015. In October, State Reps. Donna Bullock, Malcolm Kenyatta and Chris Rabb and Sen. Vincent Hughes introduced legislation that would codify the Office of Environmental Justice and Environmental Justice Advisory Board — making them permanent, regardless of who is in the executive branch. The legislation will also increase transparency and public input before polluting facilities are built or expanded in overburdened communities. We were very happy that Rep. Bullock took some time to discuss this very important legislation with us.
Emily Gale, PennFuture's Director of Civic Engagement, who spoke about the organization's work on non-partisan voter registration, as well as the program's recent expansion into Allegheny County.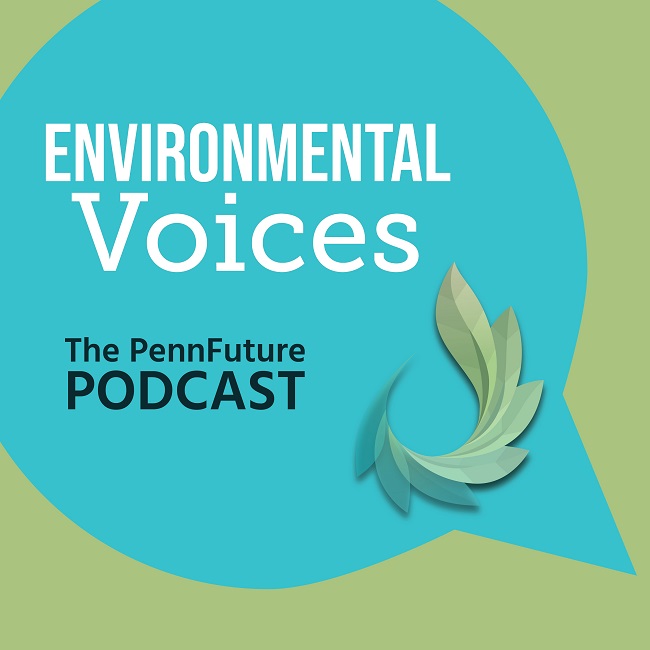 Listen to our fifth episode: A Shared Vision for Pennsylvania's Environment and Communities
Featured guests:
Katie Blume, Conservation Voters of Pennsylvania Political Director
Michelle Giles, Conservation Voters of Pennsylvania Policy Analyst
Michael Mehrazar, PennFuture Campaign Manager for Watershed Advocacy
Jenn Quinn, Sierra Club of Pennsylvania Legislative and Political Director
Diana Robinson, Make the Road Pennsylvania Civic Engagement Director
---
Listen to our sixth episode: The Inflation Reduction Act and the Environment
Featured guests:
Jessica Arriens, Program Manager, Climate & Energy Policy at the National Wildlife Federation
Bishop Marcia Dinkins, Executive Director of Black Women Rising and founder of the the Black Appalachian Coalition
Prof. Michael Mann, Director of the Center for Science, Sustainability & the Media at the University of Pennsylvania and as a member of the National Academy of Science
Jeaneen Zappa, Executive Director of the Keystone Energy Efficiency Alliance
Listen to our seventh episode: Influential Voices
Featured guests:
Patrick McDonnell, PennFuture President and CEO
Maya von Rossum, Delaware River Keeper
---
Listen to our sixth episode: The Inflation Reduction Act and the Environment