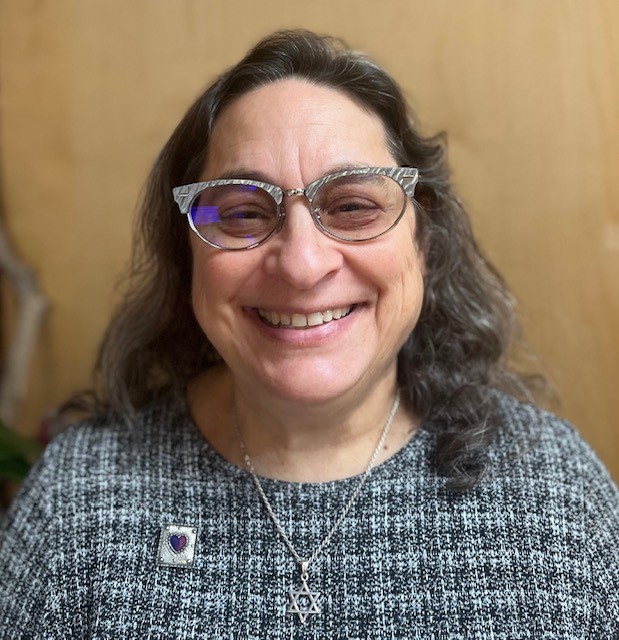 Julie Slavet
Julie Slavet and John Walber
- Honoree Award Sponsor for Julie Slavet!
Julie is the executive director of the Tookany/Tacony-Frankford Watershed Partnership (TTF). Before joining TTF in 2011, Julie servied as the senior district staff member for Congresswoman Allyson Schwartz, leading constituent services and outreach in a district of 650,000 people in Montgomery County and Northeast Philadelphia. Julie has worked at city and state levels of government and for a range of non-profit organizations. She earned a B.A. in Environmental Studies from Smith College and an M.S. in Public Affairs from the University of Massachusetts.
Julie was a founder of Indivisible PHL, and she has served in leadership roles for the Jenkintown Community Alliance, Montgomery County Democratic Women's Leadership Initiative, Hiway Theatre, and Jenkintown Library.
We asked Julie some questions for our profile (This interview has been edited for length and clarity):
You went to Smith to study Environmental Studies. How did that decision come about? Do you remember when you first became interested in environmental issues?
Actually, when I went to Smith, there wasn't even an Environmental Studies degree. I created the degree as an interdepartmental major in Government and Biology. I still can't believe the faculty approved it! I thought it was important to connect science to policy. It's inspiring to see now that it was a really valuable idea. I first became interested in environmental studies in 7th grade when my science teacher, Barbara Little, taught us about Ecology. I lived with her in Woods Hole and attended the Marine Biological Studies camp, the summer before 8th grade. Her enthusiasm and love for nature was intense and contagious.
Tell us the story of why you founded Indivisible PHL.
I founded Indivisible PHL because I saw the efforts of the group on Twitter, and as a former Congressional staffer, saw the value of their strategy to build a constituency who would actually educate and push members of Congress. I was also incredibly frustrated that people suddenly seemed to wake up when Trump was elected. I am no longer involved, but it has been so inspiring to see how the group has grown and become totally awesome!
You say you are "unabashedly proud" of TTF, why is that?
I am unabashedly proud of TTF because I am too old to be shy about celebrating and shouting about the work of our amazing team to get things done with a commitment to community engagement, fun, creativity, and impact. This stuff is hard and takes a long time, and it takes persistence and a commitment to the mission every day.
What important environmental issues are you working on right now with TTF, or any other organizations you work with?
Right now, we are working to reduce runoff pollution into our headwater creeks by working with property owners to develop storm water management projects. We don't own a square inch of land, so we need partners like the institutions we have collaborated with over the past few years to complete award winning, beautiful, and impactful projects. We'll also be completing a Master Plan for Tacony Creek Park, with a vision we look forward to bringing to life with partners Philadelphia Parks & Recreation and the Philadelphia Water Department.
What's something about you we don't know?
I have collected rocks and shells from beaches (and picked up trash) from the Caribbean to Canada, and have schlepped them with me for decades. My husband and I just replaced our teardrop camper with an Airstream, and will be heading to Virginia for our first camping trip on Thanksgiving.
If you would like information on being a sponsor of the 2023 Celebrating Women in Conservation Awards event, please contact Travis DiNicola at dinicola@pennfuture.org or 717-214-7924.
Thanks to our sponsors!