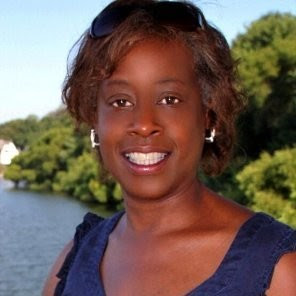 Karen Young
Karen is an educator, communicator, and entrepreneur. She has more than 20 years of experience developing and implementing urban environmental programs with an emphasis on informal/experiential learning. Since 2007, Karen has served as the Executive Director of the Fairmount Water Works.
Karen's previously led KYoung & Associates, working alongside city agencies, non-profits and museums to develop programs, lessons and materials that focused on urban water supply systems and resource management for students in 4th-12th grade. Karen is well known for creating programs and materials that engage both teachers and students through interactive, engaging experiences. She especially enjoys taking participants outside the classroom and/or neighborhood to explore the natural environment. Karen has developed successful public education and public awareness programs for Philadelphia Citizens for Children and Youth; the Mayor's Commission on Literacy; and the Academy of Natural Sciences.
Karen is a graduate of Temple University. A life-long learner, Karen continues to study industrial psychology, photography, music and the culinary arts.
We asked Karen some questions for our profile (This interview has been edited for length and clarity):
How did you get involved in environmental education? Is this what you studied at Temple?
As a media communications student at Temple the opportunity to study filmmaking, news reporting, graphic design, photography and public relations led to my desire to find ways of engaging the public through storytelling. Museum work is founded on the ability to interpret what can oft times be a collection of dates, facts and figures into something that resonates with audiences on a personal level. The Interpretive Center is the perfect platform from where we can craft and share stories about the City's rich connections to its rivers, the land surrounding those waterways and the role we can all play in protecting and preserving both.
Tell us more about Fairmount Water Works.
Situated on the east bank of the Schuylkill River between historic Boat House Row and the Philadelphia Museum of Art, the Fairmount Water Works opened its doors in 1815 as a water pumping station for the City of Philadelphia. It was originally designed and constructed to provide reliable, affordable, safe, clean drinking water to a thirsty and thriving city. These National Historic Landmark buildings served the public in multiple ways, from a successful pumping station, an Aquarium to a swimming pool. In 2003 the interior spaces were transformed once again into an urban environmental center/museum and has since become an award winning cultural institution.
I've heard about the "POOL" exhibit at Fairmount Water Works – how does it address issues of race and racism in pool segregation and access?
POOL offers an opportunity for individuals to contribute to a conversation about contemporary issues of equality and social justice—all central to global issues around water. The story of water is a story of social justice. This is true for drinking water, bathing water, and swimming water. POOL invites visitors to examine the historic and contemporary role pools play in civic life. It has become a cultural asset that places value on these unique social spaces, offering an immersive experience that is both illuminating and empowering for the visitor.
POOL provides a vibrant platform for public participation in a relevant conversation about why public pools are important institutions to the fabric of our communities as well as to public health in general and help to deter tragedies in and around our natural water bodies.
According to reports from the Centers for Disease Control and Prevention, Black children and teenagers are almost six times as likely as white children to drown in a swimming pool.
USA Swimming reports that 69% of Black children have little to no swimming ability, compared with 42% of white children.
Drowning is the 5th leading cause of accidental death in the United States for people of all ages and the 2nd leading cause for children 1 to 14 and the leading cause for accidental death among children ages 1 to 4.
The essence of POOL is social and community engagement and as such, is intended to bring together generationally, ethnically, racially, and socio-economically diverse audiences throughout our process of exhibition making and final visitor experience.
What's something about you we don't know?
As I plan the next chapter of my own story my passion for all things related to food, from preparation to presentation has led me to enrolling part-time in a culinary arts program. Who knows where this adventure will take me.
If you would like information on being a sponsor of the 2023 Celebrating Women in Conservation Awards event, please contact Travis DiNicola at dinicola@pennfuture.org or 717-214-7924.
Thanks to our sponsors!